2007-03-21
Meet the Robinsons Art of Book
So I've mentioned a few dozen times that the last Disney animated movie I worked on, Meet the Robinsons, is being released in theaters next week.

Well, my former boss and very close friend (pretty much big sister, really) had the chance to write the "art of" book for the movie. You know how most Disney or Pixar animated films have a book dedicated to the design, pre-production, and art direction of the movie? Well, Tracey assembled and wrote that book for "Robinsons".

I can't wait to see it, I'm so proud - and quite honestly a little jealous, as I always wanted to write the "art of" books ...

Anyway, here's a pretty great review of the book at Jim Hill Media.

Lastly, here's the book on barnesandnoble.com (can't find it on amazon.com anywhere!) Making of Meet the Robinsons.
posted by Josh @ 8:48 AM
Josh and Liz are two American kids who got married in August. Liz has lived in Dubai since 2003, Josh since August of 2006.

Follow along in the culture shock of being recently married and (for Josh, at least) recently transplanted to Dubai.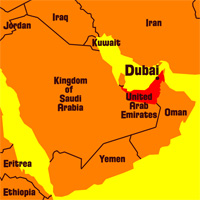 Right now in Dubai
Videos
Pictures
Previous Words
Favorite Recipes
Currency Converter
The easy way to convert Dirhams to Dollars!

Enter a number in either field, then click outside the text box.
Archives
Links We Like
Visitor Counter: