2007-03-29
Like Little Bits of Gold
For some reason this week all I want to talk about is food.

Hope you don't mind if I run with that. Today I want to tell you about the new chips I found at the supermarket. They're Sweet Chili Pepper Doritos.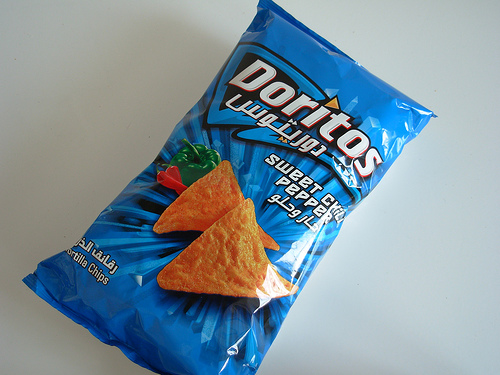 Here in Duabi it seems most food products are imported, especially things like chips. That means a significant markup in price. And, as much as I'd love a Dorito every once and a while, paying five or six dollars for a bag goes against every fiber in my being.

The Doritos sold in Dubai are apparently made by a British company - Walkers Snack Foods, Ltd.. I assume that they have some licensing deal with PepsiCo's Frito-Lay division.

As far as I can tell, though, they're like American Doritos, but a little different. Like what exactly does the Cool Original taste like? It looks like Cool Ranch, I'd assume. But I digress.

Back to my Sweet Chili Pepper flavor. These are produced by Saudi Snack Foods Co. Ltd. and not Walkers, as evident by the Arabic on the bags. And since they're not imported, they're much, much cheaper than Walkers' British chips.

So I bought them.

As soon as I tasted them - yum. Sweet, tangy, but not overly spicy. They're good.

Now, it's been about a decade or so, but back in the 1990s in the States we had a now legendary flavor of Doritos - the Taco Bell Doritos. (No, I'm not making this up. Ask any guy who was a teen in the 1990s.)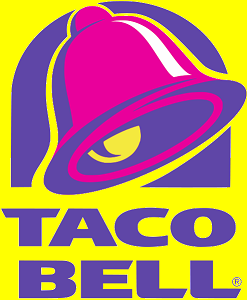 I don't even know how to describe the flavor, it really had little to no bearing on Taco Bell, that's for sure. But they were great. And then sometime in the late 1990s, they vanished without a trace.

Now, this is going to be a bold, and potentially controversial statement. But I think that these modern, Arabic Sweet Chili Pepper Doritos are almost as good as the Taco Bell Doritos.

I wish I could share them with all of my snack food loving friends in the States.

Maybe I could import them, I mean, for a large Walkers-esque markup ...
posted by Josh @ 10:09 AM
Josh and Liz are two American kids who got married in August. Liz has lived in Dubai since 2003, Josh since August of 2006.

Follow along in the culture shock of being recently married and (for Josh, at least) recently transplanted to Dubai.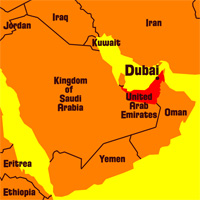 Right now in Dubai
Videos
Pictures
Previous Words
Favorite Recipes
Currency Converter
The easy way to convert Dirhams to Dollars!

Enter a number in either field, then click outside the text box.
Archives
Links We Like
Visitor Counter: