2007-03-20
Heroes, pt. 2
So yesterday I was going on about how NBC's "Heroes" liberally rips off Marvel Comics' "X-Men", right? And I couldn't think of an X-Man that has the same powers as that kid Micah.

Well, I just thought of him - Forge.

"Forge can intuitively create almost any device imaginable using his mutant ability - an uncanny and almost empathic ability to understand machines and to perceive "mechanical energy." He has created fantastic futuristic devices including cybernetic systems (to replace his lost hand and leg), sophisticated holograms, and elaborate computer and fiberoptic systems."
Gotcha, Tim Kring, gotcha.
posted by Josh @ 3:53 PM
Josh and Liz are two American kids who got married in August. Liz has lived in Dubai since 2003, Josh since August of 2006.

Follow along in the culture shock of being recently married and (for Josh, at least) recently transplanted to Dubai.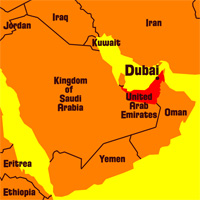 Right now in Dubai
Videos
Pictures
Previous Words
Favorite Recipes
Currency Converter
The easy way to convert Dirhams to Dollars!

Enter a number in either field, then click outside the text box.
Archives
Links We Like
Visitor Counter: