2007-03-07
Giant Dirham
So the other day in change I got a giant dirham.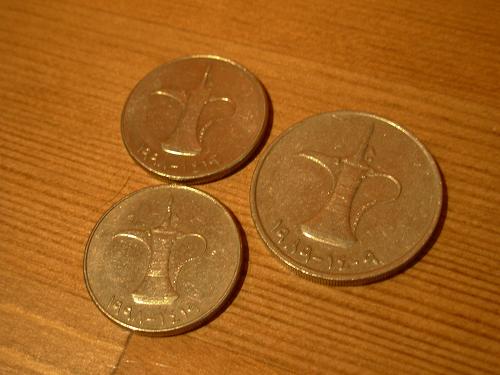 Seriously, look at it - it's 150% bigger than a normal dirham (which is the size of a U.S. Quarter).

(For my introduction to money in the U.A.E., see It's all about the Dirhams, baby).

Anyway, I've scoured the internet looking for clues to just why this one is that much bigger - but nothing.

All I know is that the dirham was introduced in 1973, and that the term "dirham" is indirectly from the Greek Drachma by way of the Ptolemaic Empire and the Sassanid Empire.

But I can't find anything about the U.A.E. changing the size of the coins.

Oh well. Hey, does anyone else think that it's kind of cool that even though the Drachma has been replaced by the Euro, its name kind of lives on?
posted by Josh @ 4:45 PM
Josh and Liz are two American kids who got married in August. Liz has lived in Dubai since 2003, Josh since August of 2006.

Follow along in the culture shock of being recently married and (for Josh, at least) recently transplanted to Dubai.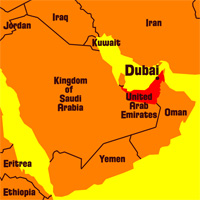 Right now in Dubai
Videos
Pictures
Previous Words
Favorite Recipes
Currency Converter
The easy way to convert Dirhams to Dollars!

Enter a number in either field, then click outside the text box.
Archives
Links We Like
Visitor Counter: