2007-03-09
Dubai PR Stunt
So earlier this week I was talking about PR stunts we've seen for the Dubai Tennis Championships in the years past. Well, I neglected to mention the first big stunt, the one that the London Times called 'the publicity stunt to top all publicity stunts'.

In 2004 golfer Tiger Woods was in town for the Dubai Desert Classic. On March 2 the organizers, along with the Jumeirah International hotel group, got him to hit a few golf balls off of the helipad of the Burj al-Arab hotel into the Arabian Gulf.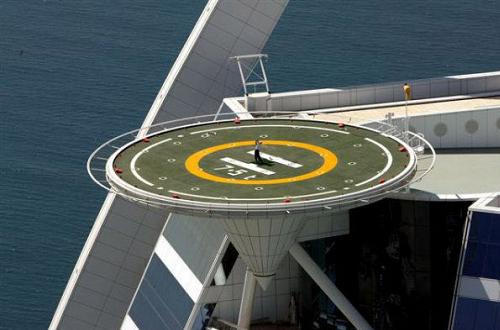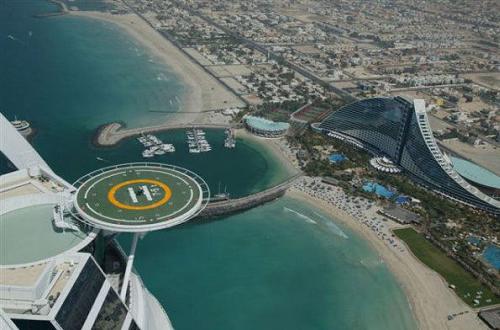 Pretty big.

Oh, and I found out that the helipad is 211 meters (692 feet) tall, in the last article I mentioned the top of the hotel being 321 meters (1,053 feet). But obviously the helipad isn't on the tip-top of the hotel ...

Anyway, in 2005 Jumeirah International, the owner of the Burj al-Arab, was highly commended at the Gulf Marketing Review Marketing Effectiveness Awards for the Tiger Woods publicity shots in the Public Relations category at the 2005 .

Anyway, the next year Jumeirah International won a commendation at the Gulf Marketing Review Marketing Effectiveness Awards for the stunt. And really, any award show that has the word "marketing" in the title twice, well, that's a big award...
posted by Josh @ 8:45 AM
Josh and Liz are two American kids who got married in August. Liz has lived in Dubai since 2003, Josh since August of 2006.

Follow along in the culture shock of being recently married and (for Josh, at least) recently transplanted to Dubai.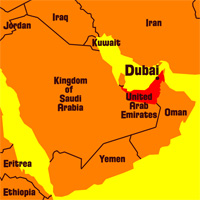 Right now in Dubai
Videos
Pictures
Previous Words
Favorite Recipes
Currency Converter
The easy way to convert Dirhams to Dollars!

Enter a number in either field, then click outside the text box.
Archives
Links We Like
Visitor Counter: