2007-03-09
Burj Dubai Update
Here's an update on the Burj Dubai construction, that I stole borrowed from a local magazine.

The building is at 110 levels now, which is 380 meters (1,246 feet) tall.

That already makes it the tenth tallest building in the world.

It will soon overtake the Empire State Building, which stands at number nine.

In fact, here's a list of the tallest completed buildings in the world:


#1
Taipei 101
Taipei, Taiwan
509 m (1,671 ft)

#2 & #3
Petronas Twin Towers
Kuala Lumpur, Malaysia
452 m (1,483 ft)

#4
Sears Tower
Chicago, IL
442 m (1,451 ft)

#5
Jin Mao Building
Shanghai, China
421 m (1,380 ft)

#6
International Finance Centre
Hong Kong
415 m (1,362 ft)

#7
CITIC Plaza
Guangzhou, China
391 m (1,283 ft)

#8
Shun Hing Square
Shenzhen, China
384 m (1,260 ft)

#9
Empire State Building
New York City, NY
381 m (1,250 ft)

#10
Central Plaza
Hong Kong
374 m (1,227 ft)

Here are a few other important buildings on the list:

#12
Emirates Tower One
Dubai
355 m (1,163 ft)

#21
Burj al-Arab
Dubai
321 m (1,053 ft)

#22
Chrysler Building
New York City, NY
319 m (1,046 ft)

#26
Library Tower (a/k/a U.S. Bank Tower)
Downtown Los Angeles, CA
310 m (1,018 ft)

#28
Emirates Tower Two
Dubai
309 m (1,014 ft)

#79
GE Building (a/k/a Rockefeller Center)
New York City, NY
259 m (850 ft)

#131
Hancock Building
Boston, MA
241 m (790 ft)

#173
Prudential Building
Boston, MA
229 m (750 ft)
posted by Josh @ 10:02 AM
Josh and Liz are two American kids who got married in August. Liz has lived in Dubai since 2003, Josh since August of 2006.

Follow along in the culture shock of being recently married and (for Josh, at least) recently transplanted to Dubai.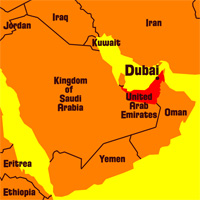 Right now in Dubai
Videos
Pictures
Previous Words
Favorite Recipes
Currency Converter
The easy way to convert Dirhams to Dollars!

Enter a number in either field, then click outside the text box.
Archives
Links We Like
Visitor Counter: