2007-03-20
News: Diet Pepsi Cans Recalled
Aw geesh, first my peanut butter, now this?!?


Gulf News
Diet Pepsi cans withdrawn over manufacturing defect
By Nissar Hoath and Ashfaq Ahmed
March 19, 2007

Abu Dhabi/Dubai: The Food Control Authority in Abu Dhabi has withdrawn some Diet Pepsi Cola cans from the market to safeguard public health, WAM reported.

"A particular series of Diet Pepsi Cola cans has been withdrawn from the market after a manufacturing fault was detected in the cans, which were peeling off from inside," Mohammad Jalal Al Reyaysa, Manager of Communication at the FCA, told Gulf News. He said the FCA took action after a resident in Al Ain complained that he had found a plastic-like substance when he poured Diet Pepsi in the glass. "A resident complained to the FCA office in Al Ain. Our inspectors went to the same shop and bought another can of Diet Pepsi. He also found the same substance in the beverage," he said.

He said the can was examined at the FCA laboratory in Abu Dhabi and it was confirmed that the substance was the inner lining of the container that had peeled off. "It was a manufacturing fault of the container and there was nothing wrong with the beverage itself," he said.

Faulty batch

He said the matter was reported to the Pepsi Cola company and they also confirmed the manufacturing fault of the can produced last January 22.

"They extended full cooperation and immediately withdrew the cans in question from the market on the orders of the FCA," he added.

He said the company said the manufacturing fault occurred due to a sudden electricity cut during production.

He advised the public to report any complaints on the FCA's telephone number 8006565.

Meanwhile, Khalid Sharif, Assistant Director at the Public Health Department at Dubai Municipality, said that the municipality was not aware of the problem.

"Sometimes, such problems happen on a very small scale and are tackled by the authorities concerned," he said.

© Al Nisr Publishing LLC
posted by Josh @ 11:34 AM
Josh and Liz are two American kids who got married in August. Liz has lived in Dubai since 2003, Josh since August of 2006.

Follow along in the culture shock of being recently married and (for Josh, at least) recently transplanted to Dubai.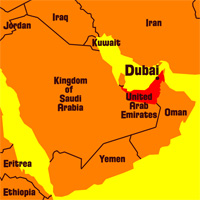 Right now in Dubai
Videos
Pictures
Previous Words
Favorite Recipes
Currency Converter
The easy way to convert Dirhams to Dollars!

Enter a number in either field, then click outside the text box.
Archives
Links We Like
Visitor Counter: