2007-02-01
Tiger Tiger Woods, Y'all
The Dubai Desert Classic golf tournament starts today! I had to mention this, for if I didn't I'd be sure to get an email from my father-in-law. For sure.




This tournament, of course, means that Tiger Woods is in town to defend his championship, so I'm sure you'll see lots of Dubai on ESPN over the next four days.

See, Tiger has a contract with the officials here that says he'll compete in the event at least three times in the next four years. For doing so, he gets $3 million compensation. A year. For winning the whole tournament last year he got a whopping $400,000. In fact, the sum total of the purses was just about $2.2 million.

Really there's no way Tiger can lose!

Plus he also gets to stay in the Burj al-Arab hotel and get helicopter rides to and from the golf course. No waiting in mid-afternoon traffic on Sheikh Zayed Road for him. Lucky punk.

It's interesting, though, apparently it's illegal to pay players on the European Tour, and the Dubai Desert Classic counts as a wing of that. So organizers actually pay Tiger and company to compete in the pre-tournament shootout, the Jumeirah Golf Estates Challenge. Of course Dubai would find a sneaky way around the rules ...

Lastly, you might have heard this two months ago, Tiger Woods is set to design his first course here in Dubai - the Al Ruwaya course at "The Tiger Woods - Dubai" resort.

It's actually more than just a resort, really. It'll be an exclusive golf community that will include a golfing academy, an 80-suite boutique hotel for VIP guests, 300 luxury villas, 20 mansions and - of course this is Dubai - a retail area. It's set to open in 2009 in Dubailand, the as-to-yet fictional extravaganza that's going to be the world's largest theme park. In two years.

Because if it only took Walt Disney and his staff a year and a half to develop an 85 acre (344,000 sq meter) theme park back in the 1950s, I'm sure these folks in Dubai can build a 3 billion square foot (278 sq km/107 sq mile) park in the next two years.

Sure.
posted by Josh @ 10:46 AM
Josh and Liz are two American kids who got married in August. Liz has lived in Dubai since 2003, Josh since August of 2006.

Follow along in the culture shock of being recently married and (for Josh, at least) recently transplanted to Dubai.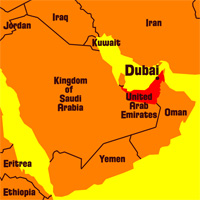 Right now in Dubai
Videos
Pictures
Previous Words
Favorite Recipes
Currency Converter
The easy way to convert Dirhams to Dollars!

Enter a number in either field, then click outside the text box.
Archives
Links We Like
Visitor Counter: