2007-02-27
Thai Recipes
Hey, so I was looking for some funky Thai Pizza recipes online to surprise my wife with tonight (don't worry, she never reads the blog, I could tell you what I'm getting her for her birthday in May and it'd still be a surprise in three months). I didn't find any particularly good recipes, but I found this site that sounds neat: Appon's Thai Food Recipes.

Yeah, the main page looks to have lots of sausages, but if you scroll down and check out the left-hand side, there are categories and groupings that aren't as processed-meaty.

Some of the ingredients might be tough for me to track down in Dubai, but if I get any good recipes out of this page, I'll let you know ...
posted by Josh @ 1:18 PM
Josh and Liz are two American kids who got married in August. Liz has lived in Dubai since 2003, Josh since August of 2006.

Follow along in the culture shock of being recently married and (for Josh, at least) recently transplanted to Dubai.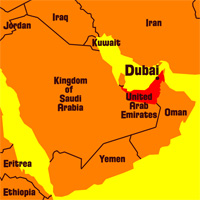 Right now in Dubai
Videos
Pictures
Previous Words
Favorite Recipes
Currency Converter
The easy way to convert Dirhams to Dollars!

Enter a number in either field, then click outside the text box.
Archives
Links We Like
Visitor Counter: