2007-02-08
Recipe ... of a disaster.
The other fun thing about my iBook being dead is the fact that I don't have access to any of my recipes.

Last night I made a particularly bland-tasting rendition of a calzone with a downright dough recipe that I thought I had memorized.

Guess not.

Sadly, in the last two weeks before my computer disaster I made ALL THREE of the recipes that I've posted online:


Huh. Well, I hope Liz likes those three things, because it looks like that's all I know how to make now.

Well, that, and a particularly lame calzone ...
posted by Josh @ 10:41 PM
Josh and Liz are two American kids who got married in August. Liz has lived in Dubai since 2003, Josh since August of 2006.

Follow along in the culture shock of being recently married and (for Josh, at least) recently transplanted to Dubai.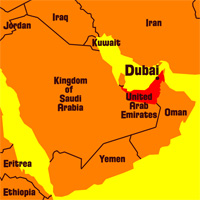 Right now in Dubai
Videos
Pictures
Previous Words
Favorite Recipes
Currency Converter
The easy way to convert Dirhams to Dollars!

Enter a number in either field, then click outside the text box.
Archives
Links We Like
Visitor Counter: