2007-02-15
Recipe - Baked Dijon Salmon
So last night was Liz and my first Valentine's Day spent together. We wanted to do something nice, memorable, and fun.

It seemed that lots of restaurants around Dubai were having special dinner selections (i.e. rip-off prices) for the night, so I decided to make something new and different for dinner.

(Plus, as you're all well aware of by now, my recipes are all unretrivable on my iBook until I can get the screen fixed.)

Liz has mentioned that she wanted more fish in the menu, I think her exact words were, "Are you going to cook chicken every night?!" So I found a recipe for salmon yesterday.

It turned out great, so I wanted to share it with you all.

Baked Dijon Salmon

1/4 c butter, melted
3 T Dijon mustard
1 1/2 T honey
1/4 c dry bread crumbs
1/4 c finely chopped pecans
4 t chopped fresh parsley
4 (4 ounce) fillets salmon
salt and pepper to taste
1 lemon, for garnish

Preheat oven to 400 degrees F.

In a small bowl, stir together butter, mustard, and honey. Set aside. In another bowl, mix together bread crumbs, pecans, and parsley.

Brush each salmon fillet lightly with honey mustard mixture, and sprinkle the tops of the fillets with the bread crumb mixture.

Bake salmon 12 to 15 minutes in the preheated oven, or until it flakes easily with a fork. Season with salt and pepper, and garnish with a wedge of lemon.
posted by Josh @ 3:49 PM
Josh and Liz are two American kids who got married in August. Liz has lived in Dubai since 2003, Josh since August of 2006.

Follow along in the culture shock of being recently married and (for Josh, at least) recently transplanted to Dubai.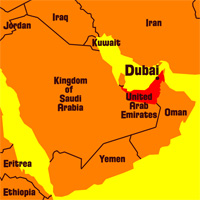 Right now in Dubai
Videos
Pictures
Previous Words
Favorite Recipes
Currency Converter
The easy way to convert Dirhams to Dollars!

Enter a number in either field, then click outside the text box.
Archives
Links We Like
Visitor Counter: