2007-02-09
Price Gouging
I was going to write about this last month, and then I calmed down and gave up. But now my ire is up again, and there's no stopping me.

I've gotten used to being in Dubai - it's been just under six months now, and I'm cool with the fact that there's no such thing as ham, baloney or bacon here. I'm fine with the fact that there's no Diet Mountain Dew, either. (I mean, heck, when I moved back to Maine from California it took me a few months to get used to not having Diet Mountain Dew Code Red.) We don't really get mail, or magazines, which is a pain but I'm used to it. In our endless array of malls in Dubai we have no J.Crew, Gap or Old Navy. There's no butter (or artificial butter flavor) on your popcorn at the movie theater. And not a company who can develop slides or black and white film in the whole city.

And no, I still haven't found any good Mexican food, either.

But I'm cool with this lack of products, services or brands. In exchange we have Japengo Café, Ski Dubai, shawarma, Mountain Dew in the glass bottles with a really really cool Arabic logo, Insha'Allah to get us out of jams, the Dubai International Film Festival, and, of course, Cricket video games.

Okay, the last one is a joke, but it's true to say I've found some neat things here in Dubai. But I'd say that's mostly because Dubai is ridiculously Westernized. I mean, besides the street signs being in Arabic and English, and the massive construction, Dubai kind of feels like it could be in the South-Western United States. Maybe somewhere between Los Angeles and San Diego. Or perhaps near Las Vegas.

Anyway, last month one of my professors added two books to the syllabus for my marketing class. How Brands Become Icons retails for $32.95, but amazon.com sells it for $22.74. How Customers Think retails for $29.95 but amazon.com sells it for $19.77.

Sadly the professor didn't tell the school bookstore to order the books.

But since Dubai has MacGrudy's and Borders and a couple of other chain bookstores, you'd think I could find these two books here, right?

Nope.

Oh, and of course amazon.com doesn't ship to Dubai.

Luckily I found out that the publisher of the two books does ship overseas, so I bought both from that company (at full retail value) and spent $50 on shipping to Dubai.

Total price? Over $112.

If I had bought them in the States from amazon.com with free shipping?

$42.51.

Ouch.

But that's not the kicker. Over the last week I've been trying to figure out a way to get a new computer to replace my iBook with the non-functioning screen. The other day I found just what I want on the Apple Store online:


17-inch iMac
2.0GHz Intel Core 2 Duo
1GB 667 DDR2 SDRAM - 2x512
160GB Serial ATA drive
SuperDrive 8X (DVD+R DL/DVD±RW/CD-RW)
Keyboard & Mighty Mouse + Mac OS X - U.S. English
ATI Radeon X1600 128MB SDRAM
17-inch widescreen LCD
AirPort Extreme
Bluetooth 2.0 + EDR

The whole total comes to $1,199, with free shipping in the USA. But if you add in the Educator discount, it drops to $1,099.

But they don't ship to Dubai.

Crap.

But in Duabi over at the Ibn Battuta Mall there's a store that sells Apple computers, although it's not an official Apple Store. They try and make it look at white and plastic-y and hip, though.

Anyway, the other day I went in and found the exact same computer. The sales clerk wrote down the price - 6199 AED.

As I've never converted Dirhams to Dollars at quite that rate, I smiled, nodded my head, said "Thank you" and ran out of the store to do the math on my calculator phone.

You know how much it is in dollars?

$1686.13.

Almost a FIVE HUNDRED DOLLAR MARK UP.

Six hundred, if you count the discount.

Shoot, for six hundred dollars I could almost fly to the States and buy my own computer!!

Needless to say, barring any visitors this spring who want to schlep a computer over here for me, it looks like I'm Apple-less until mid-July when we get home.

Maybe by then there'll be a newer, faster model out, anyway ...
posted by Josh @ 11:22 AM
Josh and Liz are two American kids who got married in August. Liz has lived in Dubai since 2003, Josh since August of 2006.

Follow along in the culture shock of being recently married and (for Josh, at least) recently transplanted to Dubai.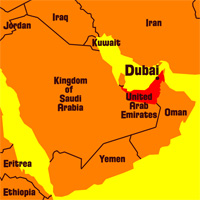 Right now in Dubai
Videos
Pictures
Previous Words
Favorite Recipes
Currency Converter
The easy way to convert Dirhams to Dollars!

Enter a number in either field, then click outside the text box.
Archives
Links We Like
Visitor Counter: