2007-02-16
News: Urban Disney
So somehow this story slipped under my radar last week. Apparently the Walt Disney Company has floated around the idea of building hotels and possibly water parks in cities and states where they don't have theme parks.

This might remind some (okay, okay, only the die-hard Disney geeks) of Disney's 1987 plans to build a shopping and hotel complex in Burbank, CA called The Disney-MGM Studio Backlot.

This complex would have been on about 40 acres of property north of the Five freeway: Burbank Blvd to the north, Olive Ave to the south, First St to the west, and Glenoaks Blvd to the east.

This is the current home of Ikea, the Media City Center mall, the AMC movie theater complex, and all of the restaurants that I miss so dearly (Islands, Elephant Bar, the Japanese place, and the long-gone Spoons).

Whereas most of America knows about Disney's battle over the early 1990s Disney's America theme park in Virginia, the smaller-scale battle over the Disney-MGM Studios Backlot in Burbank hasn't really been explored in any books, articles or websites. At some point in the past, I was thinking of researching it more and writing about it. Maybe I still will.

So anyway, I think that a Grand Floridian Resort in Topeka is a horrible idea. Hopefully this plan will die on the vine ...


Orlando Sentinel
Disney may expand into urban frontier
The company talks of themed hotels and entertainment districts across U.S.
by Scott Powers
February 8, 2007

Walt Disney Parks and Resorts is considering putting Disney-themed hotels and nightlife districts into downtown areas of major cities that don't currently have Disney properties.

Disney is not yet making any commitments to "urban Disney hotels" or stand-alone Disney entertainment districts, Disney Parks and Resorts Chairman Jay Rasulo told investors Wednesday night. But he outlined them as "some of the ideas our business team and Imagineers are thinking about" as ways to expand Disney's tourism business into new locales. Imagineers are Disney designers and engineers.

In addressing investors, Rasulo said Disney is thinking about developing major "flagship" hotels - such as the Disney Grand Floridian at Walt Disney World - or themed hotels that could be built in large cities that already are tourist draws. He did not cite examples.

He also said the Downtown Disney concept has been so successful at both Disney World and Disneyland in California that the idea could be transplanted into major urban areas.

Disney's also considering increasing the Disney Cruise Line fleet, its Disney Vacation Club properties and its Adventures by Disney vacation-package programs.

Disney also is contemplating small, immersive "niche theme parks" and water parks in other cities, Rasulo said.

"Our relationships with millions of families will enable us to expand to new businesses and new markets," Rasulo said. "We will never stop dreaming."

Scott Powers can be reached at spowers@orlandosentinel.com or 407-420-5441.

© Orlando Sentinel
posted by Josh @ 8:34 AM
Josh and Liz are two American kids who got married in August. Liz has lived in Dubai since 2003, Josh since August of 2006.

Follow along in the culture shock of being recently married and (for Josh, at least) recently transplanted to Dubai.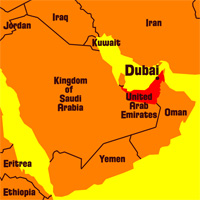 Right now in Dubai
Videos
Pictures
Previous Words
Favorite Recipes
Currency Converter
The easy way to convert Dirhams to Dollars!

Enter a number in either field, then click outside the text box.
Archives
Links We Like
Visitor Counter: