2007-02-17
News: Salmonella outbreak due to peanut butter
I was going to wait on this story until Monday, since I usually don't post on Saturday, but this was too funny.

Here's a photo of the Peter Pan Peanut Butter jar lid that my wife made me throw out yesterday, followed by an article about said peanut butter. Emphasis mine.


Associated Press
Salmonella outbreak due to peanut butter
By Mike Stobbe
February 14, 2007

ATLANTA - A salmonella outbreak that has slowly grown to nearly 300 cases in 39 states since August has been linked to tainted peanut butter, federal health officials said Wednesday.

It is believed to be the first salmonella outbreak associated with peanut butter in U.S. history, said officials with the Centers for Disease Control and Prevention.

About 20 percent of the 288 infected people have been hospitalized, but none has died, said Dr. Mike Lynch, a CDC epidemiologist.

About 85 percent of the infected people said they ate peanut butter, CDC officials said.

How salmonella got into peanut butter is still under investigation, Lynch said.

The Food and Drug Administration warned consumers not to eat certain jars of Peter Pan or Great Value peanut butter because of the risk of contamination.

The affected jars have a product code on the lid that begins with the number "2111." The affected jars are made by ConAgra in a single facility in Sylvester, Ga., the FDA said.

Great Value peanut butter made by other manufacturers is not affected, the agency said.

ConAgra said it is recalling all Peter Pan and Great Value peanut butter beginning with product code 2111.

"Although none of our extensive product tests have indicated the presence of salmonella, we are taking this precautionary measure because consumer health and safety is out top priority," spokesman Chris Kircher said. "We are working closely with the FDA to better understand its concerns, and we will take whatever additional measures are needed to ensure the safety, quality and wholesomeness of our products."

The largest number of salmonella cases were reported in New York, Pennsylvania, Virginia, Tennessee and Missouri.

Salmonella infection is known each year to sicken about 40,000 people in the United States, according to the CDC. Salmonellosis, as the infection is known, kills about 600 people annually.

Symptoms of salmonella can include diarrhea, fever, dehydration, abdominal pain and vomiting.

The new outbreak began in August, but just two or fewer cases have been reported each day, CDC officials said.

It was only in the past few days that investigators were able to hone in on a particular food, Lynch said.

ConAgra is destroying all affected products the company still has, the FDA said.

The company will cease production until the exact cause of contamination can be identified and eliminated. Meanwhile, ConAgra advised consumers to destroy any Peter Pan and Great Value brand peanut butter beginning with product code 2111.

The FDA sent investigators to ConAgra's processing plant in Sylvester where the products were made to review records, collect product samples and conduct tests for salmonella.

© Associated Press
posted by Josh @ 9:15 AM
Josh and Liz are two American kids who got married in August. Liz has lived in Dubai since 2003, Josh since August of 2006.

Follow along in the culture shock of being recently married and (for Josh, at least) recently transplanted to Dubai.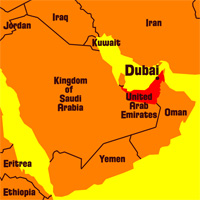 Right now in Dubai
Videos
Pictures
Previous Words
Favorite Recipes
Currency Converter
The easy way to convert Dirhams to Dollars!

Enter a number in either field, then click outside the text box.
Archives
Links We Like
Visitor Counter: