2007-02-28
News: Prince Charles wants to ban McDonald's
So yeah, Prince Charles and not-Diana are in the U.A.E. this week on some kind of "goodwill" tour, and the pervert prince made an off-the-cuff suggestion of banning McDonald's fast food.

Now, I've never really been a fan of old Chuck, he seems to me the epitome of stuffy snivly British stuckupatude. I mean, why's he even on a goodwill tour? Does Britain even play any sort of roll in the world situation these days?

Granted, it's not like he has much of anything else to do, being the crown prince to a failed empire is kinda like being the ... well, something lame. The king homeless guy in bumtown.

Anyway, here's the scoop.

The Associated Press
Prince Charles says ban McDonald's food
February 28, 2007

LONDON - Prince Charles suggested Tuesday on a visit to the United Arab Emirates that banning McDonald's fast food was crucial for improving people's diets, a British news agency reported.

Charles made the comments while visiting the Imperial College London Diabetes Center in Abu Dhabi for the launch of a public health campaign, The Press Association reported.

"Have you got anywhere with McDonald's? Have you tried getting it banned? That's the key," Charles was quoted as asking one of the center's nutritionists.

A McDonald's spokesman, Nick Hindle, called the remark disappointing. He said other members of the royal family "have probably got a more up-to-date picture of us," alluding to reports that Charles' son, Prince Harry, was spotted eating a chicken burger at McDonald's in 2005.

"This appears to be an off-the-cuff remark, in our opinion," Hindle said. "It does not reflect our menu or where we are as a business."

The Oak Brook, Illinois-based McDonald's Corp. took steps last year to display nutrition facts on its packaging and vary its menu to counter charges that its food is unhealthy and contributes to obesity. There are 25 McDonald's franchises in the United Arab Emirates.

Charles, who is first in line to the British throne, is an active advocate of organic food and in 1986 set up a farm on his Highgrove Estate that does not use artificial pesticides or fertilizers.

The prince was in the United Arab Emirates with his wife, Camilla, as part of a tour of Gulf countries.

The United Arab Emirates has the world's second highest number of diabetes cases per capita, with more than 20 percent of those aged 20 to 79 already diagnosed with the illness, while 40 percent of the population are at risk.

&copy The Associated Press
posted by Josh @ 11:39 AM
Josh and Liz are two American kids who got married in August. Liz has lived in Dubai since 2003, Josh since August of 2006.

Follow along in the culture shock of being recently married and (for Josh, at least) recently transplanted to Dubai.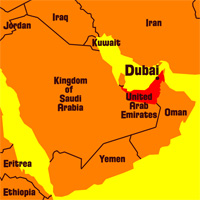 Right now in Dubai
Videos
Pictures
Previous Words
Favorite Recipes
Currency Converter
The easy way to convert Dirhams to Dollars!

Enter a number in either field, then click outside the text box.
Archives
Links We Like
Visitor Counter: