2007-02-19
News: Keith Foulke retired!
Wow, I just saw the news that former Boston Red Sox pitcher Keith Foulke retired the other day.

Foulke, a closer, was pivotal in the 2004 World Series win. That year he appeared in eleven of fourteen post-season games, in fourteen innings he had nineteen strikeouts, and allowed only one earned run.

Foulke was the closer in 2005, too, but things didn't quite gel for the whole team as much that year.

And after a crummy 2006 pre-season, in the second game of the season the Red Sox went with rookie Jonathan Papelbon as their closer. And, to use another New England sport analogy, Papelbon was to Tom Brady as Foulke was to Drew Bledsoe.

But still Foulke will be remembered by the Red Sox Nation for his three (two and a half?) years in Boston. And hey, what fan doesn't know this quote from WEEI's Joe Castiglione:


"Foulke to the set, the 1-0 pitch, here it is ... swing and a ground ball, stabbed by Foulke. He has it. He underhands to first, and the Boston Red Sox are the World Champions. For the first time in eighty-six years, the Red Sox have won baseball's world championship. Can you believe it?"

Anyway, here's the article. I assume that WJLA is in Cleveland (where Foulke signed this year), though perhaps it's the news channel of the Justice League of America?


WJLA.com
Keith Foulke Retires
February 17, 2007

Keith Foulke unexpectedly announced his retirement on Friday.

Signed by Cleveland in the offseason, Foulke was expected to be a key contributor in the Indians' revamped bullpen. However, Foulke, who had knee surgery before last season and was bothered by elbow, shoulder and back problems throughout his career, notified the team of his decision before taking the Indians' official physical.

"Over the last few weeks, while preparing for the 2007 season, my body has not responded as it has in years past," said Foulke. "I feel strongly I will not be able to perform at the level where I need to be to help the Indians this season."

The 34-year-old Foulke pitched in 44 games last year with the Red Sox and just 43 the season before after his stellar 2004 campaign.

Foulke saved 32 games and had a 2.17 earned run average in 2004, a season that culminated in Boston winning the World Series. However, his ERA rose to 5.91 in 2005 as Foulke saved just 15 games that season.

He failed to save a game last year as rookie sensation Jonathan Papelbon assumed Boston's closer role. Foulke then left the Red Sox this offseason when both parties decided not to exercise his 2007 contract option.

In 588 career games with the White Sox, San Francisco, Oakland and Boston, Foulke is 41-34 with a 3.30 ERA and 190 saves.

Foulke was expected to compete with Joe Borowski, who Cleveland also signed this offseason, for the closer's spot. The Indians traded longtime closer Bob Wickman to Atlanta last July.

© WJLA/NewsChannel 8, a division of Allbritton Communications Company
posted by Josh @ 8:49 AM
Josh and Liz are two American kids who got married in August. Liz has lived in Dubai since 2003, Josh since August of 2006.

Follow along in the culture shock of being recently married and (for Josh, at least) recently transplanted to Dubai.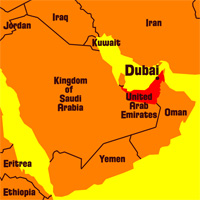 Right now in Dubai
Videos
Pictures
Previous Words
Favorite Recipes
Currency Converter
The easy way to convert Dirhams to Dollars!

Enter a number in either field, then click outside the text box.
Archives
Links We Like
Visitor Counter: