2007-02-07
News: Disney's Bahrain
In case any of you saw the articles yesterday about the Walt Disney Company building a theme park in the Kingdom of Bahrain here's the real scoop.

The whole thing seemed dodgy to me when they said the park was to be called "Disney's Bahrain". As you know, Disney theme parks are all named "Disneyland" (Tokyo Disneyland, Disneyland Paris, Hong Kong Disneyland) after the original 1955 park in So. California. The only exception, of course, is the Magic Kingdom at Walt Disney World. When Walt Disney was still alive the whole Florida resort was to be called just "Disney World", but after his passing his brother Roy changed the name to "Walt" Disney World, "so people will know that this was Walt's dream."

(Roy was Walt's older brother and business partner who postponed his own retirement from the Disney organization after Walt's death to make sure Walt Disney World was finished for it's grand opening in October of 1971. He died fewer than three months later.)

Anyway, here's the real deal on "Disney's Bahrain", followed by an article from last March about potential Disney action in Dubai.


Reuters
Disney says not in talks on Bahrain park
By Mohammed Abbas
February 06, 2007

MANAMA/LOS ANGELES - Walt Disney Co. denied on Tuesday that it is in talks to build a theme park in Bahrain, following a newspaper report saying Saudi billionaire Prince Alwaleed bin Talal was negotiating to build an $8 billion Disney park in the heart of the world's biggest oil exporting region.

The project purportedly would be based on Disney's theme parks and could be called "Disney Bahrain," Bahrain's al-Waqt newspaper said, citing an unnamed source.

But a Disney spokeswoman said the company "is not in talks to build a theme park in Bahrain."

Alwaleed, the world's eighth-richest man, is talking to investors including Kuwait Finance House, the Gulf's second largest Islamic bank by market value, and Bahraini institutions, the paper said.

Alwaleed indirectly owns 10 percent of Disneyland Paris operator Euro Disney, and his Rotana Audio Visual Co., signed a deal in November to distribute Walt Disney products across the Middle East and North Africa.

A spokeswoman for the prince could not be reached for comment. A spokesman for Kuwait Finance House in Bahrain declined to either confirm or deny the report.

A spokeswoman for Bahrain's Economic Development Board and a spokesman for the state-owned Mumtalakat Holding Company said they had not heard of the deal.

Disney has 11 theme parks worldwide and has said it wants to build one in Shanghai to tap growing wealth created by China's economic boom.

(Additional reporting by Gina Keating in Los Angeles; Souhail Karam in Riyadh)

&copy Reuters


And now here's the Dubai Disneyland article, which supports the recent story of no Disney parks in the Gulf region:


Khaleej Times
Chairman rules out Disney park in Mideast
By Lucia Dore
March 24, 2006

DUBAI - Disney will not be establishing a park in Dubai or, in fact, anywhere in the Middle East anytime soon, said James Rasulo, chairman of Walt Disney Parks and Resorts speaking to Khaleej Times, during the IAA Congress.

"When deciding on a location, we have to look at the size of economy and the distribution of income. We are a premium tourism product and we need certain characteristics. I don't see the Middle East today as a market that is quite ready for that, but I never say never," he said.

However, India fulfils some of those requirements. He said: "There is a still a fundamental evolution of infrastructure that has to occur so that people can get to a single destination with the footprint that we would like to develop. Today that footprint is not in place." But that will not be the case forever, he added. "If you look at the population and economic realities of India, it is possible one day, but that day is not now."

China is a slightly different matter. Although Hong Kong recently opened a Disney Resort, he sees the establishment of a second resort in China as a real possibility. "Someday I imagine that due to the sheer geography of China, a growing economy and population there may be a second destination in China," he said. But not in coming years. "We look with great anticipation to be able to deliver our very special formula and entertainment to all of the markets that can support it," he said.

Rasulo also spoke about how to manage global brands in a "flat world". This is a world "where media is ubiquitously available, and the definition of what is a local market is being eroded by portability, customisation and personalisation," he said.

As one of the world's most global and successful brands, the reason for Disney's success is simple. "The basic principles of global brands come back, not shockingly, to consumer insights," said Rasulo. "If a brand does not speak to consumer need it will not be a global brand. It will simply be a globally distributed local brand." He said companies that have been successful in establishing a global brand speak to universal human values and the need to belong to communities.

Speaking about Walt Disney Parks and Resorts specifically Rasulo said the concept is successful because it fulfils "the desire to have a transformational experience and to feel as if your own personal dreams are coming true".

He also said; "The principles on which we can manage a global brand are anchored in consumer insights. They have universal principles that have to be consistently expressed and speak to universal values. They speak to what we believe are a market of one, that is so basic in its needs and desires, that that market is replicated by four or five billion people all over the world. This is what Disney does."

Rasulo explained that the branding is so consistent and universal that research shows that people all over the world see the Disney brand in the same way, "whether in a living room in Southern China or in California, where they have grown up with Disneyland," he said. He said the words that are consistently used to describe the Disney experience are magical, wonder and imagination, and phrases like: "Where my dreams can come true." "And we have built our brand around this," he said.

&copy Khaleej Times
posted by Josh @ 9:11 PM
Josh and Liz are two American kids who got married in August. Liz has lived in Dubai since 2003, Josh since August of 2006.

Follow along in the culture shock of being recently married and (for Josh, at least) recently transplanted to Dubai.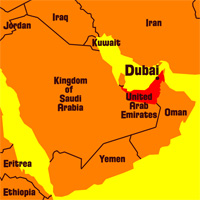 Right now in Dubai
Videos
Pictures
Previous Words
Favorite Recipes
Currency Converter
The easy way to convert Dirhams to Dollars!

Enter a number in either field, then click outside the text box.
Archives
Links We Like
Visitor Counter: