2007-02-12
Monday Morning Migration
Well, technically it's Monday afternoon for me - but the title sounded better using Eastern Standard Time.

Anyway, when I just logged in to blog right now I was forced to upgrade my blogger account, which I had been avoiding for a few weeks now. Apparently starting today there's no other choice. Either way, you shouldn't notice anything different, but if you do, can you let me know?

For as much as I am a fan of my own voice, I spend a surprising lack of time reading my own blog.

Thanks!
posted by Josh @ 3:20 PM
Josh and Liz are two American kids who got married in August. Liz has lived in Dubai since 2003, Josh since August of 2006.

Follow along in the culture shock of being recently married and (for Josh, at least) recently transplanted to Dubai.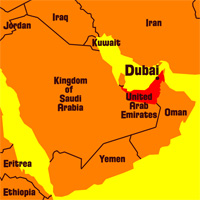 Right now in Dubai
Videos
Pictures
Previous Words
Favorite Recipes
Currency Converter
The easy way to convert Dirhams to Dollars!

Enter a number in either field, then click outside the text box.
Archives
Links We Like
Visitor Counter: