2007-02-15
Maine Snowstorm
Back home in Maine just got a huuuuuge snowstorm, which probably isn't news to you if you live in Maine right now. (Unless you're a shut-in and haven't looked out the window in the last day or two. And that would be really sad ...)

The Portland Press Herald has this forecast right now:


Blizzard warning in effect until 5 am est thursday.

Today: Snow heavy at times ... with freezing rain ... sleet and a chance of thunderstorms this afternoon. Near zero visibility at times in blowing and drifting snow. Snow and sleet accumulation of 4 to 8 inches. Windy with highs in the mid 20s. Northeast winds 10 to 20 mph ... increasing to 20 to 30 mph with gusts up to 40 mph this afternoon. Chance of precipitation near 100 percent. Wind chill values as low as 4 below.

Yikes. Sounds rough. "Near zero visibility at times". Huh.

I'm sure before the weekend I'll be getting an e-mail from Shawnee Peak saying how much snow they got, and how great the skiing / riding will be this weekend.

UPDATE: Just checked my e-mail, Shawnee Peak already sent a mail eight hours ago, projecting 20-26 inches of snow. That's around two feet, for those of you who use the metric system ...
posted by Josh @ 6:54 AM
Josh and Liz are two American kids who got married in August. Liz has lived in Dubai since 2003, Josh since August of 2006.

Follow along in the culture shock of being recently married and (for Josh, at least) recently transplanted to Dubai.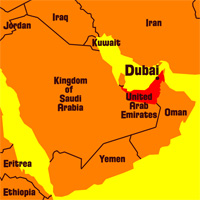 Right now in Dubai
Videos
Pictures
Previous Words
Favorite Recipes
Currency Converter
The easy way to convert Dirhams to Dollars!

Enter a number in either field, then click outside the text box.
Archives
Links We Like
Visitor Counter: