2007-02-03
Lightning, Villas and the Burj
Don't know if you caught this on ESPN, but we had a crazy lightning and thunder storm here in Dubai yesterday, so they suspended play at the Dubai Desert Classic. Probably better for Tiger to go relax in the Burj al-Arab, anyway.

Also in sports, the UAE Soccer team has won the Gulf Cup ( http://en.wikipedia.org/wiki/Gulf_Cup_of_Nations ), beating Oman 1-0.

But, istead of the "I'm going to Disneyland" tradition, there's a slightly different one here. His Highness Sheikh Mohammad Bin Rashid Al Maktoum, Vice-President and Prime Minister of the UAE and Ruler of Dubai, awarded each player of the UAE team with a villa in their respective emirates.

Hmmm, free trip to Disneyland (where you're obligated to ride in a cheesy parade) ... or a villa in Dubai.

Tough choice.

Lastly, the Burj Dubai ( http://en.wikipedia.org/wiki/Burj_Dubai ) has hit a snag in construction. Apparently some Swiss company has gone bankrupt and now they're a couple of months behind schedule. But in the newspaper there's a quote from Greg Sang, Emaar's assistant director of projects and the man overseeing the entire $20 billion Downtown Burj Dubai development, denying the rumors that construction would be complete up to a year later than its scheduled fourth quarter 2008 delivery date.

Guess Sang wants a villa, too ...
posted by Josh @ 9:11 AM
Josh and Liz are two American kids who got married in August. Liz has lived in Dubai since 2003, Josh since August of 2006.

Follow along in the culture shock of being recently married and (for Josh, at least) recently transplanted to Dubai.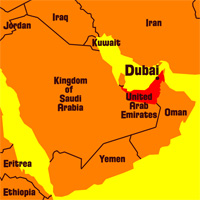 Right now in Dubai
Videos
Pictures
Previous Words
Favorite Recipes
Currency Converter
The easy way to convert Dirhams to Dollars!

Enter a number in either field, then click outside the text box.
Archives
Links We Like
Visitor Counter: