2007-02-20
Hypermarkets
So I was going to write something about our neighborhood local grocery store Carrefour today, and I wanted to find a logo of theirs. (Why? Well, I like accentuating my words with colorful pictures, in hope that you return often to my sporadic ramblings.)

Anyway, first I went to their U.A.E. website but that was in Flash, so no jpegs. Then I found their wikipedia page.

And you know what?

I finally found out what a "Hypermarket" is.

As I mentioned last week (see L.L. Bean in Dubai. Kinda.) and probably way back in the fall when I talked about groceries (see Groceries in Dubai and Grocery Shopping in Dubai), the grocery stores here are called "hypermarkets". And they're huge. They sell groceries, but also electronics, clothing, appliances, rugs, everything.

(Well, Géant, doesn't have a "Pork for Non-Muslims" section like other grocery chains do, sadly.)

Anyway, apparently selling all that stuff is the very definition of "hypermarket"!

wikipedia says:


"In commerce, a hypermarket is a superstore which combines a supermarket and a department store. The result is a gigantic retail facility which carries an enormous range of products under one roof, including full lines of groceries and general merchandise. When they are planned, constructed, and executed correctly, a consumer can ideally satisfy all of his or her routine weekly shopping needs in one trip to the hypermarket."

Huh.

So that would make Wal-Mart Supercenters and Target Greatlands "hypermarkets", too!

Another fun fact? Carrefour is the second largest retail group in the world in terms of revenue and sales figures after Wal-Mart.

Anyway, at some point remind me to take a photo over at Dubai Festival City (where Ikea is) of the hypermarket named Hyper Panda.

That's such a cool name for a store ...
posted by Josh @ 10:47 AM
Josh and Liz are two American kids who got married in August. Liz has lived in Dubai since 2003, Josh since August of 2006.

Follow along in the culture shock of being recently married and (for Josh, at least) recently transplanted to Dubai.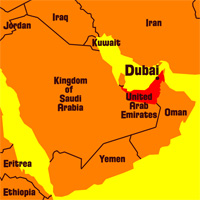 Right now in Dubai
Videos
Pictures
Previous Words
Favorite Recipes
Currency Converter
The easy way to convert Dirhams to Dollars!

Enter a number in either field, then click outside the text box.
Archives
Links We Like
Visitor Counter: