2007-02-27
Dunkin' truck
Here's a fun photo I snapped the other day with the ol' camera phone whilst sitting in traffic.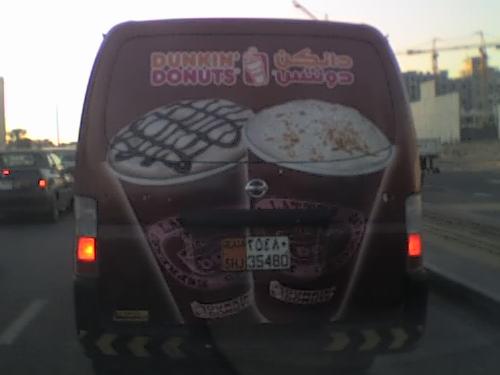 It's a van with a Dunkin' Donuts wrap. Check out the Arabic Dunkin' Donuts logo, too.

It's actually not a bad wrap. Most of them in Dubai are pretty good. Yeah, I'm a little bit of a connoisseur of car wraps.

Seriously, I am! I was kind of in charge of wraps (among other things) at my last job. On our second day in Dubai (when we were going to the U.S. Consulate to get Liz a new passport (see Taken to the Cleaners and Your Tax Dollars at Work ...)) we saw a wrapped Jeep Commander - but not the regular version, they wrapped the Limited. It looked really crummy, because the Limited has these allen bolts all along the rim of the fenders and wheel wells that they can't apply the vinyl to, so the bolts really stand out.

Yeah, I pointed it out to Liz - there's nothing like impressing your new bride with fun facts about printed vinyl decals.

Anyway, you'll also note that the license plate on the truck from the Dunk is from the Emirate of Sharjah, which is next door to Dubai.

Lastly, I want to point out this Boston Globe article from last june, apparently there are 1100 Dunkin' Donuts within a 50-mile radius of Boston.

Crazy.
posted by Josh @ 3:38 PM
Josh and Liz are two American kids who got married in August. Liz has lived in Dubai since 2003, Josh since August of 2006.

Follow along in the culture shock of being recently married and (for Josh, at least) recently transplanted to Dubai.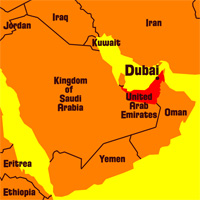 Right now in Dubai
Videos
Pictures
Previous Words
Favorite Recipes
Currency Converter
The easy way to convert Dirhams to Dollars!

Enter a number in either field, then click outside the text box.
Archives
Links We Like
Visitor Counter: