2007-02-23
Dubai Towers - Dubai
I guess this was released in November of last year, but I hadn't seen it until we picked up a local magazine at the grocery store the other day.

Here's an artist rendering of one of Dubai's upcoming developments: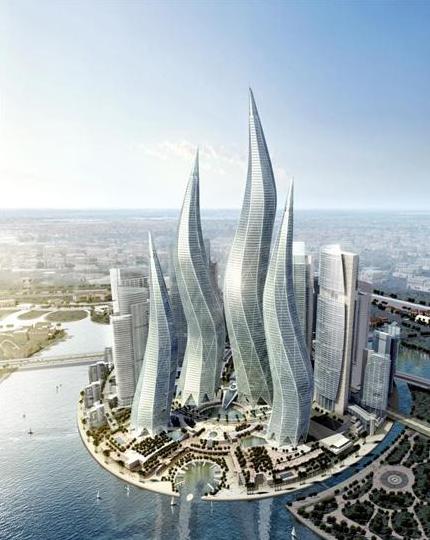 They are know as the Dubai Towers - Dubai, to distinguish it, of course, from Dubai Towers - Doha, Dubai Towers - Casablanca and Dubai Towers - Istanbul.

What? You think I'm kidding? They're really building "Dubai Towers" in all of those cities. That's kind of like building "Chicago Tower - New York" and "Chicago Tower - Miami". Crazy.

Anyway, these towers are in The Lagoons, which are seven person-made islands in Dubai Creek, right next to a wildlife sanctuary. But don't worry, the press release states "'The Lagoons' will ensure harmonious existence with the surrounding eco-systems".

Because nothing says "harmonious existence" with a wildlife sanctuary more than person-made islands.

The design, by Atlanta-based TVS International, is meant to "metaphorically represent the movement of candle light".

What?

"The design represents the enlightenment of the region," says Behr Champana, vice president in charge of the project for TVS International. Sounds like someone at TVS International is sucking up just a tad. What do you want to bet they have another deal pending with Duabi Holding? Lord.

Anyway, the four towers have your standard mixed-use residential / commercial / retail / hospitality, and range from 57 to 94 floors. The whole shebang is due to be complete sometime in mid-2010.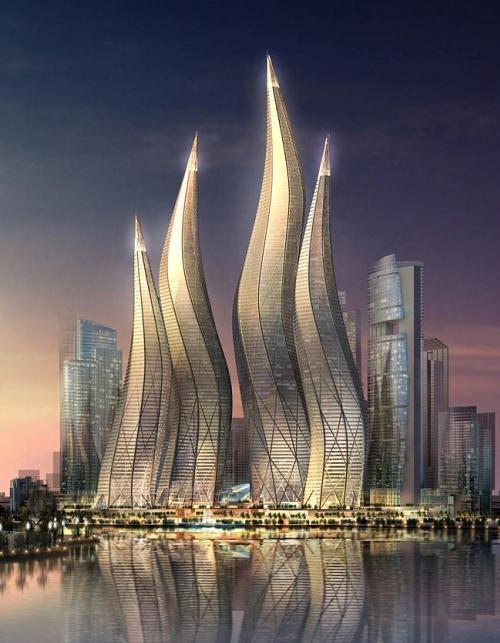 "The enlightenment of the region". Sheesh!
posted by Josh @ 11:33 AM
Josh and Liz are two American kids who got married in August. Liz has lived in Dubai since 2003, Josh since August of 2006.

Follow along in the culture shock of being recently married and (for Josh, at least) recently transplanted to Dubai.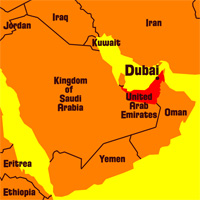 Right now in Dubai
Videos
Pictures
Previous Words
Favorite Recipes
Currency Converter
The easy way to convert Dirhams to Dollars!

Enter a number in either field, then click outside the text box.
Archives
Links We Like
Visitor Counter: