2007-02-13
Beanpot
Go BU!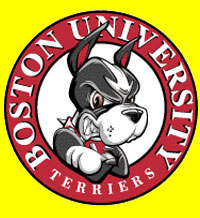 It confused me a little today when I kept checking the Beanpot Hockey Championship website and the "live" game stats were stuck at 1 to 1 in the 3rd period.

Apparently the game ended with a tie, so they went into overtime.

I finally googled the news and found the AP story from the Houston Chronicle, of all places.

Luckily the Boston University Terriers won.

"Beating BC after one period, or two periods, or three periods or five periods in overtime is always rewarding," coach Jack Parker said after BU won for the 28th time in the tournament's 55 years. "That means we've won more than all the other schools combined."

in honor of my school, I did I little research on famous Alumni. Here's a random list, although I've left off the majority of the NHL players as well as the players on the 1980 U.S. Olympic Hockey team because that there'd be a lot of typing ...

Harry Agganis - professional baseball player
Carolyn Bessette-Kennedy - late wife of John F. Kennedy, Jr.
Edward Brooke III - first African-American U.S. Senator since Reconstruction
John Cazale - actor ("Fredo" in The Godfather)
William Cohen - former U.S. Secretary of Defense, Senator, Congressman
Geena Davis - actress
Rocco DiSpirito - Chef, restauranteur, television personality
Bill Duke - actor ("Mac" in Predator), director
Mike Eruzione - Captain, 1980 U.S. Olympic Hockey Team
Kenneth Feld - CEO, Ringling Brothers Barnum and Bailey Circus
Tipper Gore - Former 2nd Lady of the United States
Mike Grier - NHL hockey player
Martin Luther King, Jr. - Civil Rights Leader
Ted Harbert - President, E! Networks
Mariel Hemingway - actress
Yunjin Kim - actress ("Sun Kwon" in Lost)
David E. Kelley - television producer
Tom Magliozzi - co-host of Car Talk
Elizabeth (Sadie) Holloway Marston - co-creator of Wonder Woman
Stephanie McMahon - Senior VP, World Wrestling Entertainment** (in my class!)
Julianne Moore - actress
Bill O'Reilly - Radio & Television personality
Rick Pitino - Basketball Coach
Kim Raver - actress ("Audrey Raines" in 24)
Scott Rosenberg - screenwriter (Con Air, Gone in Sixty Seconds)
Jeffrey Ross - actor, comedian
Howard Stern - radio & TV mogul
Nina Tassler - President, CBS Entertainment
Dorothy West - author, member of Harlem Renaissance
Helen Magill White - first woman to earn a Ph.D.
posted by Josh @ 3:31 PM
Josh and Liz are two American kids who got married in August. Liz has lived in Dubai since 2003, Josh since August of 2006.

Follow along in the culture shock of being recently married and (for Josh, at least) recently transplanted to Dubai.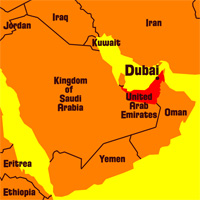 Right now in Dubai
Videos
Pictures
Previous Words
Favorite Recipes
Currency Converter
The easy way to convert Dirhams to Dollars!

Enter a number in either field, then click outside the text box.
Archives
Links We Like
Visitor Counter: