2007-01-25
Quidam review
Last night we saw Cirque du Soleil's Quidam here in Dubai. And boy, are those French-Canadians crazy!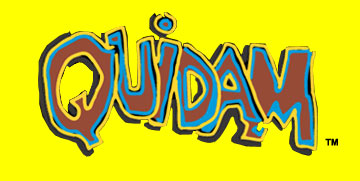 I'd never seen a Cirque show before, but having seen plenty of ads in Las Vegas (where they only have five shows, not one on every corner, like I reported yesterday) and Walt Disney World, I thought I had a pretty good idea of what to expect.

But I have to say, seeing footage of four people being human-yo-yos on video is quite a bit different from seeing them in real life, climbing up forty or fifty feet, then rolling down the rope.

First some backstory on the show, from the official website:


Quidam: a nameless passer-by, a solitary figure lingering on a street corner, a person rushing past. It could be anyone, anybody. Someone coming, going, living in our anonymous society. A member of the crowd, one of the silent majority. The one who cries out, sings and dreams within us all. This is the "quidam" that Cirque du Soleil is celebrating.

A young girl fumes; she has already seen everything there is to see, and her world has lost all meaning. Her anger shatters her little world, and she finds herself in the universe of Quidam. She is joined by a joyful companion as well as another character, more mysterious, who will attempt to seduce her with the marvelous, the unsettling, and the terrifying.

So yeah, there's some freaky weird stuff. The dude with no head but a bowler hat, the rather Pee-Wee Hermanesque ringleader, and my personal favorite, Les Chiennes Blanches - pretty much guys and gals in white ninja outfits.

The website will give you a pretty good idea of the acts, all of which were amazing. My own favorite was the German Wheel - a six foot hamster wheel with a dude inside, rolling, spinning, stopping - it made me dizzy just watching him.

The Human Statue was unreal, too. A man and a woman, both stronger than anyone I've ever met before, balancing on each other in dozens of poses. At one point the guy was standing up straight and the woman was balancing on his neck upside-down, on her neck. Her feet were straight in the air. Just imagine that for a minute. The only place they're touching is neck and shoulders.

Man.

They also broke up the feats of derring-do with this clown act, pulling people from the crowd. We're still not sure if the volunteers were plants or not - if they weren't, they certainly only picked Westerners, which was interesting. No folks in local dress, at least.

Apparently the show has been touring since 1996, with different casts, of course. The only thing dated about it, at least to me, was the score. Although the show has a live band and singer, lots of the music was pre-recorded, which had a mid-1990s, Hans Zimmer / Media Ventures sound. You know, combining traditional orchestral score with modern drums, guitars and choral elements. Like the scores to Bad Boys, The Lion King, Crimson Tide and The Rock.

Anyway, the whole thing was just amazing. I don't even want to know how long it took to set up, luckily the show was extended another three weeks, so that saves somebody from taking it down just yet.

Here's a shot from outside of the tent, or what they call the Chapeau. (Crazy French-speakers!)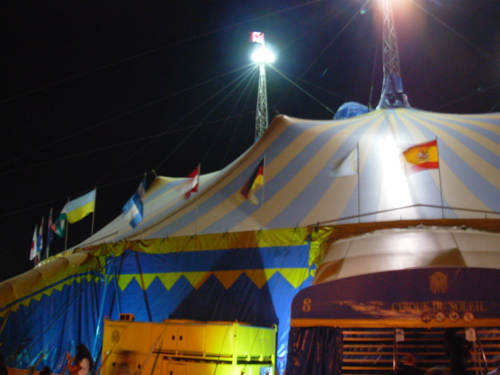 We weren't allowed to take photos inside, I tried a few without my flash during the intermission, and they really didn't come out well at all.

Lastly, for those of you interested, you can purchase the Quidam CD and DVD online, too.
posted by Josh @ 3:19 PM
Josh and Liz are two American kids who got married in August. Liz has lived in Dubai since 2003, Josh since August of 2006.

Follow along in the culture shock of being recently married and (for Josh, at least) recently transplanted to Dubai.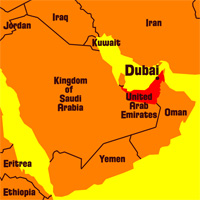 Right now in Dubai
Videos
Pictures
Previous Words
Favorite Recipes
Currency Converter
The easy way to convert Dirhams to Dollars!

Enter a number in either field, then click outside the text box.
Archives
Links We Like
Visitor Counter: