2007-01-18
News: Dubai Fire
Okay, this is crazy. Just saw this article on Yahoo.com - and about five hours ago I saw the smoke.

Liz came home for a late lunch at one or two, and as we ate I saw a billow of dark dark grey smoke out the window.

The crazy thing, while we were home in the States last week my Dad was asking about fire and rescue in Dubai. I couldn't name the closest fire house to us, which scared him. And judging by the lag time noted in this article, I think we know how quickly the response time is.


Associated Press
Dubai high-rise fire injures 25 workers
By Jim Krane
9 minutes ago

DUBAI, United Arab Emirates - A high-rise apartment building under construction caught fire Thursday, injuring up to 25 workers and trapping others in thick smoke as rescue crews scrambled to reach them. Two witnesses said they saw a man fall from one of the 37-story building's upper floors, but police and fire officials refused to comment. Hospital officials said three laborers were in serious condition.

"Some of the workers were trying to climb down on cables. One guy in red was trying to climb down and then he just fell. It was horrible," said Louise Olson, 25, from Denmark, who watched from her whirlpool bath in a high-rise that faces the burning tower.

"It was kind of like 9/11," said Steven Wullinger, 35, a German who saw the falling man.

Black smoke billowed from the upper floors of the glass-sheathed building, located in a cluster of apartment towers under construction on Dubai's southern outskirts.

One man scaling the outside of the building got stuck on a narrow ledge on the 13th floor and was rescued after balancing on his precarious perch for more than an hour. Rescuers eventually smashed windows to pull him to safety.

Trapped workers waved towels at hovering helicopters or climbed scaffolding toward the roof. Rescuers could be seen carrying injured workers on stretchers and putting them in ambulances.

Witnesses said the fire broke out around midday and burned for at least an hour before fire trucks arrived.

A rescue helicopter was unable to land on the roof, and firefighters on the ground took hours to start evacuating workers out from a 10th story window, even after most of the smoke had dissipated.

A hospital official, speaking on customary condition of anonymity, said up to 25 laborers from India, Pakistan and China were being treated for various degrees of smoke inhalation.

Dubai is in the midst of a skyscraper construction boom. Just this week, the Burj Dubai high-rise under construction reached its 100th story, nearly two-thirds of the way in its climb to become the world's tallest building.

&copy 2007 Associated Press
posted by Josh @ 7:10 PM
Josh and Liz are two American kids who got married in August. Liz has lived in Dubai since 2003, Josh since August of 2006.

Follow along in the culture shock of being recently married and (for Josh, at least) recently transplanted to Dubai.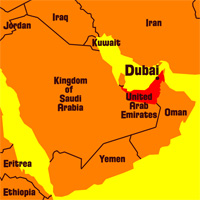 Right now in Dubai
Videos
Pictures
Previous Words
Favorite Recipes
Currency Converter
The easy way to convert Dirhams to Dollars!

Enter a number in either field, then click outside the text box.
Archives
Links We Like
Visitor Counter: