2006-10-31
The Great Pumpkin
Oh yeah, Happy Halloween!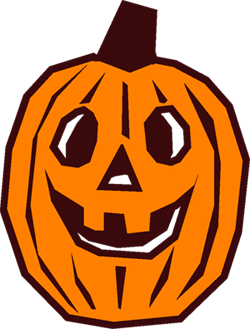 Wow, it's already Halloween again. That's crazy.

It's funny to look back at Halloweens past, and think "would I ever have imagined myself here today?"

Take last year, for example. Halloween 2005 I was working in Portland, Maine with some of the nicest people I've ever met. We even had a kickball team in the local World Adult Kickball Association league. (Yes, kickball like you used to play in elementary school.)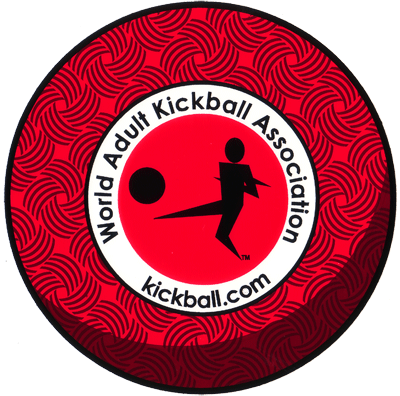 Halloween 2004 I had been in Maine for a few months and had just gotten my job. Kinda still feeling out the crowd, if you will. I spent the actual holiday at a party at one of my friends from high school, who had also just moved home from away. My most random cousin was there, and was singing karaoke, too. The whole thing was odd.

Halloween 2003 I was in Los Angeles at my friend Nate's party, just figuring out how badly I wanted to leave LA. (It wasn't related to Nate or any of his roommates, I actually spent two other Halloweens there and had a great time.)

I assume next Halloween I'll be here, and then 2008? No idea.
posted by Josh @ 1:56 PM
No. 49
A little Red Sox tidbit - sorry in advance if you don't care. But I do.

Yesterday the Red Sox announced that they will pick up the 2007 option of pitcher Tim Wakefield.

I'm really glad he's coming back. I was afraid, since he's turning 41 next year, that he'd be a goner. It's nice that he'll be around a little more.

Fun fact: Wakefield has 137 wins for the Sox, behind only two guys - Cy Young and Roger Clemens. (Ever heard of them?)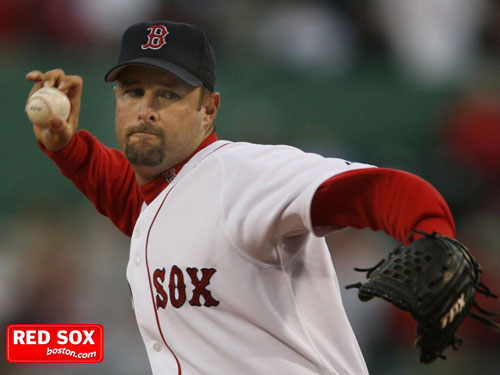 Personally I think Wakefield was a key to the 2004 Red Sox World Series - in Game Three of the playoffs with the Yankees he came in to pitch three innings of relief, forgoing his start the next day. The Yankees won the game, 19-8, but his role in the game (the longest nine-inning postseason game ever played) was to save the relief pitchers for the next few games.

Which was handy, considering Game Four went twelve innings and Game Five (started just sixteen hours later) went fourteen innings, clocking in at almost six hours long.

What can I say? I'm a fan, and a happy one at that. Go Sox!
posted by Josh @ 9:53 AM
MNF
Cool, I finally live in a place where I can watch Monday Night Football again!

Granted, it's on early Tuesday mornings ... but Tom Brady is Tom Brady.

I was spoiled in my last year in Southern California. After work a few of us would go watch the game. We'd be out at 6 pm, and the game would have just started. Perfect!

Once I moved back to the East Coast, however, the game was on late again. Compound that with the fact I had to get up at 6 am, and football was off of my Monday night lineup.

So today the cats woke me up early, and I checked to see what soccer baloney was on our fakey, semi-ESPN, and I see the Patriots are dominating the Vikings at the half. Sweet!

If I've done my math right, and I think I have, the game starts at 6 am. Not the best time for beer and wings, though. Oh well.
posted by Josh @ 9:06 AM
2006-10-30
Cooking in Dubai
Cooking in Dubai has been a little bit of a challenge. It's tough because, as I've mentioned here before, the grocery store is about 85% like an American store. But it's that hair difference that really gets to you.

Like back when we got here, I wanted to make my Captain Crunch Chicken for Liz. But then I realized they don't sell Captain Crunch. And it took me a few weeks to find the black beans - they don't sell the canned variety, only the dried bag kind. And corn meal. I was livid when I couldn't find corn meal at Géant. My brother and I have this fantastic corn bread recipe I wanted to share with Liz. But no corn meal - no corn bread.

Which was okay because I couldn't find Chili Powder to make chili, anyway. Each spice I bought that said "Chili Powder" was what we would call "Cayenne Pepper". So yeah, now we have about three kilograms of cayenne pepper, in case you need any.

Luckily a few weeks ago I was complaining mentioning to some of Liz's coworkers my plight when it came to corn bread. Now, I don't want to hype this corn bread too much, but let's just say it's the only thing that my brother uses a recipe to cook. Everything else? He wings it.

Then last week Liz gets a text message on the phone from one of her coworker's wives. "Got you corn meal at Spinneys".

See, there are other grocery chains in Dubai besides Géant. Several other ones. It's just, well, I've never really been to them. Or if I have, it was one of those "quick run in and grab [BLANK]" trips. I really should explore more.

Needless to say, now we have corn meal.

And then at Géant this weekend, I discovered a new spice. "Tex Mex Seasoning".

What we would call "Chili Powder".

I love it when a plan comes together! Yes, last night I finally made Chili and Corn Bread for Liz. Granted, it wasn't perfect - the beef here is from New Zealand, and tastes a little more bland or something. And I forgot to get kidney beans, so we had pinto beans instead. But overall, it was a nice taste of home.
posted by Josh @ 12:56 PM
Meet the Robinsons
This is pretty cool - on Thursday Disney released the poster for the last movie I was working on when I left California, back in 2004.

Check out the Meet the Robinsons poster here: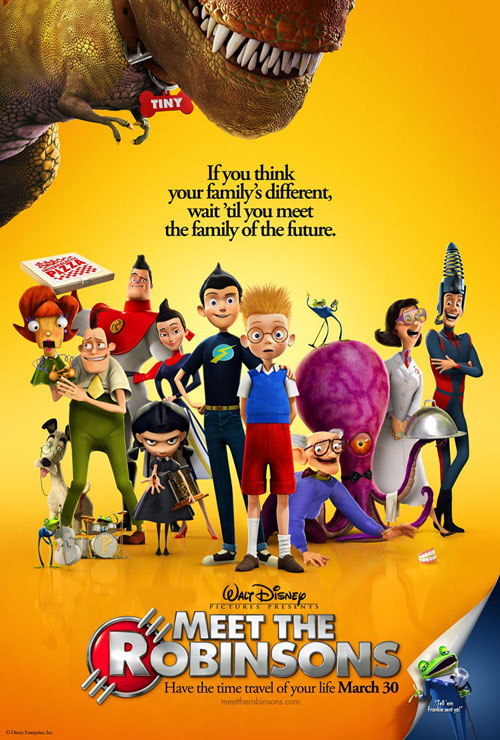 The movie is based on the William Joyce storybook A Day with Wilbur Robinson.

I was a production assistant in the development department when this was being developed, and then I became the PA for the model department - where they put together the characters in the computer. It's kind of like sculpting, how they design everything in 3D.

My buddy Steve is the director of the movie, too. He was the head of the story department on The Emperor's New Groove and Brother Bear, and a story artist on Tarzan - which incidentally are the three movies that I've received credit on (so far). Granted, on this latest flick Steve will have the first credit, and mine will be like, last, but hey, he's been working on it a little more than I have!

Here are a few more photos: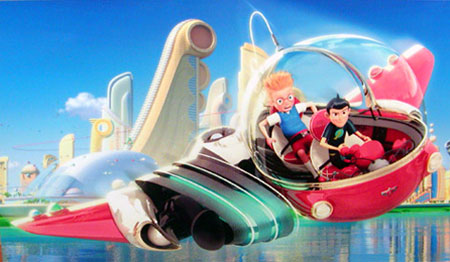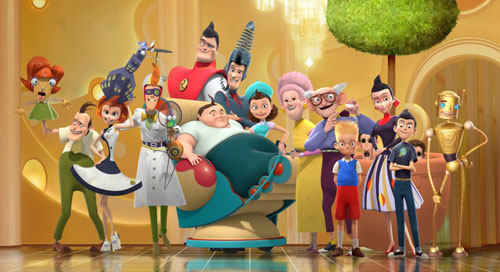 The movie comes out on March 30, 2007, which is my birthday, too.

You can see the trailer and some other art over at the official site.
posted by Josh @ 10:57 AM
2006-10-28
Saving Daylight
So apparently Dubai has enough daylight to go around, why be frugal with it?

Yup, we don't do Daylight Saving Time.

So starting at 10 am tomorrow, Dubai is now nine hours ahead of EST and a full twelve hours ahead of PST.

Don't worry, we'll catch up with you on March 11, 2007.
posted by Josh @ 10:02 AM
St Louis won World Series
Huh, how about that?

It's their first one since 1982. I'm sure the poor citizens of St Louis must be so happy, having had to wait so very long and all.

Actually, I am rather fond of Cardinal shortstop David Eckstein. He was on the 2002 World Series Champion Anaheim Angels team that I so enjoyed. That was, of course, before they took on the worst sporting name in all of baseball, no, in all of sports, true, but, in the entire world, getting there ... in the known universe (yes!) - "the Los Angeles Angels of Anaheim".

His two Red Sox ties? He was drafted by the Boston Red Sox in the 1997 amateur draft (although he never played for the big league team) and then he was part of that weird 2004 shortstop shift, when Orlando Cabrera went from the Red Sox to the Angels, Edgar Renteria from the Cardinals to the Red Sox, and Eckstein left the Angels for the Cardinals.

And to the citizens of Detroit, my heart goes out to you, as you haven't won a World Series since 1984. Poor things. Just don't move to Cleveland, San Francisco, Dallas, Houston or San Diego any time soon. Then you'll see real baseball suffering.
posted by Josh @ 9:38 AM
2006-10-27
EA Cricket 07
I read a very interesting article in a Dubai magaizne yesterday. Next month Electronic Arts is releasing the new EA Sports Cricket 07 video game.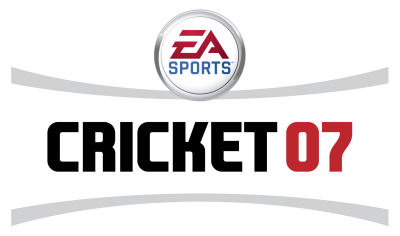 I'm not joking.

I know nothing about cricket, but next to soccer it seems to be the biggest sport in the world. It's always on TV, especially when we got the African sports channels while we were in Mauritius.

The rules seem pretty fuzzy to me, it seems enough like baseball at first but then they start playing and it's very different. The batter is trying to hit the ball, yes, but there's more on an element to protect the stick behind him than to hit a home run or whatnot. And there's one baserunner who exchanges place with the batter. But then you can run without hitting the ball, too.

All I know is that team that has scored the most runs wins.

I think.

It just kills me that EA makes a cricket game. EA Sports has the best games for darn near every sport possible - Tiger Woods PGA Tour 07, FIFA Soccer 07, NHL 07, NCAA Football 07, NBA Live 07, NFL Street 3, NBA Street V3, MVP 06 NCAA Baseball, Fight Night Round 3, NCAA March Madness, SSX, NASCAR 2007 and of course Madden NFL 07 - so why not cricket?

Incidentally, I blame the Madden series for the NFL's Skycam - you know, the foolish camera that literally flies around above the field? It totally looks like a video game camera - and that bugs me.

Anyway, the reviewer in the article was so excited, how the game is fully licensed by ... whatever governing body governs cricket, how the gameplay is the most immersive to date, the camera is more natural - all of the standard video game qualms.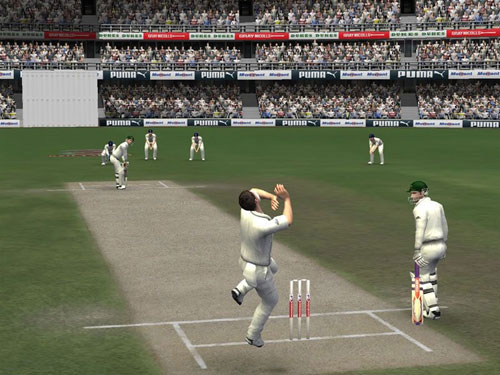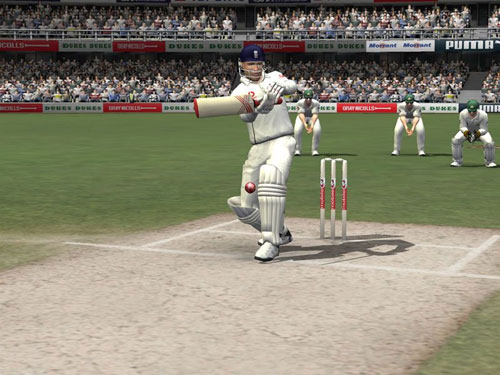 And apparently there's a new control system - the Century Stick. It actually sounds like it could be translated to a baseball video game pretty easily, let's read what EA says.


Thanks to the groundbreaking EA SPORTS Century Stick control system, batting has become more intuitive, responsive and rewarding than ever. For the first time in a cricket game, players can enjoy full control over foot choice, shot, direction, power and timing, all governed through the use of both analogue sticks. A back or front foot stroke is selected with the left stick, and then shot timing and direction are judged with the right stick. Power is determined by how far the stick is moved a slight tap can nudge the ball for a quick single or a firm push can send the ball fizzing away to the boundary.
Well, it sounds like baseball up until the part about the ball "fizzing away to the boundary". Whatever that means.



So if anyone back home needs the best darn cricket video game out there, I can pick you up a copy of EA Sports Cricket 07 next month.
posted by Josh @ 3:23 PM
2006-10-26
On the road again ...
When we went to Musandam this last weekend, we passed through Ras al-Khaimah, one of the seven emirates that makes up the United Arab Emirates. (We actually got lost in Ras al-Khaimah, both on the way there and on the way back, but that's a whole different story).

Driving around and around and around in Ras al-Khaimah I realized that it was the fourth emirate I've been to.

The other three? Well, obviously Dubai, as I spend most of my time here. We've driven through Sharjah a few times, it's a little sketchy, dirty and a weird vibe - but there's one really cool thing there. They have these huge metal warehouses with about a hundred air conditioners on the side - that's where they keep the cows that make the milk and cheese for the UAE. Huge air conditioned cow condos. I figure it's not actually that bad to be a cow in the Middle East. I mean, do the poor Indian workers have AC? Probably not.

Anyway, our package store where we buy our beer and wine is in Umm al-Quwain, and that makes four.

Not bad, considering that the country is roughly the size of Maine (the UAE is 32,278 square miles, and Maine is 33,414 square miles).

It's actually pretty good, though, as I've never even been to Fort Kent or Lubec.

Anyway, it got me to thinking, four of seven, I've seen more than half of the emirates already. How many states in the United States have I seen?

Most of them I hit on my drive to California in 1998 or my drive home in 2004. It's kind of cheating, since I don't think we stopped at all in Illinois or Indiana on either trip. And my excursion to Four Corners checked Utah and Colorado and New Mexico off the list pretty quickly. (I'll tell you about the fun I had in Arizona with the elk at the Grand Canyon some other time).

But I've never stopped in Sharjah or Ras al-Khaimah, so it's a fair comparison.

All-in-all, I've been to or through twenty-six states.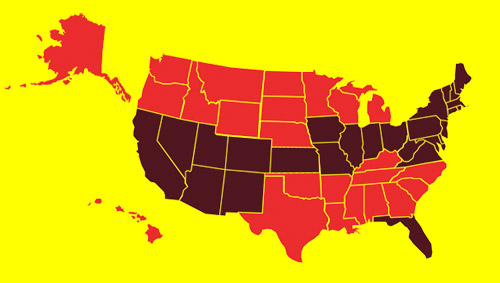 That makes fifty-two percent, just shy of my fifty-seven percent of the UAE I've seen. I've seen more of the UAE in two and a half months than I have of the US in 30 years?

Huh.
posted by Josh @ 3:15 PM
2006-10-25
Cameraphone Photo round-up
Quick update today, cleaning out the cell phone (I still refuse to call it a "mobile") I have a few photos to share.

First off, late last week we walked over to the Hard Rock Cafe for lunch. It was cooler than last time, and the road is almost completed. (If you missed that story, see Hot hot heat.).

Sadly, sidewalks are still lacking, and look like they're not planned, either.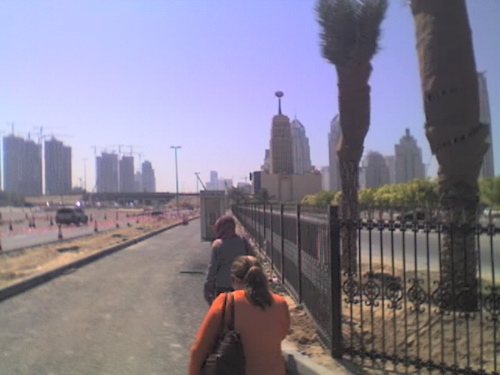 Also, on Monday night I finished the last beer we bought back on September 8th (If you missed that story, see The Barracuda).

Here's a photo of the last little guy: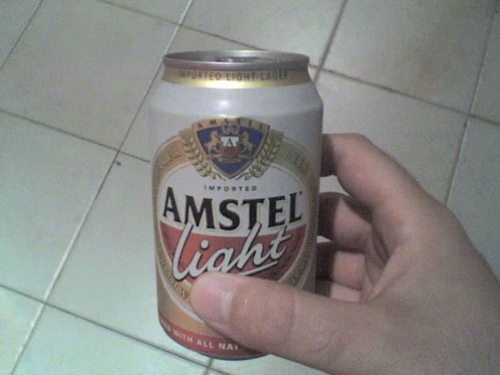 If you weren't convinced that Spongebob Squarepants is everywhere, check our carrots: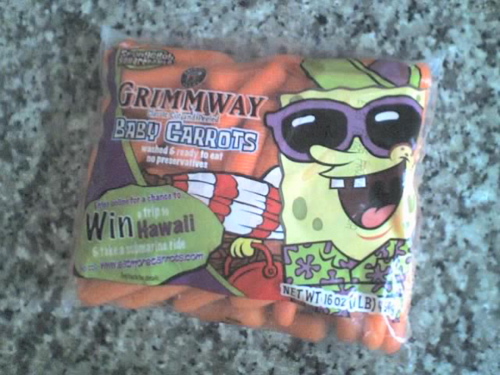 And lastly on Monday I discovered that my local mall, Ibn Battuta has a legitimate LEGO Store. How cool is that?!?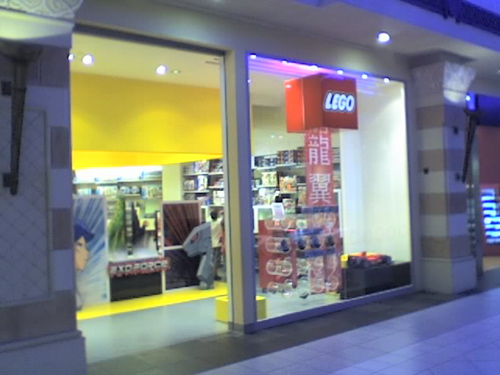 (And just for the record, the writing in the window is Japanese and not Arabic. The new LEGO Exo-Force line of toys is like this future-Samurai storyline.)
posted by Josh @ 3:50 PM
2006-10-24
Musandam photos are online!
Here are our photos from the weekend on the Musandam peninsula in Oman:



Check then out when you get a chance. Here's a preview ...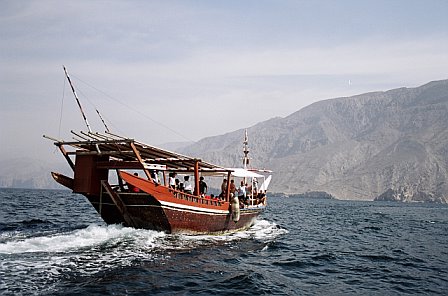 Hope you enjoy!
posted by Josh @ 3:19 PM
2006-10-23
News: Obama '08
Lastly, I'm a huge fan of Senator Barack Obama from Illinois. And now I see this article. Awesome.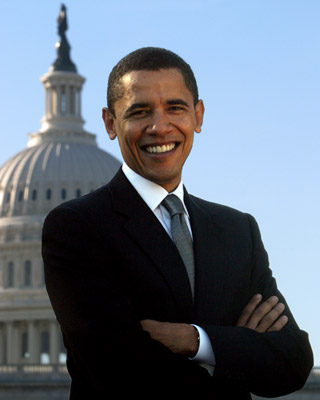 If you don't know much about him, you should check out his podcast, he's bright, witty and very down-to-earth.

I'm going to be voting for him in about two years ...


Washington Post
In Reversal, Obama Says He'll Consider Presidential Bid
Democratic Senator to Decide After Elections
By Dan Balz
October 23, 2006

Sen. Barack Obama (D-Ill.) opened the door to a 2008 presidential campaign yesterday, saying he has begun to weigh a possible candidacy and will make a decision after the November elections.

"Given the responses that I've been getting over the last several months, I have thought about the possibility, but I have not thought about it with the seriousness and depth that I think is required," Obama said on NBC's "Meet the Press." "After November 7th, I'll sit down and consider it, and if at some point, I change my mind, I will make a public announcement and everybody will be able to go at me."

Until yesterday, Obama, one of the brightest stars in the party since he electrified the 2004 Democratic National Convention with his keynote address, had said he planned to serve out the full six years of his Senate term, which would have ruled out a presidential or vice presidential campaign in 2008.

But Democrats around the country have encouraged him to consider a campaign, and there has been fevered speculation inside the party about the possibility that he will do so. His own advisers have been forced to adjust timetables for a possible run in later elections and have begun to do the research that will help Obama make his decision.

New York Sen. Hillary Rodham Clinton is considered the early front-runner for the Democratic nomination, should she decide to run, but some Democratic strategists said yesterday that Obama immediately would become one of her principal challengers, if he decides to run.

"If he runs and Mrs. Clinton runs, I don't think there's a lot of room for anyone else," said Steve Elmendorf, who was a top adviser to former House minority leader Richard A. Gephardt (D-Mo.). "The two of them take up an enormous amount of political space."

Party strategists said that, if voters are looking for change in 2008, Obama would symbolize it better than many of the other possible candidates. But having served just two years in the Senate and seven in the Illinois state Senate, Obama has a thin resume upon which to build a presidential candidacy. He was asked yesterday on "Meet the Press" whether he was ready to be president.

"I'm not sure anybody is ready to be president before they're president," he told moderator Tim Russert. "You know, ultimately, I trust the judgment of the American people that in any election they sort it through. We have a long and a rigorous process and, you know, should I decide to run, if I ever did decide to run, I'm confident that I'd be run through the paces pretty good."

Obama's statement that he is thinking seriously about running in 2008 represents a frank acknowledgement of how the strong reception he has received around the country this year has altered his personal political trajectory, one that did not envision a campaign for national office this soon. But his advisers stressed yesterday that he has not yet decided to make such a bid.

At this point, Obama is a political phenomenon but hardly a tested politician on the national stage. He has captured the imagination of Democrats and others mostly through a combination of glamour and intellect. He has no legislative record to speak of, given the short time he has been in the Senate and the fact that Democrats are in the minority.

Obama, 45, was elected to the Senate in 2004, and even before winning that election he became a nationally recognized politician with his keynote address at the Democratic convention in Boston. He is now one of the party's most sought-after speakers, and he has drawn sizable crowds at party events and at appearances on behalf of Democratic candidates.

He is currently on a nationwide tour promoting his new book, "The Audacity of Hope." An earlier book became a national best-seller after his address in 2004. He also has appeared on the covers of Time magazine and GQ.

Yesterday, Obama said pursuit of the presidency cannot be based on celebrity and conceit. "It can't be something that you pursue on the basis of vanity and ambition," he said. "I think there's a certain soberness and seriousness required when you think about that office that is unique."

Obama advisers said yesterday that there has been little formal analysis done in preparation for a possible campaign, and they agreed they will now accelerate that work. But they said they are confident Obama could raise the money to run and noted that he has many offers from people interested in working in a campaign.

"He understands it's a lot easier when you're the subject of speculation than when you're in the arena battling it out," said David Axelrod, one of Obama's advisers. "I think that there's evaluative work to be done, but there are a lot of encouraging signs."

Obama spokesman Robert Gibbs cautioned reading too much into the senator's comments yesterday. "It was simply the honest answer to the question. There isn't a formal process. He announced he was thinking about it. He didn't announce he was announcing."

Another adviser said the Obama team has not done a state-by-state analysis of fundraising potential, nor have they begun building organizations in early states like Iowa and New Hampshire. Several advisers denied that they had conducted focus groups about an Obama candidacy, as some other Democrats have suggested.

Personal factors may influence Obama's decision as much as political considerations, his advisers said. He has a young family and may not want to put them and himself through the rigors of a long campaign.

A large field of prospective candidates awaits Obama, if he decides to run. It includes Massachusetts Sen. John F. Kerry, former North Carolina senator John Edwards, Delaware Sen. Joseph R. Biden Jr., Connecticut Sen. Christopher J. Dodd, Iowa Gov. Tom Vilsack, New Mexico Gov. Bill Richardson and Wisconsin Sen. Russell Feingold. Some Democrats hope former vice president Al Gore will jump in.

Former Virginia governor Mark R. Warner announced this month that he will not run.

&copy The Washington Post Company
posted by Josh @ 11:46 AM
News: Apple Store in Boston
Also in the news this week, some good news for Apple. The Boston Redevelopment Authority has approved the building of a new Apple Store in Boston's Back Bay, right across the street from the Prudential Center.

They had concerns about the all-glass facade Apple wanted to build, and it's not clear if Apple has changed their ideas. Here are some older photo illustrations that Apple put together for the location.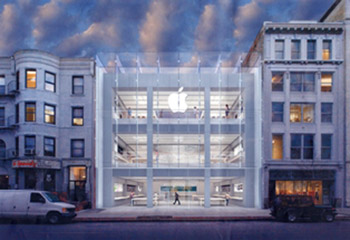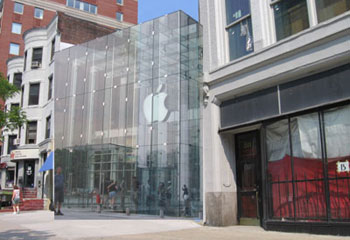 Isn't this a great building?!? I hope they make it as-is.


Boston Business Journal
Plans for Apple store on Boylston Street approved
October 20, 2006

The Boston Redevelopment Authority board approved Thursday the building of a state-of-the-art, three-story retail Apple Computer Store at 815 Boylston St.

The new store will replace an existing two-story building, which houses Copy Cop store.

The new 21,350-square-foot Apple Store will have three floors of commercial retail space. The store's architectural elements will reference the general character and scale of the surrounding buildings and will incorporate a green roof and an enclosed mechanical penthouse. The project will also provide for sidewalk improvements along Boylston Street.

Once a construction begins, it's expected to be completed in one year, according to the BRA.
posted by Josh @ 11:44 AM
iPod reaction in 2001
I myself don't even remember hearing about the iPod back in 2001. But now I can't live without mine.

Or iTunes, either. In fact, yesterday I put my 10,000th song on iTunes - it was actually a podcast, KCRW's Left, Right & Center.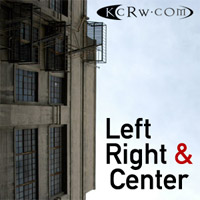 Anyway, in honor of five years that really have changed the way people listen to music, I went to MacRumors.com and found the comment section for October 23, 2001. You know, the talkback section where every day mac fans can post what they're thinking? Well, here are some examples of what they were saying five years ago today:


1. All that hype for an MP3 player? Break-thru digital device? The Reality Distiortion Field is starting to warp Steve's mind if he thinks for one second that this thing is gonna take off.

2. There are already two products similar to this on the market. The Nomad Jukebox and the Archos Jukebox which can come with a 20 gig HD. The iPod is obviously alot cooler and has firewire, but it is far from revolutionary. I for one am disappointed and think that apple is making a mistake by trying to get into this market.

3. Not exactly "revolutionary". With the economy in its current state, You'll be able to pick up MP3 players for peanuts soon. The Archos Jukebox does the same thing and it's not blowing off the shelves either. $399 is just too much for an MP3 jukebox. Sorry Steve, this isn't it...

4. Not revolutionary. Big capacity mp3 players already exist. With Creative Labs' entrance into the firewire arena, future nomads will have similar specs and better prices.

A bad fit. This product is outside Apple's core competancy - computing devices. When many are calling for a pda, they release an MP3 player.

5. Doesn't a Mac with a CDR undermine the need for most of this? All that's left is the number of songs you can play and the ability to listen to all of them with headphones anywhere. Do I really need ALL my songs ALL the time?

uhm, no.

Won't last. Another Cube.

6. The only thing breakthrough may be the narrowness of this nich market.


Yeah, apparently they all thought Apple was going to release a new PDA, like a Palm Pilot. Rememeber when people used to have those, way back in the day? Good thing Apple didn't make one of those dinosaurs.

A few people got it right, though:


1. are they going to make it accessible to PC along with Itunes 2 ? This would be a sweet revenge from apple:

PC people bying apple products ......

Then it would be a Breakthrough in the digital era.....

I hope so ....

2. Mp3 commoditized? No future? Excuse me, but if there's one thing even Apple's cricits agree on, is that if you want an mp3 player, now there's only one way to go. Boy I sure would love a Korean mp3 player with it's clumsy user interface and it's amazing ability to store 24 songs, which take 5 minutes to get on the damn thing. Woohoo! Open your eyes. What you are seeing is the future of portable musical devices.


And that, my friends, was another trip in the ol' patented "Newlywed in Dubai" Wayback Machine.
posted by Josh @ 11:44 AM
News: iPod History
I wasn't going to do a big news round-up this week, but I have to mention this. Today marks the fifth anniversary of Apple Computer's iPod.

I recently saw a figure that only 10% of households have a digital music portable player, which means Apple can expand quite a bit more.

Another article released this week shows that Apple's market share numbers has grown significantly - Apple now ships 6.1% of all U.S. PCs, 4th in the industry behind Gateway (6.4%), HP (23%), and Dell (32.1%).

Here's a history of the iPod.


Wired.com
Straight Dope on the iPod's Birth
By Leander Kahney
October 17, 2006

Thanks to Apple Computer's penchant for CIA-like secrecy, there are several myths concerning the birth of the iPod.

One of these myths is that the iPod has a father -- one man who conceived and nurtured the iconic device. Steve Jobs, of course, is one candidate; but engineer Tony Fadell has also been named the father of the iPod, as has Jon Rubinstein, the former head of Apple's hardware division. While they all played key roles in the iPod's development, the iPod was truly a team effort.

Here's the story:

In 2000, Steve Jobs' candy-colored iMac was leading the charge for Apple's comeback, but to further spur sales, the company started asking, "What can we do to make more people buy Macintoshes?"

Music lovers were trading tunes like crazy on Napster. They were attaching speakers to their computers and ripping CDs. The rush to digital was especially marked in dorm rooms -- a big source of iMac sales -- but Apple had no jukebox software for managing digital music.

To catch up with this revolution, Apple licensed the SoundJam MP music player from a small company and hired its hotshot programmer, Jeff Robbin. Under the direction of Jobs, Robbin spent several months retooling SoundJam into iTunes (mostly making it simpler). Jobs introduced it at the Macworld Expo in January 2001.

While Robbin was working on iTunes, Jobs and Co. started looking for gadget opportunities. They found that digital cameras and camcorders were pretty well designed and sold well, but music players were a different matter.

"The products stank," Greg Joswiak, Apple's vice president of iPod product marketing, told Newsweek.

Digital music players were either big and clunky or small and useless. Most were based on fairly small memory chips, either 32 or 64 MB, which stored only a few dozen songs -- not much better than a cheap portable CD player.

But a couple of the players were based on a new 2.5-inch hard drive from Fujitsu. The most popular was the Nomad Jukebox from Singapore-based Creative. About the size of a portable CD player but twice as heavy, the Nomad Jukebox showed the promise of storing thousands of songs on a (smallish) device. But it had some horrible flaws: It used Universal Serial Bus to transfer songs from the computer, which was painfully slow. The interface was an engineer special (unbelievably awful) and it often sucked batteries dry in just 45 minutes.

Here was Apple's opportunity.

"I don't know whose idea it was to do a music player, but Steve jumped on it pretty quick and he asked me to look into it," said Jon Rubinstein, the veteran Apple engineer who's been responsible for most of the company's hardware in the last 10 years.

Now retired, Rubinstein joined Apple in 1997. He'd previously worked at NeXT, where he'd been Steve Jobs' hardware guy. While at Apple, Rubinstein oversaw a string of groundbreaking machines, from the first Bondi-blue iMac to water-cooled workstations -- and, of course, the iPod. When Apple split into separate iPod and Macintosh divisions in 2004, Rubinstein was put in charge of the iPod side -- a testament to how important both he and the iPod were to Apple.

Apple's team knew it could solve most of the problems plagued by the Nomad. Its FireWire connector could quickly transfer songs from the computer to player -- an entire CD in a few seconds; a huge library of MP3s in minutes. And thanks to the rapidly growing cell phone industry, new batteries and displays were constantly coming to market.

In February 2001, during the Macworld show in Tokyo, Rubinstein made a visit to Toshiba, Apple's supplier of hard drives, where executives showed him a tiny drive the company had just developed. The drive was 1.8 inches in diameter -- considerably smaller than the 2.5-inch Fujitsu drive used in competing players -- but Toshiba didn't have any idea what it might be used for.

"They said they didn't know what to do with it. Maybe put it in a small notebook," Rubinstein recalled. "I went back to Steve and I said, 'I know how to do this. I've got all the parts.' He said, 'Go for it.'"

"Jon's very good at seeing a technology and very quickly assessing how good it is," Joswiak told Cornell Engineering Magazine. "The iPod's a great example of Jon seeing a piece of technology's potential: that very, very small form-factor hard drive."

Rubinstein didn't want to distract any of the engineers working on new Macs, so in February 2001 he hired a consultant -- engineer Fadell -- to hash out the details.

Fadell had a lot of experience making handheld devices: He'd developed popular gadgets for General Magic and Philips. A mutual acquaintance gave his number to Rubinstein.

"I called Tony," Rubinstein said. "He was on the ski slope at the time. I didn't tell him what he was going to work on. Until he walked in the door, he didn't know what he was going to be working on."

Jobs wanted a player in shops by fall, before the holiday shopping season.

Fadell was put in charge of a small team of engineers and designers, who put the device together quickly. The team took as many parts as possible off the shelf: the drive from Toshiba, a battery from Sony, some control chips from Texas Instruments.

The basic hardware blueprint was bought from Silicon Valley startup PortalPlayer, which was working on "reference designs" for several different digital players, including a full-size unit for the living room and a portable player about the size of a pack of cigarettes.

The team also drew heavily on Apple's in-house expertise.

"We didn't start from scratch," Rubinstein said. "We've got a hardware engineering group at our disposal. We need a power supply, we've got a power supply group. We need a display, we've got a display group. We used the architecture team. This was a highly leveraged product from the technologies we already had in place."

One of the biggest problems was battery life. If the drive was kept spinning while playing songs, it quickly drained the batteries. The solution was to load several songs into a bank of memory chips, which draw much less power. The drive could be put to sleep until it's called on to load more songs. While other manufacturers used a similar architecture for skip protection, the first iPod had a 32-MB memory buffer, which allowed batteries to stretch 10 hours instead of two or three.

Given the device's parts, the iPod's final shape was obvious. All the pieces sandwiched naturally together into a thin box about the size of a pack of cards.

"Sometimes things are really clear from the materials they are made from, and this was one of those times," said Rubinstein. "It was obvious how it was going to look when it was put together."

Nonetheless, Apple's design group, headed by Jonathan Ive, Apple's vice president of industrial design, made prototype after prototype.

''Steve made some very interesting observations very early on about how this was about navigating content,'' Ive told The New York Times. ''It was about being very focused and not trying to do too much with the device -- which would have been its complication and, therefore, its demise. The enabling features aren't obvious and evident, because the key was getting rid of stuff.''

Ive told the Times that the key to the iPod wasn't sudden flashes of genius, but the design process. His design group collaborated closely with manufacturers and engineers, constantly tweaking and refining the design. ''It's not serial,'' he told the Times. ''It's not one person passing something on to the next.''

Robert Brunner, a partner at design firm Pentagram and former head of Apple's design group, said Apple's designers mimic the manufacturing process as they crank out prototypes.

"Apple's designers spend 10 percent of their time doing traditional industrial design: coming up with ideas, drawing, making models, brainstorming," he said. "They spend 90 percent of their time working with manufacturing, figuring out how to implement their ideas."

To make them easy to debug, prototypes were built inside polycarbonate containers about the size of a large shoebox.

The iPod's basic software was also brought in -- from Pixo, which was working on an operating system for cell phones. On top of Pixo's low-level system, Apple built the iPod's celebrated user interface.

The idea for the scroll wheel was suggested by Apple's head of marketing, Phil Schiller, who in an early meeting said quite definitively, "The wheel is the right user interface for this product."

Schiller also suggested that menus should scroll faster the longer the wheel is turned, a stroke of genius that distinguishes the iPod from the agony of competing players. Schiller's scroll wheel didn't come from the blue, however; scroll wheels are pretty common in electronics, from scrolling mice to Palm thumb wheels. Bang & Olufsen BeoCom phones have an iPod-like dial for navigating lists of phone contacts and calls. Back in 1983, the Hewlett Packard 9836 workstation had a keyboard with a similar wheel for scrolling text.

The interface was mocked up by Tim Wasko, an interactive designer who came to Apple from NeXT, where he had worked with Jobs. Wasko had previously been responsible for the clean, simple interface in Apple's QuickTime player. Like the hardware designers, Wasko designed mockup after mockup, presenting the variations on large glossy printouts that could be spread over a conference table to be quickly sorted and discussed.

The output of a committee is a function of the quality of its members and how they're led. As the iPod came together, it garnered more and more attention from Jobs, whose insistence on excellence and high standards are stamped onto the gadget as indelibly as Apple's logo.

"Most people make the mistake of thinking design is what it looks like," Jobs told the Times. "That's not what we think design is. It's not just what it looks like and feels like. Design is how it works."

Jobs insisted the iPod work seamlessly with iTunes, and that many functions should be automated, especially transferring songs. The model was Palm's HotSync software.

"Plug it in. Whirrrrrr. Done," Jobs told Fortune.

The iPod name came from an earlier Apple project to build an internet kiosk, which never saw the light of day. On July 24, 2000, Apple registered the iPod name for "a public internet kiosk enclosure containing computer equipment," according to the filing.

"The name 'iPod' makes much more sense for an internet kiosk, which is a pod for a human, than a music player," said Athol Foden, a naming expert and president of Brighter Naming of Mountain View, California.

But Foden said the name is a stroke of genius: It is simple, memorable and, crucially, it doesn't describe the device, so it can still be used as the technology evolves, even if the device's function changes. He noted the "i" prefix has a double meaning: It can mean "internet," as in "iMac," or it can denote the first person: "I," as in me.

"They discovered in their tool chest of registered names they had 'iPod,'" he said. "If you think about the product, it doesn't really fit. But it doesn't matter. It's short and sweet."

On Oct. 23, 2001, about five weeks after 9/11, Jobs introduced the finished product at a special event at Apple's HQ.

"This is a major, major breakthrough," Jobs told the assembled reporters.

- - -
Leander Kahney is managing editor at Wired News and the author of two books about technology culture: The Cult of Mac and The Cult of IPod. He contributes to the Cult of Mac blog.

&copy CondeNet Inc.
posted by Josh @ 11:42 AM
2006-10-22
101st Post!
Holy cow!

That last post I just made was my one-hundredth post!

Not bad for a little over two months.

Just had to point that out.
posted by Josh @ 6:23 PM
Back from Musandam!
Hey everyone, we're home safely from Oman!

Photos and stories soon, but first I have to investigate a rumor I just saw online, something about the Cardinals beating the Tigers? And the football stadium dirty bomb hoax was done by a 20 year old grocery clerk in Wauwatosa, Wisconsin?

Did I come back to Dubai, or to the Twilight Zone?!?

Anyway, more soon.
posted by Josh @ 6:17 PM
2006-10-20
Musandam
So today we leave for a few days vacation. We're going to a town named Khasab on the Musandam peninsula of the Sultanate of Oman.

Remember, I talked about it a few weeks ago at the beginning of Ramadan (If you missed that story, see Ramdan).

Yes, Eid ul-Fitr is upon us. "Eid", as it's more commonly known, is the breaking of the fast of Ramandan. It's three day holiday for us, some businesses get a week or more.

So anyway, we're going to Oman for Eid. Actually Musandam is an exclave of Oman. And I actually just learned what an 'exclave' is. Alaska is an exclave. So Musandam is to Oman as Alaska is to the United States. And in that case the United Arab Emirates is Canada.

Get it?

No?

Here's a map: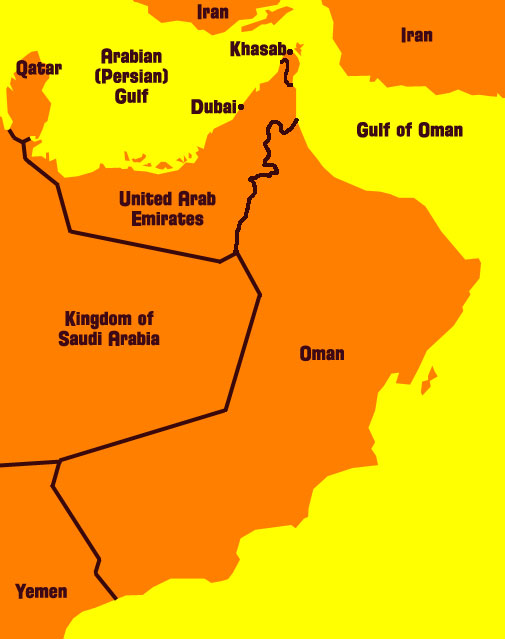 As you can see, we're going to be a stone's throw away from Iran. Interesting. So if King George decides to attack this weekend, we'll have front row seats. Don't worry, I'll bring lots of film.

(Oh wait, the radiation will probably x-ray the film, huh? I'll take the digital camera, too).

Our friends at Wikipedia just told me that Khasab is known for "fishing and smuggling goats in small, fast boats, to and from Iran".

Wait, "to and from"? So I gather the United Arab Emirates has a taste for Iranian goats, while Iran has a taste for Emirati goats?

Huh.

We also learn that "cigarettes are the main export though scrap metal and white goods form a significant part".

I'm actually quite intrigued - in Khasab I expect to find fields of tobacco, heaps of scrap metal, some "white goods" (not sure what exactly those are) and, obviously, lots of goats (of both Iranian and Emirati descent).

Wikipedia also tells us that "Khasab is currently evolving as a tourist destination, the diving in the area being well known for its challenges. Mountain safaris are popular as are the Dhow cruises of the nearby Fjords".

Phew, the real reason we're going (I mean, besides the goats).

Lastly, "the Musandam Peninsula has an area of 1,800 square kilometers and a population of 28,727 people".

For reference (I was just looking this up last week) there are currently 31,697 students (undegrad and grad) at Boston University.

But sadly, no goats are enrolled at this time.

(Although I wonder if they can smuggle them in from MIT across the Charles River?)
posted by Josh @ 11:43 AM
Happy Birthday Mad Monkey!
Yesterday was the one year anniversary of the Mad Monkey Cafe in Raymond, Maine. My brother co-owns and co-runs it with our buddy Tuan.

Happy Anniversary, guys!




So next time you're in Raymond and you want a really good coffee drink or smoothie, check out the Mad Monkey Cafe. I know I'm getting an "Ice Pick" as soon as I get back in the States ...
posted by Josh @ 10:43 AM
2006-10-19
Cold Water
Here's another random Dubai fact: we don't have cold water.

At least, right now we don't. It makes sense, too - it's still 95 degrees out every day.

I guess they could have cold water here, but then they'd have to physically refridgerate it, and that's just nuts. I mean, more nuts than an indoor ski mountain in the middle of the desert.

So yeah, for showering or washing dishes it's great, either knob brings hot water. I assume some people would have difficulty doing laundry though. Don't some people prefer cold water for the lights? Or is it darks? I wash all of my clothes together at the same time, and if things run, well, then they're not long for Josh's wardrobe.

Anyway, Liz just mentioned that as it gets cooler outside the water gets cooler (logically). So I'll have to start paying attention to the water temperatures now.

Good to know.
posted by Josh @ 3:20 PM
My Friend Flickr
This doesn't have much of anything to do with Dubai. Sorry.

But over the past few weeks I've finally had the time to cull together some of the photographs I've taken over the last six or so years (many of which are actual photographs or slides and not them thar' new-fangled digital pictures).

So this weekend I uploaded 125 pictures to my new Flickr Gallery.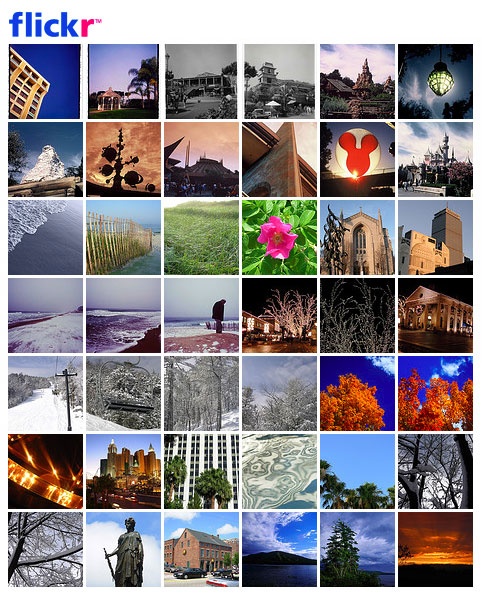 Like I said, nothing from Dubai yet, but a good smattering of California, Boston, Portland, winter, summer, autumn ... check it out.
posted by Josh @ 11:08 AM
2006-10-18
Ruining Ramadan
So, as you might know, the Islamic world is just wrapping up their holy month of Ramadan right now. It's an intensely religious time for Muslims, when they fast during the daylight hours and make themselves pure to seek a raised level of closeness to God.

At sundown they have Iftar dinners which I spoke about last week.

And now, apparently, they can have special Ramdan M&Ms: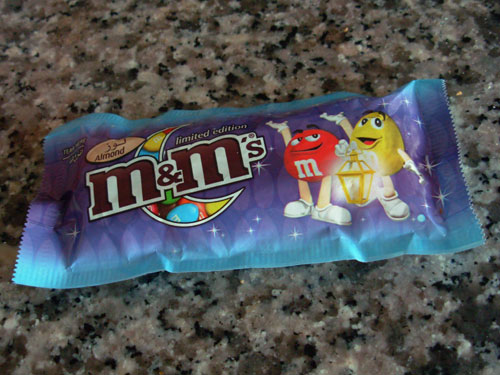 Wow.

There's also this ad up around town that I've been wanting to get a photograph of, but haven't yet. It's for Burger King, and the burger is eaten into a shape of a new moon (the new moon, along with the lantern, are kind of the Ramadan symbols).

Geesh, it makes me feel kind of dirty that American burger joints and candy companies are trying to shoehorn their products into a way of life that's 1400 years old.

It feels like how Coca-Cola virtually invented Santa Claus through the Haddon Sundblom paintings in the 1930s. But now Santa, as Sundblom portrayed him, is all over the holiday.

Maybe in 70 years M&Ms will be the Ramadan Santas, with nightly Iftars from Burger King?

(shudder)
posted by Josh @ 12:18 PM
Happy Birthday Mom!
Hey everyone, today's my mother's birthday!

Happy Birthday Mom!

I got her a pretty neat present, but she hasn't seen it yet, so I'll have to talk to you about it later.
posted by Josh @ 12:17 PM
2006-10-17
Odd Dubai Tidbit
I've been trying for the last two months to work this into a bigger piece, but it's not going anywhere. It's just a tidbit.

Listen to this sentence and tell me what floor our apartment is on:

We have to walk up a flight of stairs to get to our apartment.

If you said "second floor" you'd be ... wrong.

They call it the "first floor".

In Dubai the street level is the "Ground Floor" and the next level up from that is the "First Floor". So elevators have a "G" button as well as a "1" button. I'll have to get a photo of that. It's odd.

Maybe it's a British thing? I don't know.

It's just an odd Dubai tidbit.
posted by Josh @ 10:49 AM
Autumn Sports
The World Series doesn't start until Saturday, we don't even know which team is going to represent the National League, but I'm calling the Detroit Tigers the Champs right now.

The NL is a joke, I think all of my friends outside of LA would admit it. (The LA friends bleed Dodger Blue (Pantone 294) and think the AL is inferior in every way shape and form. It's sad, really.)

Let's look at two fun facts. This year during interleague play the AL went 154-98. The NL had a 38% win average. But more damning, the last two World Serieses have been four game sweeps by the AL - the White Sox over the Astros in 2005, and some team called the Red Sox over the Cardinals in 2004.

Thus it's time to turn our sporting attention to ... ice hockey.

Now, I know what you're thinking, you're thinking, "Josh, I know you, you're not an ice hockey fanatic!"

And you're right. But this family into which I have married is a rather huge hockey crowd. So when in Rome ...

Up until this point in life my entire knowledge of the NHL has been somewhat limited. I know Paul Kariya played for the University of Maine Black Bears when I was in high school, and now is in the NHL, possibly with Anaheim. I know a bunch of names of former the Boston University Terrier teams from the late 1990s (in 1995 when we won the National Championship, baby, whoo!) - people like Chris Drury, Mike Grier, Jay Pandolfo. They um, were, you know, good players and might play in the NHL or something.

And other than my forty page thesis paper in college describing the history and intricate details of "icing", that's all I know about hockey.

Thus lately I've been reading up about the NHL. Did you know the Quebec Nordiques, Winnipeg Jets and Hartford Whalers aren't teams anymore? Instead they've moved on to such hockey-friendly towns as Raleigh, North Carolina and Phoenix, Arizona. Yes, Phoenix, Arizona, where the average temperature is only slightly cooler than the surface of the sun. Seems like a great place for an ice rink.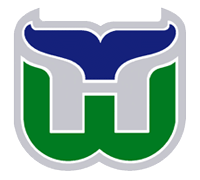 Because seriously, who really thinks "hockey" when they think "Winnipeg"? And "ice" certainly doesn't come to mind when I think "Quebec". But when I think Miami, Tampa, Nashville, San Jose, Anaheim ...

Speaking of Anaheim, apparently now that they're no longer owned by Disney the Mighty Ducks of Anaheim have realized how embarrassing it is to be named after an Emilio Estevez movie (I was going to say "an Emilio Estevez trilogy", but I'm not really convinced the second two movies even exist, as I don't know anyone who's ever seen either of them).

So this season they've changed their name and now will be known as simply the Anaheim Ducks.





Also Arrowhead Water (a Nestle brand, like Poland Spring) no longer sponsors the arena, so the formerly cool named "Arrowhead Pond" is now going to be known as the lame-o "Honda Center".

In other hockey news, the Buffalo Sabres have retired their lame mascot of a red-eyed white-and-black buffalo for a better looking blue and yellow buffalo, and Buffalo fans are upset about it. It seems to me that if my favorite team went from having a logo that looks more like a chewing tobacco mascot than an ice hockey team to a dynamic and stylized glyph (while retaining the red eye, natch) I'd be happy.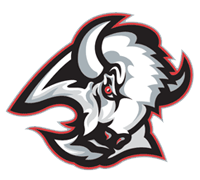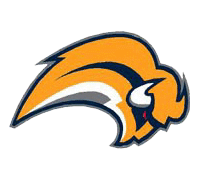 But then again, I don't live in Buffalo.

Thankfully.

Speaking of, can someone please explain to me why their logo is a buffalo and not a sabre? I mean, that'd be like the Blues having a depiction of St. Louis as their logo instead of a ... blue. Okay, bad example. It would be like the San Jose Sharks having Saint Jose instead of a shark. Or Phoenix having a phoenix as a logo instead of coyote ...

Anyway, hockey season is here. It's just too bad Mike Grier left Buffalo before the new uniforms. Oh well, they still have Chris Drury ...

(See, it was all a joke! Well, at least some of it was ...)
posted by Josh @ 10:42 AM
2006-10-16
Wounded Wife
Well maybe not "wounded" ... just a little bruised.

On her face.

And I did it.

Kind of.

Before you get thinking that I'm over here wailing on my wife, think again. Do you know me? Do you know her? Plus I wouldn't want proof that we're actually much more evenly matched than I'd want to admit.

See, we've been playing intermural floor hockey at one of the local high schools every Sunday night (remember, in Dubai Sunday is the first day of the week, so it's kind of like Monday).

Anyway, for the last month and a half Liz and I have been on the same team for each game. But somehow yesterday that wasn't the case. And there were only six of us, so it was three-on-three. That's a whole lot of running for someone as out-of-shape as I am.

But somehow I get the ball. And it's not one of those wimpy whiffle balls that's all perforated and light and fluffy. Oh no, this is a fairly hard rubber ball, a little smaller than a tennis ball.

I get the ball on a breakaway. And I'm watching the ball pretty intently. I'm not really "good" at hockey. I mean, sure, I know which direction I'm going in, and that Liz is in the goal and there's nary a defender in my way, but I still can't dribble the ball very well without looking at it.

So I got a little closer than I had meant to. And then I all-out haul on that ball. I crank it. And wouldn't you know, my aim has never been more off. Because truth be told I was aiming at the large net behind my wife, and not her jaw.

But what do I hit?

Her jaw.

Luckily Liz played Field Hockey back at home, and is no wuss when it comes to pain. But I still felt like a giant jerk.

I was going to give Liz one free shot, you know, like in soc-- er, football, when there's a penalty kick? But see above comment about Liz being pretty good at Field Hockey. A shot on goal from her would break a two-by-four. Wait-- out here would that be a "five by ten"?

Oh wait, no, they don't have lumber. I forgot.

Anyway, she's doing okay this morning, She didn't really mention it, which is nice because you know if she hit me with a ball or a stick or an even errant paperclip, you know I'd be complaining about it online about a nanosecond after it happened.
posted by Josh @ 9:18 AM
2006-10-15
News: Tower Records Disappears
And finally today we have a terribly sad article about the closing of all Tower Records stores. Back in college in Boston I used to go to the Tower Records at the corner of Newbury St and Mass Ave at least once a week, sometimes more. The place always had that really cool I-want-to-work-here, Empire Records kind of feel to it, although I wasn't pierced or tattooed or snarky enough to be employed there.

However, it was actually exceptionally handy that the staff was so very unconventional when it came to renting movies with them. In film school we'd watch a movie in class and have to go home and write about it. But it's so much harder to write specific quotes for a movie than a book, especially if you didn't have a copy in-hand. I don't know how many times I'd run down there late at night (they were open until midnight every night, except Mondays when they were open until 1 am) and hit up the video rental. But nine times out of ten the movie would be rented.

"Excuse me, I see that it's rented, but has anyone returned [INSERT EXCEPTIONALLY BORING AND OVERWROUGHT FILM TITLE HERE]?"

The overly pierced and tattooed and snarky clerk half-heartedly checks.

"Naw bro."

"I know you're not supposed to do it, but can you check and tell me who's rented it?"

"Uh ..."

He pauses - either he's weighing whether to obey the company rules on customer privacy versus his own conscience - or he's just really, really high ...

"... sure".

"Thanks."

"Uh, it looks like [INSERT OTHER BOSTON UNIVERSITY FILM STUDENT'S NAME HERE] has it."

"Cool, I'll give her a call."

Sadly, Tower left Frank Gehry's gothic castle-esque building (360 Newbury Street) in the summer of 2001, and it turned into a overpriced Virgin Megastore.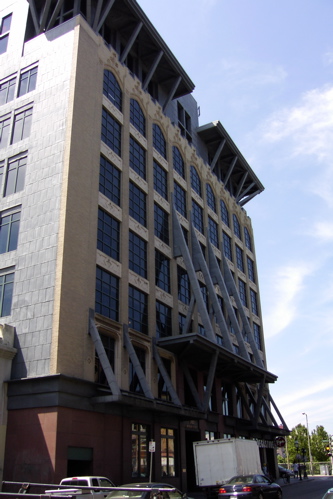 A photo from 2004, when it was already a Virgin Megastore



And now I see from this article even that is leaving. Huh.

Well, at least Tower Records still lives on ... in our memories, in our hearts, in Crazy Taxi ...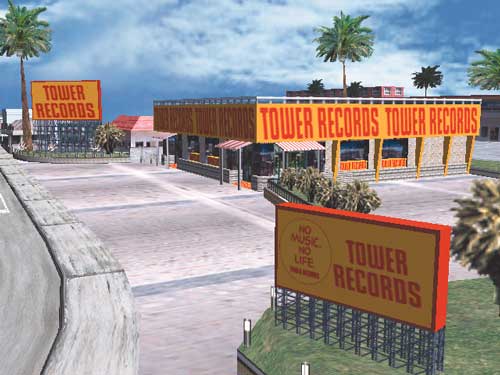 The Boston Globe
Music megastores besieged
Tower, Virgin losing business to the Wal-Marts, Best Buys, and the multiplying iTunes
By Chris Reidy
October 13, 2006

Harvard University student and iPod owner Kyle Wiggins is one reason Tower Records in Cambridge and Burlington and Virgin Megastore in Boston are holding going-out-of-business sales.

"The last time I bought a CD? It's been a while," Wiggins said while looking for bargains at Tower in Harvard Square.

Tower's and Virgin's troubles demonstrate that large stores that specialize in music are in danger of becoming an oddity locally .

"The ability to download music has eaten into this business," said Jim Schaye, chief executive of Hudson Capital Partners of Newton, which, with the Great American Group, is managing the liquidation of 89 Tower stores nationwide. "The viability of this kind of retailer is becoming extremely difficult."

Downloaded music isn't the only threat to giant music stores. Other kinds of retailers have successfully poached on their turf. According to the NPD Group, a market research firm, top-selling music retailers during the second quarter included Wal-Mart, Best Buy, and Target; during that period, NPD estimated that 7 percent of music units purchased were downloads .

It is challenging to operate a large music store in the Boston area. Local rents are pricey, and Greater Boston is wall-to-wall with tech-savvy college students likely to own iPods or other digital music devices. That combination can mean a high overhead operation with fewer customers.

Yesterday, music at Tower's Harvard Square store was selling for 15 percent off. Discounts will increase as inventory dwindles, and stores will close when the inventory is gone, Schaye said.

In April , a Globe story noted that Virgin had reached an agreement with its landlord to vacate its 46,000 square-foot store at 360 Newbury St. by June 2007 and seek another location.

In response to inquiries this week, Virgin issued statements saying the Boston store will close Nov. 4. A spokeswoman at Virgin's public relations firm said Virgin officials were unavailable for interviews. Virgin remains committed to operating its other megastores around the country, she said.

Simon Wright, chief executive of Virgin Entertainment Group, North America, said, "We have closed a few of our less profitable stores and are focusing our attention on refurbishing the stores that have the highest amount of customer traffic."

Such changes come as the Recording Industry Association of America estimated that the retail value of recorded music sales in the nation fell 6.1 percent in the first half of the year to $4.9 billion, compared with a year ago, Bloomberg News reported yesterday.

Once, when consumers mostly bought music in albums, whether on vinyl, CDs, or tapes, giant music stores could flourish. But shopping habits have changed now that firms as diverse as cellphone companies and Starbucks sell music. One popular feature of digital stores is that they sell music by the songs, as well as in albums.

"If you like just one song, you don't have to buy the whole album," said Harvard student Cleo Leung of Redwood City, Calif.

Leung, who sometimes plays music on her cellphone, checked out Tower's Harvard Square store yesterday.

"It's kind of shock," she said of its closing. "If I need a CD, it's a good place to buy."

But though she regularly walks by Tower, she guessed it's been two months since her last visit.

At the National Association of Recording Merchandisers, a trade group of music retailers, president Jim Donio said it would be "simplistic" to attribute Tower's demise entirely to the Internet.

Today, he said, music competes for "wallet share" with new entertainment products such as video games and ring-tones.

Independently owned chains such as Newbury Comics have learned to survive by selling a range of products besides music, often in smaller stores, Donio said.

According to Schaye, Tower located stores in affluent areas and leased large amounts of high-rent space so it could stock deep selections of everything from pop to jazz and classical music. He estimated that 20 percent of its music titles accounted for 80 percent of sales.

Eyeing this business, the likes of Wal-Mart and Best Buy decided to carry only the 20 percent of titles that were hot sellers, he said, and because they also sold large volumes of many other kinds of merchandise, they could be so competitive on price they could take business from traditional music retailers with large stores and big inventories.

&copy Globe Newspaper Company
posted by Josh @ 10:23 AM
News: 7-11 Sponsors the White Sox
This is fun and goofy and I'll admit, worth way more than $500,000 ...


The New York Times
White Sox Have New Start Time: 7-Eleven
By Richard Sandomir
October 11, 2006

It is not easy to conjure $500,000 out of the ether, but the Chicago White Sox have discovered a way. Their financial trick was really quite simple.

They changed their evening game times at U.S. Cellular Field.

No more 7:05 p.m. or 7:35 p.m. games, of which there are about 50. They will all begin, for the next three seasons, at 7:11 p.m., courtesy of 7-Eleven, the convenience store giant, which will pay the team an average of a half-million dollars a year to be the name behind the time.

"It's a fun way to insert our name into fans' hearts and minds," said Margaret Chabris, a 7-Eleven spokeswoman. "We think it's worth way more than $500,000." She said that 7-Eleven is talking to other baseball teams about sponsorship deals that would include starting their games at 7:11.

The shift to 7:11 at U.S. Cellular Field was not envisioned when the team and 7-Eleven were working on the details of a sponsorship deal that would have kept the starting times at 7:05 and 7:35. But team executives said that 7-Eleven wanted a new wrinkle to the more traditional sponsorship they were working on, which includes 25,000 giveaway coupons at each game. That could strain the Slurpee-making capacity of the 7-Elevens in the Chicagoland area.

There are, by the way, 185 7-Elevens in the area. The company recently acquired 202 local stores from the White Hen Pantry chain, which prompted 7-Eleven's desire to increase its presence in what it views as a growth market. "It made sense to sponsor the White Sox," Chabris said.

And to tinker with the hands of baseball time.

But the connection was not immediately obvious. Ryan Gribble, the team's manager of corporate partnerships, said he was noodling around a few weeks ago in search of ways to use the numerical values of 7-Eleven.

The White Sox Hall of Famer Luis Aparicio wore No. 11, which is retired. Jerry Owens, who had nine at-bats for the team this season, wears No. 7. Maybe something with the seventh-inning stretch. Then his mind shifted to time.

"Most of our night games started at 7:05, but the first pitch was really at 7:07 or 7:09," Gribble said. Suddenly, 7:11 was not very far-fetched.

Gribble and Brooks Boyer, the White Sox's vice president for marketing, brought the idea to Jerry Reinsdorf, the team's controlling owner.

Reinsdorf's personal numerology is somewhat suited to the deal. He will turn 71, although not a perfect 711, on Feb. 25.

"We said, 'What would you think of moving the game times to 7:11?' and he laughed," Boyer said. "Then he said, 'I get it and now it's a matter of figuring out the deal with 7-Eleven.' Two hours later, Ryan had the deal." And, $500,000 annually was added to the overall deal with 7-Eleven.

Dan Migala, the publisher of a sports marketing newsletter, said there was little apparent downside to the time change. "Whether they like it or not, all the media outlets will have to say, 'The game time is 7:11,' " he said. "And you're not talking about a change that inconveniences anyone."

The team's radio and TV outlets had to be informed; 7-Eleven will buy more time on their air to promote the leap forward for Monday to Thursday games from 7:05 to 7:11 and the leap back on Fridays from 7:35 to 7:11.

Most sponsorships have precedent, which guides pricing. Corporations know what it costs to buy the primary position on a Nascar vehicle, or generally how much it will take to put their name on an arena or a stadium.

But paying to align your fortuitously named corporation with the game time does not come with a rate schedule. Gribble and Boyer said that among myriad factors in their calculation, they assessed the value of the exposure that 7-Eleven would receive in the media, on the L.E.D. boards and scoreboards inside U.S. Cellular Field and from public address announcements.

&copy The New York Times Company
posted by Josh @ 10:22 AM
News: Maine Gets More Public Phones
This is interesting, as I know many, many locations in rural Maine where cell phones just don't work. People had fun with that at our wedding ... (sorry guys!!)


Associated Press
Utility regulators OK public phones as safety net
By Glenn Adams
October 12, 2006

AUGUSTA, Maine --Mainers in more than 40 locations who were stranded without a line to the outside world when telecommunication companies removed many of the pay phones in the state will soon regain access through a network of public interest pay phones.

State utility regulators have approved 42 applications for so-called PIPS in areas where there's a demonstrated public health, safety or welfare need. Users will be able to make free local calls and emergency calls, such as 911, the Public Utilities Commission said Thursday.

They'll also be able to use calling cards or operator assistance for collect long-distance calls, the PUC said. Many of the phones will accept incoming calls.

The Legislature approved the public interest pay phone program last year, after telecommunication companies removed many of the pay phones in the state. Demand for pay phones dropped sharply as cell phones exploded in popularity.

But many people were left without access to phone service, said Town Manager Ruth Marden in Jay, a town of 5,000 and one which was chosen for PIP service.

"I've had a few people say I miss the pay phone," Marden said Thursday.

Cliff Island, a few miles from Portland, will also be getting a PIP. Residents objected after the local pay phone was removed, saying that cell coverage was spotty. A lack of dependable phone service, they said, could create a dangerous situation in the event of a medical emergency or fire.

Borrowing an idea used in New Hampshire and other states, state Rep. Herbert Adams, D-Portland, sponsored a bill calling for PIPS in specially designated areas were they are most needed. The bill was enacted last year.

The PUC selected 42 locations based on the public health, safety and welfare needs of those who will use the phone, availability of wireless service and the average income of the area.

"It's a service that (can be used) if they need to make a doctor's appointment and don't have a phone, or need to make an appointment for a child and don't have a family," Jay's Marden said. For those and others, "this is going to be an extremely valuable service."

The state is seeking bids from phone companies interested in providing the service, which will be covered by a $50,000 state fund that also helps rural telephone providers.

Installation of PIPs is expected to begin by the end of the year. Recipients include some of the tiniest towns, such as Wytopitlock, islands and one location in Bangor. A full list of the approved PIPs is on the Web.

The list is divided into two tiers, with those in the top group getting priority for funding.

On the Net: Maine Public Utilities Commission

&copy Associated Press
posted by Josh @ 10:21 AM
2006-10-13
Beach Going
Good afternoon! I figured since I didn't post at all yesterday, you were owed two updates today.

Besides, we have a fun story. We just got home from the beach.

We were going to go grocery shopping, but then since it's our two month anniversary of being in Dubai, we figured we should do something different.

So we went down to Jumeirah Beach, next to the Burj Al Arab sail-shaped hotel.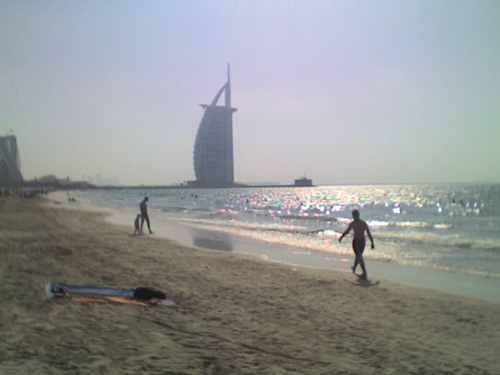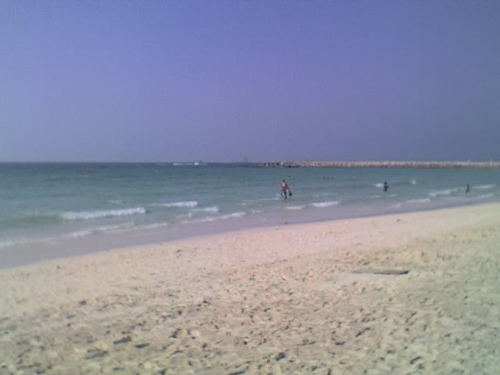 The water was beautiful, like bath water. We walked right in. That's right, both of us. Liz said it was almost too warm! And I've never seen her swim before!

Afterwards we wanted to get a snack, but since all of the restaurants are closed for Ramadan still, we zipped over to the Dubai Marina to the grocery store for a quick few items. I had to grab this photo, the buildings down there are just so crazy.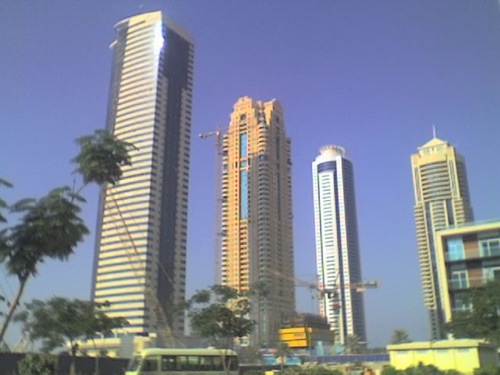 posted by Josh @ 4:13 PM
Iftar
So I went to my first Iftar the other night. Iftar is the evening meal that breaks the Muslims' daily fast during the holy month of Ramadan. Iftars are often a community meal, so here on the campus a different student group sponsors one each evening.

The one we went to was sponsored by the Islamic Awareness group. It was in a large tent (honestly, I was paying wayyyy too much attention to the manufacture of the tent due to my recent event marketing career, so I'll spare you the boring details.) Luckily it was air conditioned, because it's still in the mid-nineties here around sundown.

The meal was rice, hummus, chicken shish kabobs or some other kind of meat, probably lamb. Everything was a little chilled, I think it had arrived too early and sat in the AC for a little too long. The president of the awareness group was one of Liz's former students, and he apologized profusely. It really wasn't a big deal.

Afterwards we chatted with him for awhile. Really nice guy, we were talking about Islam, about some of the differences and similarities with Christianity. Then this older gentleman - I assume from his mosque or someone he knows through studies - came over to talk to us about Islam. It's not like he was trying to convert us, he was just trying to help us understand some of the finer points of the religion.

It's very interesting, this guy had lots of facts to back up how Islam is really the only true religion (don't worry, I'm not going to convert, I still think Aliens created humans, albeit maybe the Aliens' names were "Yahweh" and "Allah", who knows?)

He was very keen on telling us all of the ways the Koran was scientifically correct, whether he himself was a scientist, or maybe because we were Westerners he thought we'd need hard evidence to believe. Apparently, and this is my interpretation of what this guy was saying, the Prophet Muhammad was illiterate, so he couldn't have written the Koran, he just transcribed what the angel Gabriel told him to. But it was all transcribed by him - one man, and the original still exists, so in Islam you avoid the "who wrote the bible?" or "what was alterated in the bible?" questions.

Then they brought out this pamplet called A Brief Illustrated Guide to Understanding Islam, which is actually online at this website. But let me just warn you, it has a cover more sci-fi cheesy than any book I've ever bough on Zecharia Sitchin or Edgar Cayce. On the cover the Koran is flying off of Earth, from somewhere around South Africa, and flying to what looks to be a mosque on the moon. Oh, and th title itself has about ten different photoshop effects on it to make it look really goofy. It actually reminds me of this book Maya Cosmogenesis 2012 about pretty much how the world is going to end on December 21, 2012. (This is why, in six years, I'm going to hold off on all of my Christmas shopping until the last minute. You know, just in case.)

Anyway, as you can read on that website, the Koran (or Quran, as they call it) has all sorts of scientific facts on human embryonic development, mountains, the origin of the universe, the cerebrum, seas and rivers, deeps seas and internal waves and clouds. Which is all very interesting.

But what is left out of this this book / website -- and I'm not making fun here, as Christianity is full of very mystical, odd stories, and heck, my believing in aliens might seem "odd" to some of you -- is that apparently Islam belives in a race of beings known as jinn.

What we in the West have termed "genies".

I guess they're kind of like demons and angels, if you will. They're not the "rub a lamp, grant three wishes" Robin Williams variety. No shazaam here. They're just spooky creatures who mess with humans.

It was kind of funny, though, how the guy mentioned it. I mean, he talked about human embryos for ten minutes, showing us photos and schematics from the book. Jinn? It was rather off-hand, actually almost under his breath. I'm sure he didn't want to get into it, but I was like, "wait, what?"

I was just interested that's all. It's a facet of Islam that isn't really paraded about. At least, I'd never heard it before. And it didn't turn me off from what he was saying.

Nope, it wasn't until we got to talking about multiple-wives and the Islamic views on homosexuality that I was done with what he was saying.

But still, it was cool to learn more about Islam.

Lastly, you should all read the chapter of this pamphlet What Does Islam Say about Terrorism? Heck, every American should have to read this.
posted by Josh @ 9:08 AM
2006-10-11
Two months
Holy Toledo, today marks two months that we've been in Dubai!

Or, at least, technically two months since we haven't been in the US. (We didn't land in Dubai until one or two in the morning on 8/13).

Anyway, this goofy-ass photo was going to be the first post here. It's me next to the Pierce Promotions ad in the Portland "International" Jetport, as we were leaving on August 11th.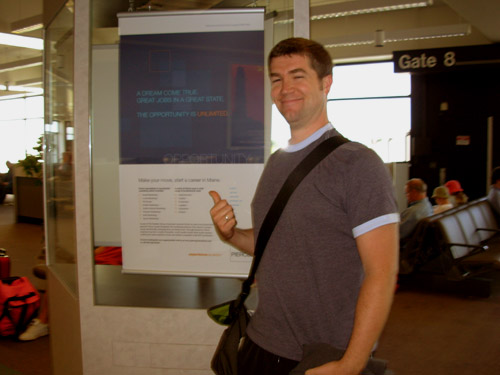 "A Dream Come True"
posted by Josh @ 10:54 AM
2006-10-10
Soda in Dubai, pt 3
It's time for another exciting round of Soda in Dubai!

Honestly, I'm fascinated by sodas in the USA, too, so this isn't some weird Dubai thing. I hope it doesn't come across as too odd. If so, oh well. I can live with it.

We start in honor of the apple harvesting season that's going on right now back home. That's right, apple soda, Fanta Apple. This reminded me of "Lift Apple" soda from Mexico. How would I know about Mexican sodas if I've never been to Mexico, you might ask?

Go ahead, ask.

Ice Station Cool at Epcot!!

Yep, my favorite park at Walt Disney World used to have this, well, it's not even a whole pavilion, really. It's more like, a corner. But this corner, this Ice Station Cool, was sponsored by Coca-Cola, and it was chuck-a-buck full of sodas from around the world.

How genius is that?

You got a little dixie cup, and there were soda fountains all around with different colas from around the world. Some, like the aforementioned "Lift Apple", were carbonated, others, like Japan's "Vegitabeta", weren't.

Honestly, it was an awesome exhibit. It was interactive, which is big with kids these days, and fit perfectly with Epcot's theme of discovery. But best of all, it was one of those rare theme park gems that's not advertised, that's not overly-hyped, but that really makes the Disney experience better because you had no expectations of it whatsoever.

Also, where else can you get anything free at Walt Disney World?

Sadly I hear that it's closed, or at least been re-themed.

Anyway, while I'm in Dubai I can relive the experience with Fanta Apple.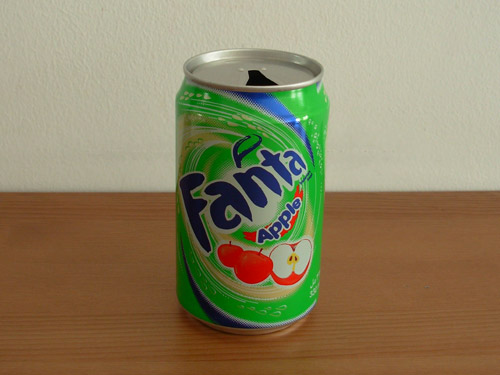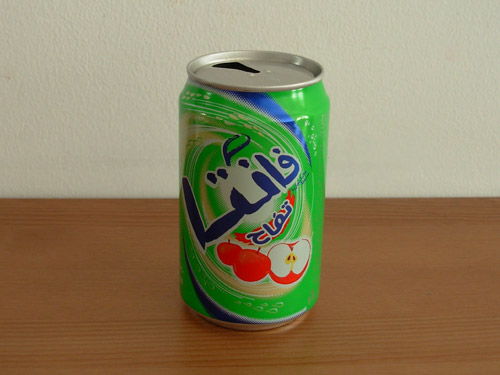 Next we have the ol' American standard Diet 7-Up. Nothing special here, except they use that old character from the late 1980s, Fido Dido. Remember him? Pre-Orlando "Make 7 Up Yours" Jones, pre-Spot, even? (No, I didn't remember his name, yes, I had to look it up on Wikipedia.)

Weird they still use him here, isn't it?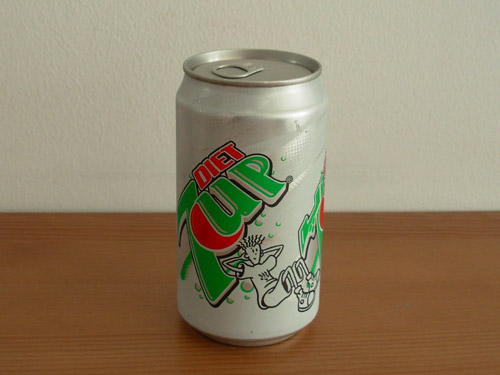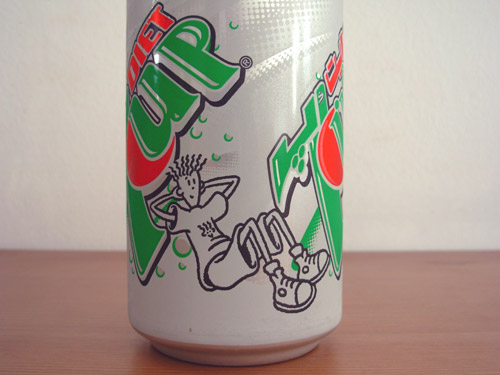 Next we have the same Mountain Dew, but in a really cool bottle. Look at that Arabic logo, I have to find a tee-shirt with that on it.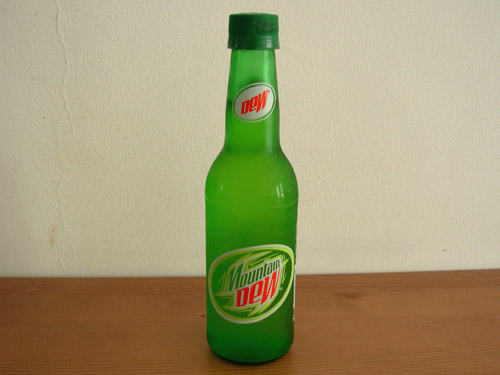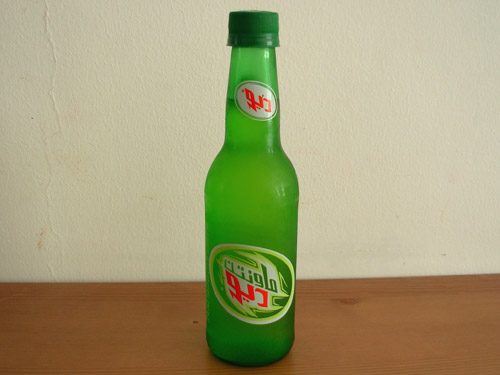 Lastly, we have not really a soda at all, it's more of a juice. Strawberry Juice.

Such an easy concept, why don't we have this in the States?

It's just a little thicker than orange juice, maybe a little more syrup-y. Probably loaded to the max with sugar, but still. It's so good.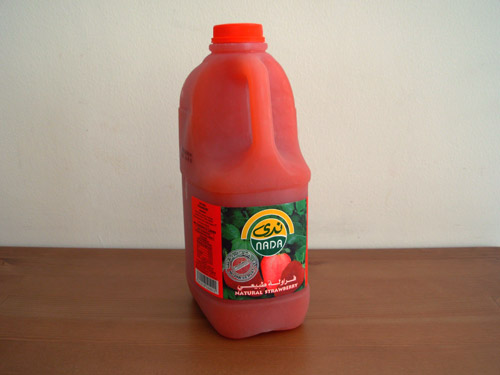 posted by Josh @ 2:12 PM
2006-10-09
Weekend photo roundup, 2
Good morning campers! Welcome to the weekend photo roundup, part deux. And boy, do we have a treat for you today. We painted the Living Room this weekend! Ace Hardware "Mango Tango".

I got the idea actually last spring while at Home Depot with my brother. Behr makes a line of paint for Disney, and they have this funky orange called "100 Acre Woods".

Yes, as much as I completely detest Winnie the Pooh, in this case he was very helpful.

Anyway, the only hiccup in the painting was that we used a satin finish on the living room (as compared to an eggshell finish, like we did in the bedroom). It's pretty glossy. Too glossy. You can't really tell from these photos, but in the daylight there are quite a few reflections. Hopefully some art on the walls will cut the glare down. If not, well, it only took three days to paint. We could do it again.

(shudder)

So here we go ...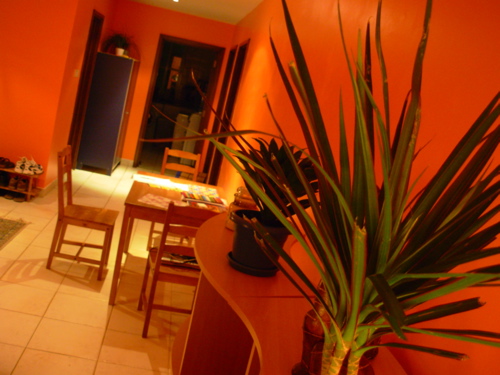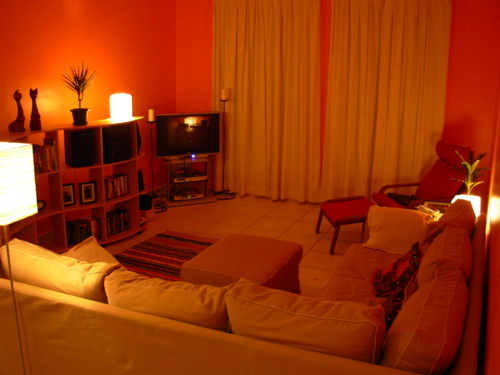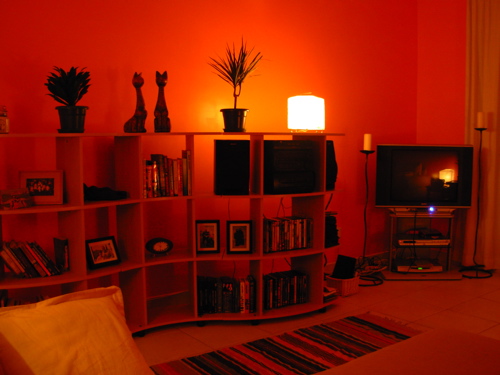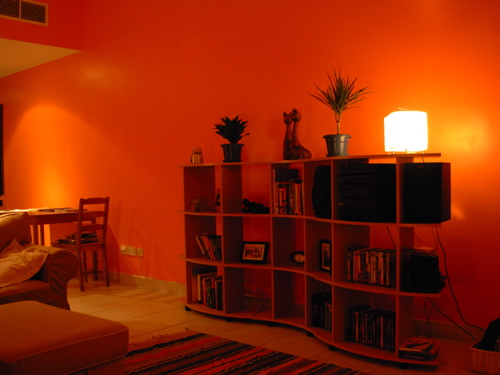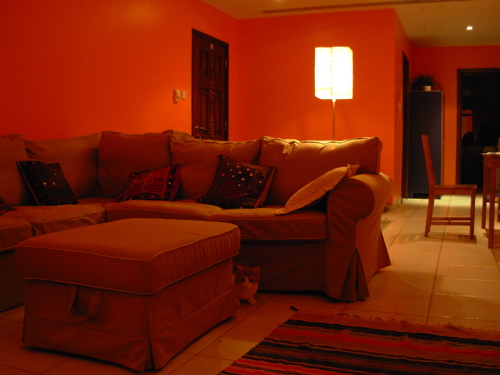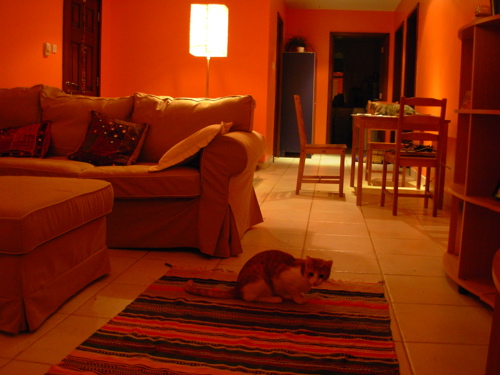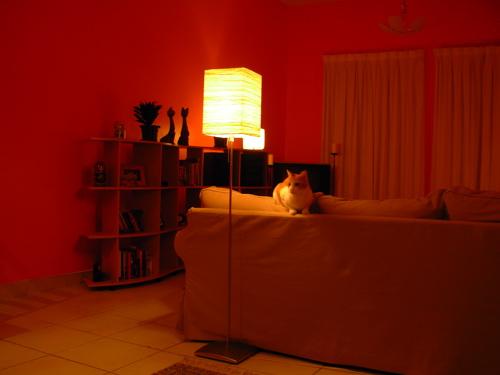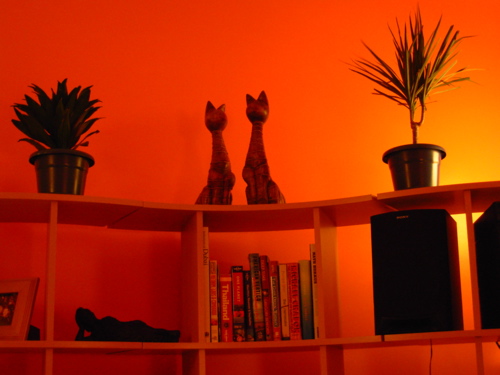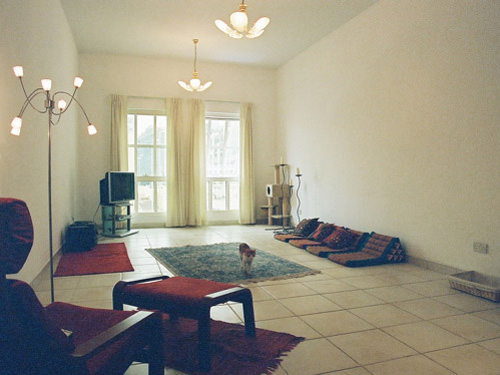 The last one is from March, it's for reference only.

And yes, I purposely got lots of photos of the cat this time, it's kind of a joke.

Lastly, an update on the garden. The parsley is growing great guns, we have a dang grove of it.







The chives, however, look a little weak.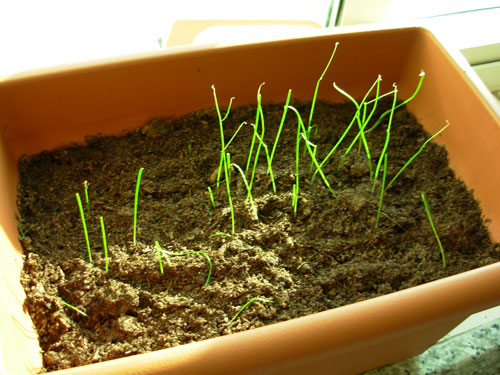 Is that what they're supposed to look like? I don't think so ...
posted by Josh @ 9:41 AM
2006-10-08
News: Charting Maine's Future
Lastly, just this week I heard that the Brookings Institution was doing a study in Maine, and the report Charting Maine's Future: An Action Plan for Promoting Sustainable Prosperity and Quality Places was released on October 5, 2006.

Here is an interesting article about GrowSmartMaine and its founder.


The Portland Phoenix
Unvarnished
In search of authentic Maine
By Sara Donnelly
September 27, 2006

Mainers believe everything south of where they are is not the real Maine.
Maine is at a unique crossroads. The state needs to grow, but it doesn't want to change. Maine must jump into the global economy to survive, but can't wreck the insular culture that helps make it unique. Growth - more jobs, more housing, more money - is necessary and inevitable, but unplanned growth produces a disorganized state plagued with unwieldy sprawl. And nobody wants that, least of all Alan Caron.

In 2002, Caron, a former business consultant, founded GrowSmart Maine, a nonprofit organization in Yarmouth dedicated to fighting injurious sprawl. In 2005, Caron flew to Washington DC and, armed with little more than a few posterboards and a speech, convinced the prestigious Brookings Institution to spend one year studying the state's economy and culture and, goddamn it, to figure out how to preserve everything great about us.

Brookings, one of the world's most respected think tanks, also considered proposals for similar projects from several other states. But Maine's dilemma caught their attention. Caron spent months juggling his work for GrowSmart, organizing the Brookings researchers' trips to Maine, and raising nearly $1 million (for their salary and for study implementation costs) from foundations, businesses, and individuals (including former governor Angus King). Brookings compiled a team of nine economists and researchers from Maine and around the country to take the measure of the state. Along the way, Caron's ode to his home also managed to ruffle some powerful feathers on both sides of the aisle in Augusta.

This sweeping, dense study on some of the most pressing policy questions Maine currently faces is catchily titled "Charting Maine's Future: An Action Plan for Promoting Sustainable Prosperity and Quality Places" and will be released on October 5 and available at GrowSmartMaine.org. The report includes Brookings's policy recommendations, which will be the subject of state-wide grassroots groups Caron intends to convene and work with over the next five years. Caron hopes that his report will influence policy-makers throughout Maine during this campaign season and beyond.

"This is our best shot at an unvarnished picture of Maine," Caron said of the study last spring. "We've got a lot of data swirling around [from other studies] and sometimes it conflicts and sometimes it can be self-serving. The Brookings study will be our blueprint for action."

The project's stated purpose, according to the GrowSmart Maine Web site, is to take a look at "the relationship between unplanned growth and sprawl, the growing cost of government, and our ability to create and attract tomorrow's jobs." But the report will look beyond the bottom line. Among the number of enormous questions it will address is one that triggers strong feelings from Kittery to Fort Kent: how does the state compete in a global economy without compromising a character built on reclusiveness?

Sometime last winter, it occurred to Caron that the "Brookings guys" would need to get out and talk to people to figure out how to answer this last one. Brookings needed to hear from Mainers about what they want to protect and what threatens them. Caron decided to take one of the most prestigious think tanks in the world on an old-fashioned Maine road trip.

And so, on April 25, cooler stuffed with Moxie and stereo keyed to Ray LaMontagne, Caron, GrowSmart program director Lisa Fahay (or, as Caron calls her, "Lisa, old buddy"); his legislative liaison Maggie Drummond ("Maggie, old buddy"); the Brookings Institution's Mark Muro, policy director for the Metropolitan Policy Program; and this reporter piled into a rented van smelling vaguely of someone else's dog and departed from Presque Isle to snake south through nine stops - in Caribou, Eastport, Dover-Foxcroft, Farmington, Waterville, Camden, Scarborough, Brunswick, and Alfred. These were three days set aside to find unvarnished Maine.

Bitter reality
Somewhere between Eastport and Dover-Foxcroft, Mark Muro had his first taste of classic New England. Bored with a wifi laptop rendered useless by a dead signal, he bent to pressure from Lisa Fahay and tried a Moxie.

"As of this legislative session, that is now the official drink of Maine," said Maggie Drummond from the front seat.

Muro stared at the dark soda in his glass.

"What's it taste like?"

"It tastes like root beer before it was sweetened," Caron answered.

Muro grimaced.

He sipped from the cup and nodded politely. A few minutes later, while Caron sat immersed in a biography of Lincoln, Muro dumped his remaining Moxie out of the van's back window.

"We've got some pickled eggs up here for you later," shouted Fahay from the driver's seat.

The classic Maine, which Muro had found himself in a van full of, is what Brookings refers to as our "brand." For decades, Maine's brand was defined by its rural lifestyle - Mainers were fishermen, farmers, factory workers, homemakers, and hunters living in small communities on the edge of a sweeping, untamed wilderness. But since the collapse of Maine manufacturing became evident in the 1980s, Maine has been in the throes of what University of Southern Maine professor Richard Barringer refers to as a "time of historic change" in which the state must decide how to both grow economically in a global market and still retain its unique character, which comes from generations of independent-mindedness and contented detachment from the rest of the world. It's a question that colors every part of Maine policy and it's the biggest one facing the young generation of Mainers who will inherit this morphing state.

Caron himself is part of that classic Maine. A lifelong Mainer from a working-class Irish family in Waterville, he's as wary of the Brookings outsiders as he is eager to hear their take on Maine. At various points in the road trip, Caron rolls his eyes when the researchers lament the lack of cell phone coverage in rural Maine and silently bristles when they vocalize a characterization of Maine that he finds offensive. But, as much as he remains defensively local, Caron believes Maine needs their outside expertise to move forward.

According to the Brookings researchers' preliminary findings - and their experience studying other rural states like Missouri and Pennsylvania - the Maine of the future needs to be one that welcomes an injection of some outside know-how. We will have to get a handle on Maine's 504 municipal government agencies, whose policies, left unchecked and uncoordinated, perpetuate self-destructive sprawl and costly inefficiencies. We will have to encourage industries that can build an economy that's a major player in the global market rather than a spectator.

Caron organized the road trip to figure out what Mainers think that economy should look like. Problem is, our independent streak makes it tough to come to a consensus.

The researchers heard from Mainers who are conservationists, others who want the forest cleared for industry; some who want to bring back manufacturing jobs, others who think the future's in R&D; some who say higher education is important, some who want more trade schools; some who run from the rat race, others who commute weekly to jobs in New York City. Uniting them was an anxious concern for the future of the Maine they love.

"In some ways, it's quite distinctive, the strongly felt connection to place," said Bruce Katz, vice president and director of Brookings's Metropolitan Policy Program, which since 1996 has proposed innovative policies for dynamic cities and urban areas. Katz joined us on the road trip's second day. "There's a level of engagement to these meetings that's actually quite striking."

Forest through the trees

Voices from those who will lead this state - the 35-and-younger set - were disappointingly few at the road trip meetings. Most participants were middle-aged or older. And, judging by how much everyone disagreed on what Maine needs to prioritize, it looks like Caron could have a rough road ahead to make his "blueprint for Maine" a reality.

Residents of Caribou, a rural farming town that suffered in 1994 when the Loring Air Force Base closed, called for more help for potato farmers. A Farmington man said the state needs to protect its forests and "unfractured landscape" for tourists. An artist in Eastport, which has struggled to find direction amidst heated debate about a proposed liquefied natural gas depot, said Mainers don't want to be billionaires, they just want "enough" - enough money to feed themselves and their families, enough to buy a house to live in, "just enough." A young lawyer in Camden thinks the state should pay for perks for young professionals like himself by building a light rail for commuters from Rockland to Augusta. A middle-aged woman at the town meeting on the Colby College campus in Waterville was concerned about her brother:

"My brother works in the woods and lives on a farm and there is such incredible pressure on him. What he gets paid for his wood has not gone up in the last 12 years. So what can the state do to support these traditional natural economies? Not that everybody is going to go back and become a forester or farmer, but we need to retain some of those to maintain our natural character."

In response, a Colby student quipped, "Always keep in mind that it's okay if people move and if they don't have the same jobs their parents did."

"Now we find ourselves in this extreme time of transition and no one knows what the outcome will be and everyone wants to protect what their interests are," says USM's Barringer, who was an unpaid consultant to the Brookings researchers during the early months of the study. "And that means that when you travel around the state enough and ask people what they'd like to see preserved and protected, they tend to say those things that are in their interest and that they love."

Joseph Conforti, a professor of American and New England studies at the University of Maine who has written books about Maine culture, contends that Mainers' sense of place is influenced by where they live.

"I think people still have attachments to their subregions of the state and tend to see their subregion as the more authentic part of Maine," says Conforti, who is not involved with Caron's study.

"Maine is in many respects an un-New England state in the sense that it doesn't share the compactness of other states and the density of population. Mainers believe everything south of where they are is not the real Maine."

"We are really a hundred different Maines," said Caron on the road trip, somewhere between Eastport, population 1640, and Farmington, population 7410. "This isn't going to change tomorrow, but we've got to find a way to see ourselves as one Maine as fast as we can."

Made in Maine

On the road trip's second day, the van took a detour to Augusta. Caron and Muro had been called to a meeting at the State House with representatives from the Department of Economic Development, who Caron said were concerned about whether the Brookings study would reflect negatively on the current Democratic administration. Months before, Caron met with members of the state's Republican leadership who were worried about negatives that could affect their camp. In both cases, Caron says, his answer was the same.

"I didn't tell them a thing," he insisted. "All I said was, 'We are going to paint an unvarnished picture of Maine.'"

Caron's vision stretches far beyond his study, which a number of Mainers in the meetings worried would quickly disappear from the political debate like other, smaller studies. Caron intends to keep his alive by foisting it on politicians a month before the November elections and later by gathering interested civic leaders and citizens in a multiyear campaign to implement Brookings's specific recommendations.

During the road trip, Katz and Muro agreed the way to protect Maine's culture is in part to sell, sell, sell it to the sound-bite world Mainers have long distrusted. Maine's cultural brand, as they define it, can be used to market its place and products. Outsiders buy LL Bean because it's "Made in Maine" and therefore has a reputation for reliability. Plenty of tourists like Maine-crafted furniture and serene paintings of our rocky coast. And for people looking for a new life rather than a pretty thing, Maine's people and environment make us competitive. In a world where bullshit seems to surround us, Maine's close-knit neighborhoods and sense of civic engagement are rare.

This commitment to place propelled Caron to beg for the better part of a million dollars on a study that could, in the end, be ignored. It brought hundreds of Mainers to the Brookings town meetings in the middle of the workweek even though, in the end, they could be ignored. And the strength of it will decide whether Brookings's suggestions are destined for success or doomed to fail.

Brenda Cummings, an assistant city assessor in Bath whose family first arrived in Maine during the 17th century, sat in the front row of the conference room in Brunswick's Curtis Memorial Library on the final day of the road trip, Thursday, April 27. The room was packed with more than 100 people for the noon meeting, including former governor Angus King, area town planners and town managers, business owners, and environmental advocates.

"Our way of life is not just a nice thing but it is an economic benefit and we lose that at our peril," Cummings said. "People don't want to come here just to look at the scenery, they come here to see Mainers doing their thing and they need to see Mainers doing their thing."

The audience applauded.

After the meeting, as people stopped to second her comments, Cummings, a bookish woman in a sky blue blouse, struggled to define what Mainers "doing their thing" means.

"There's a way in which we are under pressure to become an economy like the rest of the United States," she said. "Change is inevitable and there'll be a balance somewhere. It's never going to be the Maine it used to be but hopefully we can find a way where we can live together where there's enough of a balance that our culture can exist."

About 70 miles away, a man from the small town of Vienna thinks that balance, that new authentic Maine, will be tough to find, even with the help of the report.

"This is a clash of cultures," said economist Roy Van Til, at the Farmington meeting. "We are trying to cope with this change and it's not a matter of independence, it's a clash of ways of living life."

&copy The Phoenix Media/Communications Group
posted by Josh @ 12:47 PM
News: Signing Statements
Charlie Savage at the Globe is taking on President Bush and his constant signing statements on bills. This is Savage's second article about it this week (see also "Bush signings called effort to expand power").

I like the quote about the signing statements from the American Bar Association, that they're "contrary to the rule of law and our constitutional separation of powers."

Pretty interesting stuff.


The Boston Globe
Bush cites authority to bypass FEMA law
Signing statement is employed again
By Charlie Savage, Globe Staff
October 6, 2006

WASHINGTON -- President Bush this week asserted that he has the executive authority to disobey a new law in which Congress has set minimum qualifications for future heads of the Federal Emergency Management Agency.

Congress passed the law last week as a response to FEMA's poor handling of Hurricane Katrina. The agency's slow response to flood victims exposed the fact that Michael Brown, Bush's choice to lead the agency, had been a politically connected hire with no prior experience in emergency management.

To shield FEMA from cronyism, Congress established new job qualifications for the agency's director in last week's homeland security bill. The law says the president must nominate a candidate who has "a demonstrated ability in and knowledge of emergency management" and "not less than five years of executive leadership."

Bush signed the homeland-security bill on Wednesday morning. Then, hours later, he issued a signing statement saying he could ignore the new restrictions. Bush maintains that under his interpretation of the Constitution, the FEMA provision interfered with his power to make personnel decisions.

The law, Bush wrote, "purports to limit the qualifications of the pool of persons from whom the president may select the appointee in a manner that rules out a large portion of those persons best qualified by experience and knowledge to fill the office."

The homeland-security bill contained measures covering a range of topics, including terrorism, disaster preparedness, and illegal immigration. One provision calls for authorizing the construction of a 700-mile fence along the Mexican border.

But Bush's signing statement challenged at least three-dozen laws specified in the bill. Among those he targeted is a provision that empowers the FEMA director to tell Congress about the nation's emergency management needs without White House permission. This law, Bush said, "purports ... to limit supervision of an executive branch official in the provision of advice to the Congress." Despite the law, he said, the FEMA director would be required to get clearance from the White House before telling lawmakers anything.

Bush said nothing of his objections when he signed the bill with a flourish in a ceremony Wednesday in Scottsdale, Ariz. At the time, he proclaimed that the bill was "an important piece of legislation that will highlight our government's highest responsibility, and that's to protect the American people."

The bill, he added, "will also help our government better respond to emergencies and natural disasters by strengthening the capabilities of the Federal Emergency Management Agency."

Bush's remarks at the signing ceremony were quickly e-mailed to reporters, and the White House website highlighted the ceremony. By contrast, the White House minimized attention to the signing statement. When asked by the Globe on Wednesday afternoon if there would be a signing statement, the press office declined to comment, saying only that any such document, if it existed, would be issued in the "usual way."

The press office posted the signing-statement document on its website around 8 p.m. Wednesday, after most reporters had gone home. The signing statement was not included in news reports yesterday on the bill-signing.

Senator Susan Collins, a Republican from Maine and chairwoman of the Senate Homeland Security and Government Affairs Committee, who has been one of the harshest critics of FEMA's performance during Katrina, yesterday rejected Bush's suggestion that he can bypass the new FEMA laws.

Responding to questions from the Globe, Collins said there are numerous precedents for Congress establishing qualifications for executive branch positions, ranging from the solicitor general's post to the director of the Fish and Wildlife Service.

She also said that Congress has long authorized certain officials from a variety of departments "to go directly to Congress with recommendations," pointing out that the FEMA director statute was modeled after a law that gives similar independence to the chairman of the Joint Chiefs of Staff at the Pentagon.

"I believe it is appropriate to extend this authority to the official tasked with leading the nation's response to disasters," she said.

Georgetown Law School professor Martin Lederman said Congress clearly has the power to set standards for positions such as the FEMA director, so long as the requirements leave a large enough pool of qualified candidates that the White House has "ample room for choice."

"It's hard to imagine a more modest and reasonable congressional response to the Michael Brown fiasco," said Lederman, who worked in the Justice Department's Office of Legal Counsel from 1994 to 2002.

The White House did not respond to requests for comment about its signing statement.

In the past, the administration has defended the legality of its signing statements. It has also argued that because Congress often lumps many laws into a single package, it is sometimes impractical to veto a large bill on the basis of some parts being flawed .

At a June hearing before the Senate Judiciary Committee, a Bush administration attorney, Michelle Boardman , noted that other US presidents have also used signing statements. She asserted that Bush's statements "are not an abuse of power."

Bush's use of signing statements has attracted increasing attention over the past year. In December 2005, Bush asserted that he can bypass a statutory ban on torture. In March 2006, the president said he can disobey oversight provisions in the Patriot Act reauthorization bill.

In all, Bush has challenged more than 800 laws enacted since he took office, most of which he said intruded on his constitutional powers as president and commander in chief. By contrast, all previous presidents challenged a combined total of about 600 laws.

At the same time, Bush has virtually abandoned his veto power, giving Congress no chance to override his judgments. Bush has vetoed just one bill since taking office, the fewest of any president since the 19th century.

Earlier this year, the American Bar Association declared that Bush's use of signing statements was "contrary to the rule of law and our constitutional separation of powers."

Last month, the nonpartisan Congressional Research Service concluded that Bush's signing statements are "an integral part" of his "comprehensive strategy to strengthen and expand executive power" at the expense of the legislative branch.

&copy Globe Newspaper Company
posted by Josh @ 12:43 PM
News: Tigers Beat Yankees
Wow.

So many articles to choose from.

I almost went with Jeff Passan's article over at Yahoo! Sports, talking about how Alex Rodriguez and Joe Torre can't come back to the New York Yankees next season after the choke this year. Passan's a heck of a writer.

Or there was a similarly themed piece over at the New York Times ("From Fall Heroes to Fall Guys: There Will Be Some Fallout") that had some fun facts, such as, the Yankees have spent $975 million in salaries over the last six seasons - and haven't won one title.

But instead I went with the happy hometown article. It's a feel-good piece that I rather enjoyed, and not only because of the first paragraph. (Although it's a corker!)


Detroit Free Press
Yankees, go home!
Tigers win first playoff series in 22 years
By Mitch Albom
October 7, 2006

In the end, the Yankees were a bunch of grumpy giants staring at a broken beanstalk. And the Tigers? They didn't tiptoe past the richest team in baseball. They stomped it, kicked it and stole its jewelry, then waved a happy good-bye and headed on down the playoff road.

Yankees go home.

Tigers go on.

Read it and blink. Read it and shake your head. Read it and ask, "Who are these guys in the Detroit uniforms?" Read it and remember just three seasons ago, when this team was in danger of sinking below oblivion.

Read it and remember, because remembering is what made this happen.

Because Jeremy Bonderman remembers when he lost 19 games in that dismal season, and they stopped pitching him because they didn't want him to be a 20-game loser as a rookie.

Because Kenny Rogers remembers all the years he was called a playoff failure and he's too old to wear that tag anymore.

Because Todd Jones remembers when he was more interested in doing interviews than most Detroit reporters were.

Because Jim Leyland remembers how grateful he felt when the Tigers, the lowly Tigers, called and offered him a job. And here he was Saturday evening, being carried off the field on the shoulders of his players, like the father of the bride, like the Grandpa of Happiness.

Because you play with your body, but you win with your mind, the Detroit Tigers are in the American League Championship Series for the first time in 19 years, for the first time since hairy Kirk Gibson was thundering around the basepaths. This team may not look like the team last weekend that blew the Central Division title with a bellyflop, but then, that team didn't look like the one that delighted Detroit so much of the spring and summer.

Who knows? Maybe you get nine lives in baseball, too. Whatever life the Tigers have been on since the fourth inning of Game 2 at Yankee Stadium last Thursday, they don't want to move on. This is already heaven, right here, watching their pitchers return to magnificent dominance, watching their hitters take patient advantage of every opening, watching their fans delirious with the return of October fever.

"This is the greatest feeling in the world," Bonderman told the TV cameras as Comerica Park exploded around him after the 8-3 clinching victory. "It's gonna be a hell of a party, I know that."

And well-earned. On Saturday, with Bonderman pitching a perfect game into the sixth inning, the Tigers hung runs on the scoreboard with surprising ease. It was 3-0 after the second and 4-0 after the third and 7-0 after the fifth and 8-0 after the sixth. The music thumped and the fans rocked and it had the feel of one of those NBA blowouts, where every basket becomes a celebratory dunk.

The last out, a grounder by Robinson Cano, sent the Tigers exploding from the dugout into a pile that kept moving - it didn't stop at the pitchers mound, it was too explosive for that, it kept going to second base, to the outfield, back in again.

But when the fountains had finished exploding and the champagne had finished dousing and the Tigers were doing their itinerary for Oakland, next stop of the fairy tale express, the reality of this series was as startling as it was stark:

In four games, one more than the minimum required, Detroit beat the heavily favored Yankees, beat them close and beat them far, beat them with bats and with pitches, but mostly with hunger and fresh-scrubbed enthusiasm.

The Tigers, in this series, seemed as young and light as a barefoot kid heading to buy an ice cream, while the New Yorkers looked as heavy and troubled as a banker with millions worth of shaky loans.

Tigers go on.

Yankees go home.

Read it and blink.

The reality of the playoffs

"I told the guys each day is a whole new season in the postseason, if you win the next game you keep playing," Leyland said.

"Today before the game I really emphasized, 'Look, don't think about a celebration.'"

But he didn't say anything about after the game.

Did you see the Tigers running around the stadium, taking a victory lap, slapping hands with the fans, waving and holding up champagne bottles? Could you imagine a scene like that when the season began?

Saturday's victory was a tapestry of effort, but it was stitched, first and last, by Bonderman. The reticent young pitcher, who was drafted into baseball when he was an 11th-grader, has, at 23, already seen more than his share of disappointment. His rookie year they had to protect him from losing 20 games. Last weekend, he was The Man Who Couldn't Finish, blowing a 6-0 lead and allowing Kansas City to come back and knock the Tigers off the Central Division throne.

"I stunk," he said of his performance.

But six days after being asked to win the division, he was asked to win the division series. And the turnaround was everything the Tigers have been about. Bonderman completely neutered the mighty Yankees for six innings, striking out Gary Sheffield, the cleanup hitter; striking out Jorge Posada, who had been hitting .500 in the series; striking out the normally unflappable Derek Jeter, getting him to chase an outside pitch.

While the Tigers were taking rapt advantage of Jaret Wright - not the guy you want to have to depend on to save your season - Bonderman was busy hanging the Yankees over the snapping jaws of New York tabloid writers, turning their ground balls into outs and their fly balls into harmless catches.

As Rogers had done with his shutout innings the night before, Bonderman was giving his teammates the cushion to swing freely, to play from ahead.

And that's what you call fun.

"Kenny and I talked before his start," Bonderman said. "And I told him you go out and do your thing and I'll do mind and we'll take care of this. Kenny did it. And I just had to live up to my word. It's a great thing that happened for us."

When he finished, after 8 1/3 innings and 99 pitches (70 for strikes), he came off the mound and, uncharacteristically, waved his hat and shook it at the crowd. He was greeted in the dugout with a bear hug by - who else? - Rogers, still basking in his own standing ovation from the night before.

The guy who was too old to wear the loser tag and the guy who was too young to accept it, locked in an embrace.

How you gonna beat that?

Yankees go home.

Tigers go on.

The price of fame

"Did you think this would happen when you took the job?" someone asked Leyland.

"No, not this year. I thought we'd get better ... but I thought for sure it would take a year or two."

Detroit outscored the Yankees in this series, 22-12, and outpitched them three out of four times, beating veterans Mike Mussina and Randy Johnson along the way. But the series cannot be broken down into numbers. This was a contrast in all that money can and cannot buy:

Here is what money can buy: the Yankees' magnificent roster, which has cost more than a billion dollars over the last six years and has now finished three of those seasons with a first-round exit and none of them with a World Series crown.

Here is what money cannot buy: Rogers choking up as he talked about winning his first playoff game at age 41; Leyland choking up when he talked about his players defying all odds to make the playoffs; Sean Casey gushing about how happy he was to get the call on trade deadline day that he was being dealt to Detroit.

Here is what money cannot buy: the exuberance of a Detroit crowd that had almost forgotten what it means to win a game in October, a high-pitched energy that drew standing ovations for two-strike counts and fly balls.

Here is what money cannot buy: a sudsy locker room full of first-timer playoff winners. And that happy victory lap around the stadium, spraying champagne at the fans. Not that many Tigers have ever been to the playoffs before and none of them wearing this uniform. It is the first time the Old English D has been soaked in alcohol since Tram popped a bottle on Lou and Morris popped a bottle on Petry.

"Spontaneous stuff is the best stuff," Leyland said.

You want to hear something funny? Leyland couldn't sleep Friday night. He kept seeing Yankees coming to the plate. "I was lying in bed with my wife," he said, "and I was saying we have to face that lineup again in about 20 hours. It's never-ending ... You can have nightmares. I was up at four o'clock eating M&M's."

He can now wash 'em down with bubbly - then hit the pillow soundly.

Yankees go home.

Tigers go on.

If this is a dream, don't you dare wake Detroit up.

&copy Detroit Free Press Inc.
posted by Josh @ 12:41 PM
2006-10-05
Fiesta in Mexico
I ate Mexican food for both meals yesterday. They were actually leftovers from dinner on Tuesday night. And if there was any more left over, I'd eat it for lunch right now, too.

We never really had Mexican food growing up. I don't think there was much around in Maine. I mean, there wasn't even a Taco Bell anywhere until the one moved into the Maine Mall, and I think that was when I was already gone to college.

Then I moved to Southern California, and, well, you can imagine the layers of Mexican food. Good Mexican food, cheap Mexican food, authentic Mexican food, fast Mexican food, touristy Mexican food, we had it all.

So when I came back to Maine two years ago, I went through serious withdrawals. I think I complained rather loudly, "Is there anywhere in the world that has fewer Mexican restaurants than the state of Maine?!?"

Then I moved to Dubai.

Nothing.

There isn't even Taco Bell here.

I mean, the closest might be a quesedilla at Chilis. A spicy wrap at KFC, maybe. It's that bad. At least in Portland there's Margaritas, Tortilla Flat, and that joint in the mall parking lot, across from the movie theater that got changed into a church.

And of course, Taco Bell in the food court.

That's some variety right there!

I can't believe it, but one of the reasons I'm looking forward to going back to Maine in December is the Mexican food offerings.
posted by Josh @ 12:07 PM
Hydropolis is Waiting ...
I just noticed one thing that's missing from the Map of Dubai I put up here yesterday: Hydropolis.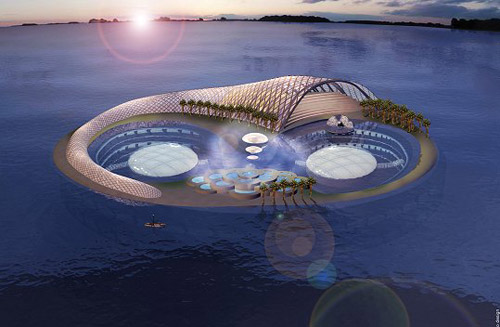 Hydropolis is this luxury underwater hotel next to be built in the Gulf next to the Palm Jumeirah. Yes, that's right. Underwater. Luxury. Hotel.

I just found the company's website: www.crescent-hydropolis.com

According to their 2005 Annual Report, the company is still negotiating with Dubai to build the world's first 'shallow water' Hydropolis hotel. However, right now they're working on the world's first 'deep water' hotel in Qingdao, China, on the Yellow Sea coastline. Apparently they want this finished by 2008 Olympic Games in Beijing.

I guess that's how things go in Dubai, construction-wise. The first press conference for this project was August of 2003. Construction was to start in July of 2004. Guests would arrive fall of 2006.

Wait, isn't it fall of 2006 right now?

Yep.

Now everything I can find that even has a completion date says "2009".

It's interesting it's not on the map, though, considering other projects that are on the map are still three years off.

Still, it sounds pretty amazing:


Constructed from a combination of concrete, steel and clear Plexiglas, Hydropolis will be the world's first underwater luxury hotel. It will offer 220 suites, all sitting on the Gulf floor 66 feet (20 meters) below the surface.

The property will house a cinema, cosmetic surgery clinic, marine institute, museum, library and a prayer room. Furthermore, the guest will be able to rise to the surface and take advantage of a sandy beach complete with snorkeling over the hotel suites. Oh, and if you are worried about burning in the hot desert sun, don't, Hydropolis will be manufacturing clouds to protect the guests from the powerful Gulf sun.


So if you want to come visit Dubai in 2009 (or so, Insha'Allah), and you have $5,500 for a day's lodging, check out the Hydropolis.
posted by Josh @ 11:46 AM
2006-10-04
New Beck CD
Ooh, a new CD from Beck just came out yesterday. Good for me that you can buy it online at the iTunes Store!

It's cheaper on iTunes than at amazon.com, too. And there's no shipping.

Snazzy.
posted by Josh @ 4:01 PM
Map of Dubai
I've found the best map of Dubai I've seen so far. It's over at this Dubai Tourism website. Check it out: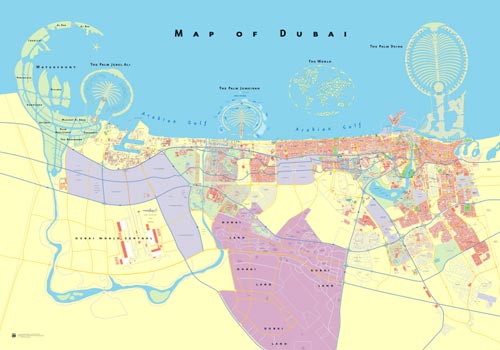 Dubai Map



Now I must warn you, some of the things on this map just outright don't exist yet. Such as: the Dubai Waterfront on the left, the Palm Jebel Ali, the Metro, the Dubai World Central Airport (formerly the Jebel Ali International Airport), DubaiLand, Jumeirah Islands, Jumeriah Village (ironically this is where we were when I took the photos from the other day - remember, the dirt road and construction everywhere? Yeah. That's the current state of the Jumeriah Village).

Also the Business Bay, home of the Burj Al Arab World Tower, is also under construction. I'm less positive about this, but I think Dubai Festival City is a pile of bricks right now, too. Oh, the World islands are still being worked on. And I'm not sure exactly where in construction the Palm Deira is, but I know it's not done yet.

However, the Palm Jumeriah is there, you can kind of see it from the fitness center on the top floor of the new Faculty building here at the university. On a clear day you can see trucks and cars driving around out there. It's pretty crazy.

If you zoom in to just about the center of the map you'll see the base of the Palm Jumeriah. Zoom in more and you'll see Dubai Media City, the Hard Rock Cafe and, in green - American University in Dubai (mislabelled as the "American University of Dubai", but you get the idea).

That's us.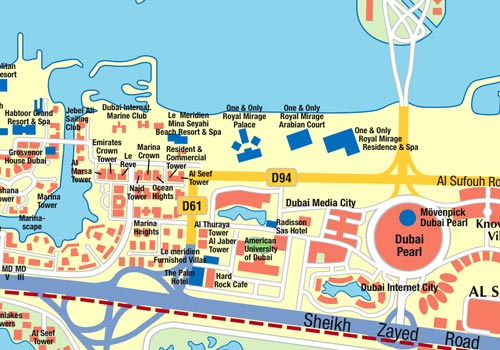 So yeah, pretty much this is a map of Dubai circa 2008 or 2009, but it's good to get an idea of the layout of everything.
posted by Josh @ 9:42 AM
2006-10-03
Drivers' License
Guess who has his very own Dubai driver's license now?!?

That's right, Josh does!!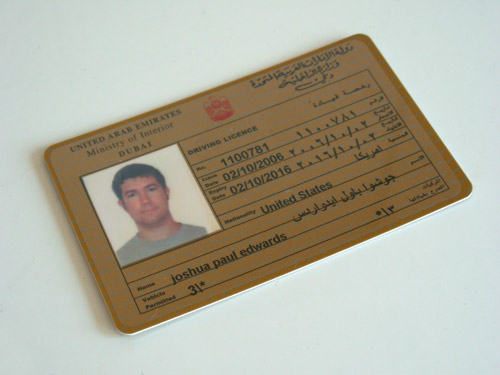 We got it yesterday, although it actually was a several day process.

Step one is getting the application filled out. In Arabic.

As neither my wife or myself speak / write Arabic, we went to a "typing shop". There's a part of town that has tons of little shops that sell cheap electronics, cloth, knockoff merchandise and other random shops. It's tough to explain. There's really nothing like it in Boston. Maybe in LA, but I can't think what. I'm sure there's a part of NYC that it's similar to, since New York has everything, I'm just not as familiar with it as Boston or LA.

Anyway, the typing shop is just that - a few dudes at computers, you tell them what you want, give them your passport or whatever ID you have, and they type it up in Arabic for DHS 10 - like three bucks.

Then you need to get your eyes tested. At first we went to Pearl Vision at the mall. But the guy there wasn't very nice to us, he said that I couldn't wear my glasses or contacts, and since I had my contacts in I'd have to take them out and come back in two hours, for my eyes to settle. That seems like bull to me, I mean, I know I need my contacts or glasses to drive, and isn't the eye test to prove that I have adequate vision with my glasses or contacts?!

The next day we were going to go back to Pearl Vision, but instead went to another optometry shop in the mall. Had a really nice guy look at my sideways when I asked if I should take my glasses off for the test. "No, we want to make prove that you have adequate vision with your glasses."

Makes sense to me.

Three minutes of reading the eye charts (I even called "Z" "Zed" for him), and the color-blind tests and I was done. Perfect 6/6 vision. (Metrics, my friend, metrics).

So yesterday Liz had the morning off from class and we drove over to the Dubai Police Traffic Department. It's next to the Mall of the Emirates, but it's on this weird side road. You can actually see the building from Sheikh Zayed Road, but getting there is no easy task. We eventually drove around the back way (Liz is always a fan of the "Ninja moves").

We got inside, and a very nice Emirati man walked up to us to help us. It was actually kind of weird - we were in the hallway, looking around, and he approached us. He seemed kind of amazed that we had the eye test as well as the Arabic application form - I can only assume lots of people get confused by the different hoops you have to jump through.

As we were walking, he asked if we were Australian. We said, no, we were American. He nodded. It's funny, to us the differences between Americans and Australians are pretty huge. I mean, the accent alone. But then we asked him if he was from the UAE, or Saudi ... which I'm sure for him is a fairly large difference, but to us, it's more difficult.

Anyway, he told us that there were already many people waiting, and not enough clerks to assist us, we'd be waiting for a long time. He suggested another branch to go to, down on Beach Road. It seemed like a good idea, and a Ninja move, so we took off.

The building we went to is sort of like a tiny indoor shopping mall. Picture the smallest mall you've been to, for those of you in Maine, I'm thinking the Windham Mall. Now, make all of the shops 50% as small, the walkways 75% as narrow, and then make it two or three stories tall instead of all spread out. That's the plaza we went to.

But the best part? The Dubai Police Traffic Department there was empty, save for the two employees. We gave the woman the paperwork, and not even seven minutes later I got my license.

It was frightenly easy. I mean, the hoop-jumping of the typing shop and the two trips to the optometrist aside, of course.

So now I can drive in Dubai. How about that??
posted by Josh @ 2:36 PM
Damon Dream
I had a baseball dream last night.

It probably was because the season ended on Sunday for the Boston Red Sox, as they didn't make the playoffs. But I wasn't dreaming about Trot Nixon, Mike Lowell, or Keith Foulke (the three Sox who might not be back next year).

Nope, instead I was dreaming about former Boston Red Sox centerfielder Johnny Damon, who's now on the dreaded New York Yankees.

In my dream, he changed his name to "Johnay" Damon.

But in my defense, doesn't that sound like something he'd do?

I was in downtown Los Angeles, with a bunch of my co-workers from Portland at a bowling alley. Actually, my old boss Tracey from LA was there too. Anyway, I don't know what we were doing, but I know I had to leave to get to the airport to catch a plane. I went outside to get a taxi, but then changed my mind, and went into this little Latin Supermarket. But just when I got inside I dropped the nine Golden Dollar coins that I was carrying. (You know, the Sacagawea ones.)

As I bent over to pick them up, I saw the rack of newspapers, and a cover about Johnny Damon. It looked something like this: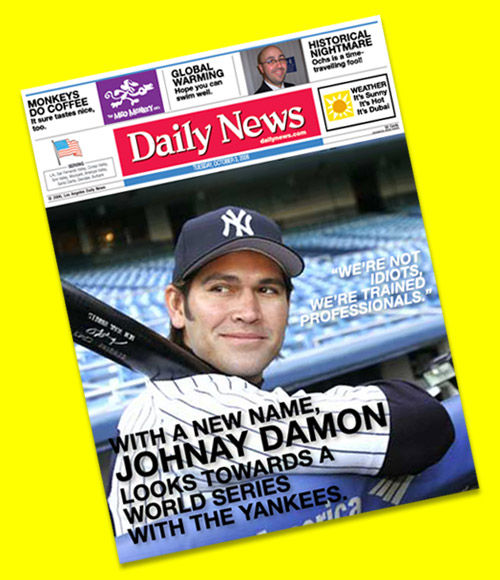 That quote, "We're not idiots, we're trained professionals", that really stuck out in my head. I just had to mock this up in Photoshop to show you. Oddly enough, the LA Daily News isn't even a tabloid-style, like the New York Daily News is. But for some reason I knew it wasn't the New York paper, because I remember thinking, "the Dodgers are in the post- season and they put him on the cover?"

Weird.

Anyway, good luck to the Detroit Tigers who play the Yankees tonight at 8:05 Eastern. Because you know the old saying, "my two favorite baseball teams are the Boston Red Sox and whoever is playing the Yankees ..."
posted by Josh @ 8:54 AM
2006-10-02
Weekend photo roundup
We had a busy weekend, and I took a ton of photos, so here we go!

The first photo comes from grocery shopping at Ibn Battuta Mall the other day. Good ol' Géant. I think I mentioned once before how the Special K cereal boxes in Dubai were half covered with a giant white sticker. If I didn't, I meant to tell you that the Special K cereal boxes in Dubai were half covered with a giant white sticker.

Well, quality control be damned, it looks like a few unstickered boxes slipped through. Got a fair photo of it, too.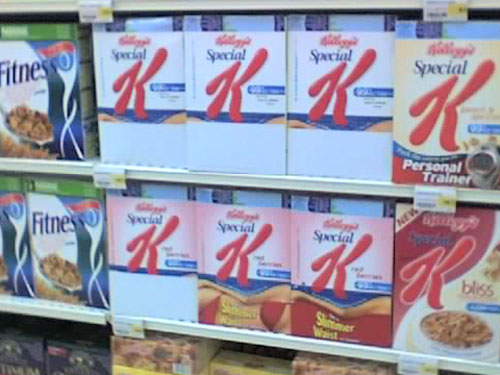 Ah-ha, bikinis. The modest Muslims wouldn't like that!

But I didn't even notice until we got home that the box on the bottom right is an all red bathing suit. I wonder if that's some kind of other sticker, or specially produced box for Islamic and / or Quaker nations, or what. I'll have to check into it next time I'm shopping.

On the way home from grocery shopping we tried to go a tricky side road. Liz calls this "a Ninja move". I call it kind of foolish, as we could get squashed by a giant steamroller or big construction-y truck, you know, one that I don't know the name of but my little cousin Evan who's like three years old does, making him more of a man than I am or will ever be. Hey, all I know is that I don't want to end up under one of those construction-y trucks. Whatever they're called.

So yeah, we went off-roading on the way home. We found the Jumeriah Village, though. Well, we found the construction site for Jumeriah Village, at least. It doesn't really exist yet.

But we got a few good shots of the Dubai Marina, which yesterday I had the Gulf News arial shots of. It's an amazing construction project, I'll tell you that.

These are all taken looking over Sheikh Zayed Road towards the Marina.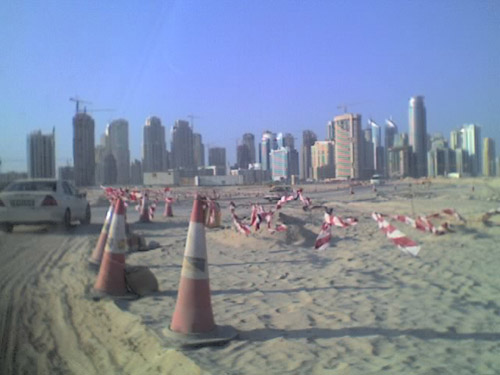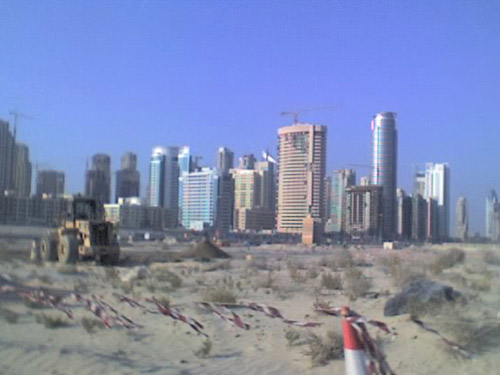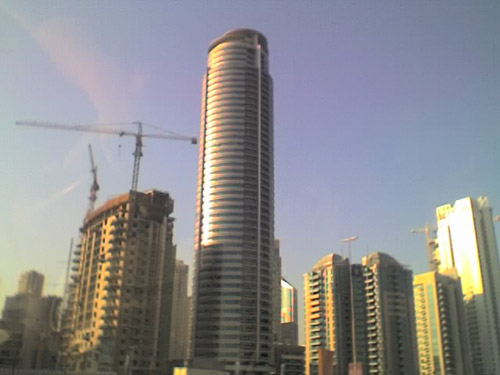 To get home from the Ibn Battuta Mall we have to cross Sheikh Zayed Road. In fact, to get there we usually take Sheikh Zayed, but on this day we did Liz's somewhat failed ninja move.

We ended up on this little access road that follows along parallel to Sheikh Zayed. I got a few good shots of some of the construction there. These are on the Ibn Battuta side of Sheikh Zayed, not the Marina and university side. I'm not sure what the name of the development is, I forget it. But I'm sure it has a fancy logo and text treatment, as they all do.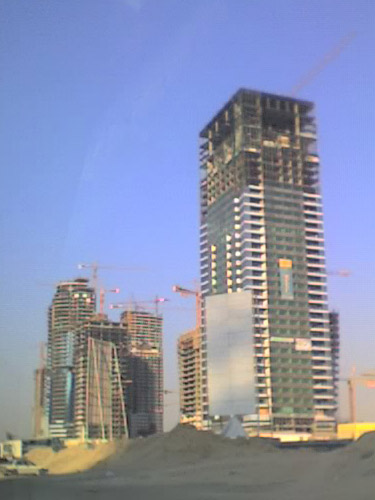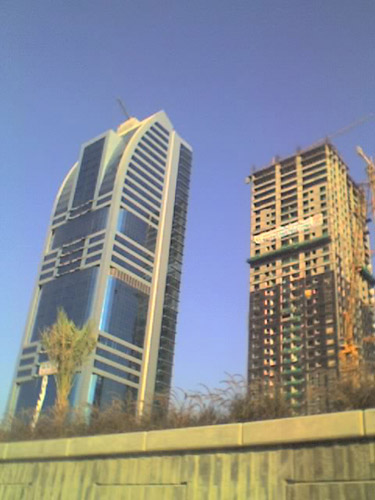 Pretty cool buildings.

Next we have to cross Sheikh Zayed Road. It's actually a good overpass, if only because it's a little higher and you get some perspective on the geography of the area. Sorry the cell phone camera lense is a little fuzzy, I hope you get the idea of where things are.

That's Sheikh Zayed Road below us. At points it's five lanes in each direction, but here it's four and four. The tan buildings in the center of the frame that are in the sunlight - those are the university faculty buildings, where we live. To the right you see the Hard Rock Cafe building (also tan, also in the sun). And behind it all in the distance is the Burj Al Arab - the fancy hotel that looks like a giant sail.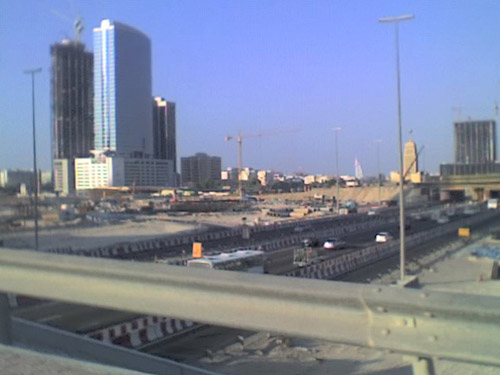 And lastly I have a photo of the overpass going from nowhere to nowhere that's currently under construction next to the Hard Rock. We talked about it in August (If you missed that story, see Hard Rock Adventure).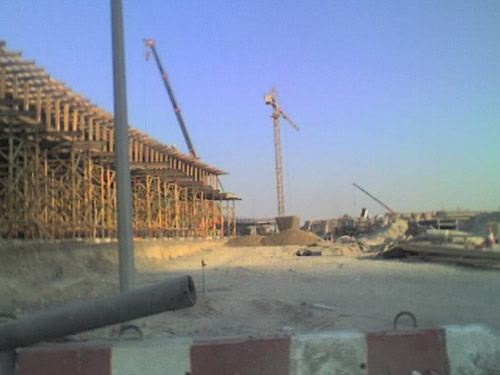 More than a month later, and it's still going nowhere.

That's pretty awesome.

And now, the real reason I had the photo roundup today - on Friday we painted our bedroom!

We got the paint at our local Ace Hardware. (Ace is, naturally, "the place", even in Dubai). The color was supposed to be "Simple Peach" but it turned out a little more orange that we had expected. But we still like it.

Also note: The bedspread doesn't match and will be replaced with something cool and fun and matching. Soon.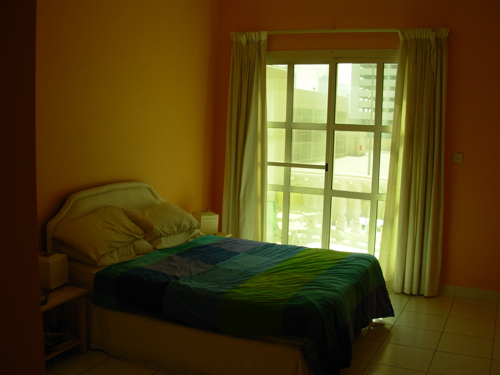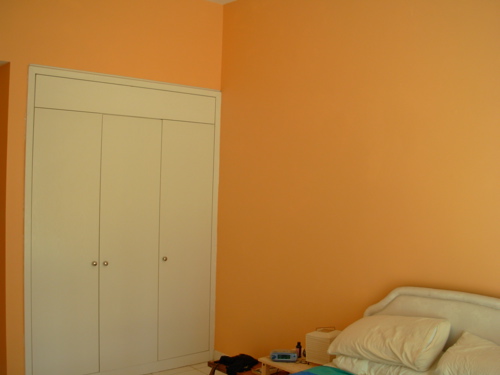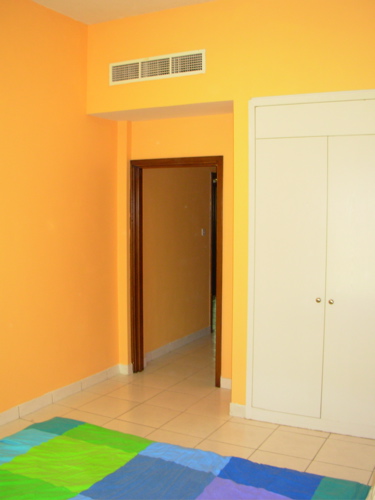 Of course we had to borrow a ladder from the school to get to the ceiling, and they could only spare it for one day (you'd think the university would have more than one ten foot-- er, three and a half meter ... ladder, but maybe not?). Hopefully we'll borrow it again next weekend and paint the living room. Look for photos next week.

Oh, and lastly the other week when we repotted our plants we had to buy a ton of soil, so I grabbed a few packets of seeds - parsley and chives. After a week or so of germinating, we got our first parsley sprout.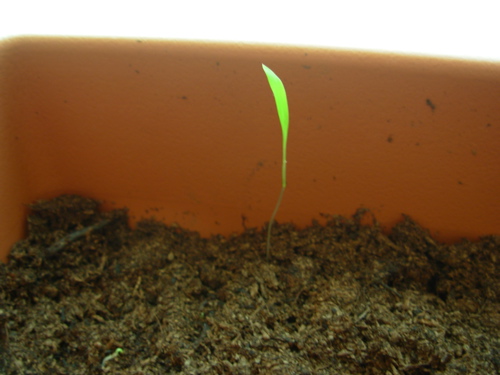 A very successful weekend, I must say ...
posted by Josh @ 8:45 AM
2006-10-01
News: Dubai Marina
Lastly, a fun article that's mostly photos.

The Dubai Marina is right next door to us, I'll have to find a good map to show you. They're building SEVENTY towers right now. Wow.


Gulf News
Dubai from the Sky: Dubai Marina
September 28, 2006

A city within a city, Dubai Marina is a waterfront development comparable to any other developments in the world.

The man-made marina is located close near Interchange Five on the Shaikh Zayed Road, close to landmarks like Dubai Internet City and the Emirates Golf Club.

With more than 20,000 apartments to be built, the Marina will be home to around 80,000 people and is one of Emaar Properties' prestigious residential clusters.

About 70 towers are currently being constructed. There are 700 berths for boat owners. Apart from other facilities, the Marina is also lined with restaurants offering various cuisines and fine meals in idyllic settings.

Inland from Dubai Marina are a huge string of residential developments from Emaar, among them The Springs, The Greens and The Meadows.

&copy Al Nisr Publishing LLC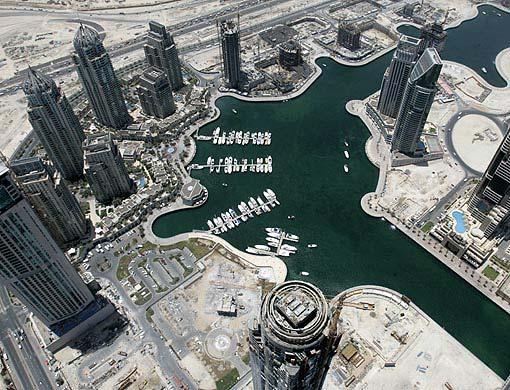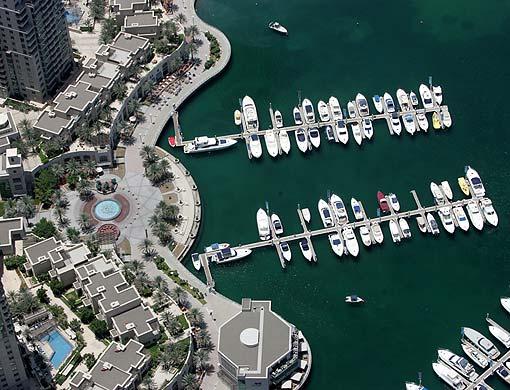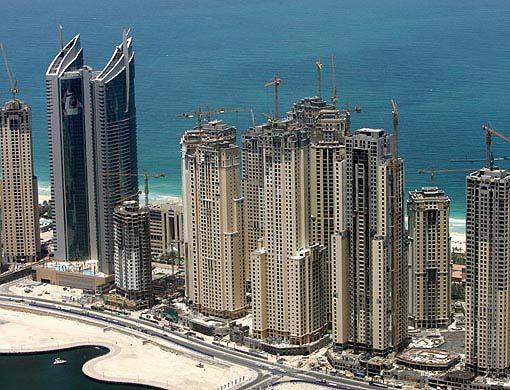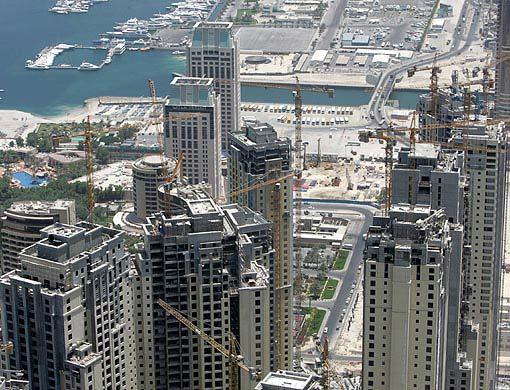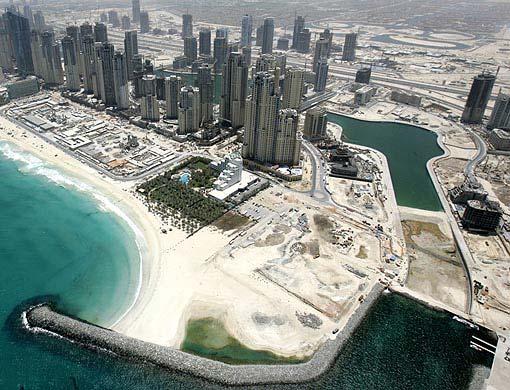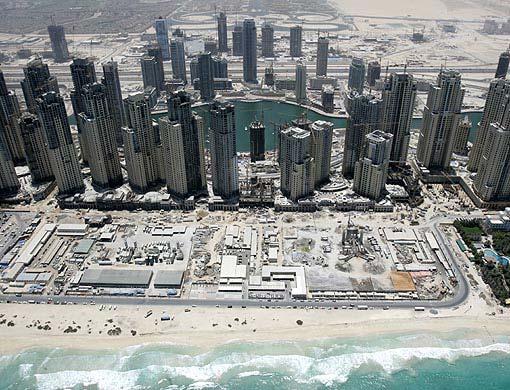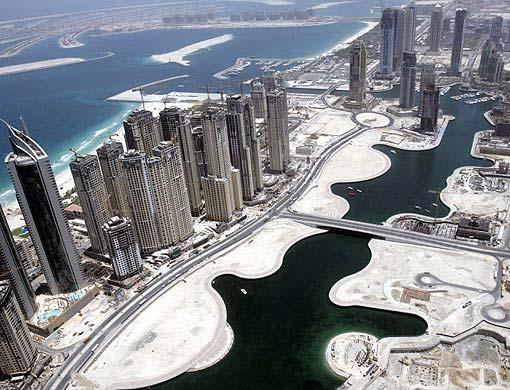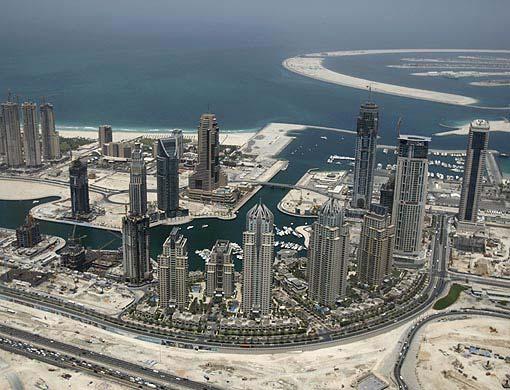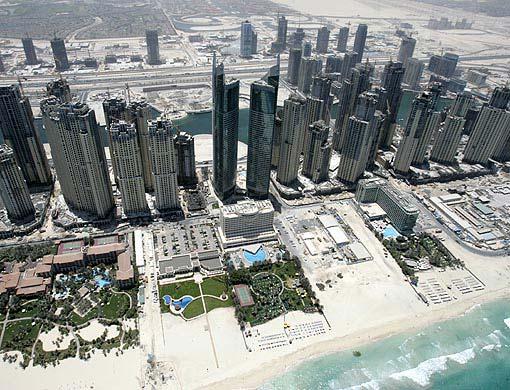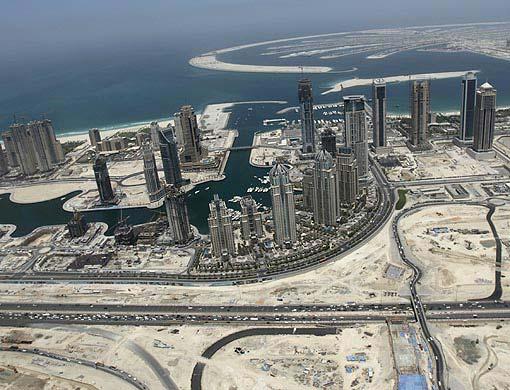 posted by Josh @ 3:36 PM
News: Lobster Shucking
Wow, this is very odd. Have you heard of this new method to pick lobsters, before you cook them? Ugh!

Associated Press
New lobster shelling method picks out meat, picks up steam abroad
By Glenn Adams
September 27, 2006

RICHMOND, Maine -- Tired of picking the meat out of your boiled Maine lobster? A new method of shucking lobster so the shells are no longer a messy byproduct for those who serve and dine on Maine's famous seafood was unveiled Wednesday.

Shucks Maine Lobster, which distributes in the United States, signed an agreement Wednesday that will help the business pick up steam overseas. A Paris-based company called Elafood expects to distribute as much as a half million pounds a year across Europe, a company official said.

More than half of Maine-caught lobster is now processed in Canada, according to the state's Lobster Promotion Council. Gov. John Baldacci said the budding Maine business advances the state's goal to process more homegrown goods, whether it's blueberries, lumber or seafood, in the state.

Baldacci's predecessor, Angus King, used to say, "Never let a fish leave Maine with its head on." Now Baldacci has added a new twist.

"Maine as a name sells," the governor said as he visited Shucks' small processing plant, located in a former shoemaking plant in this small southern-Maine town near the coast.

Shucks president, John Hathaway, said the idea behind his business is simple: Chefs love Maine lobster, but they hate the mess and fuss of the shell. No chef, he said, buys steak with the horns still on.

"Welcome to the home of the only fresh, raw, hand-shucked lobster in the world," Hathaway told his guests.

Maine is by far the nation's biggest lobster-producing state, accounting for 80 percent of America's landings. Last year was another record year, with 60 million pounds pulled in at a value approaching $300 million.

But to lobster lovers everywhere, its mouthwatering image also brings up thoughts of cracking the red shells, picking out the meat and finally cleaning up the mess. Shucks is changing that.

Under the process unveiled Wednesday, 200 pounds of live lobster are loaded into a large, cage-like cylinder, which is submerged in water and put under intense pressure in an 80,000-pound machine about the size of a delivery truck on end. The process dispatches the lobsters, loosens their meat from the shells and at the same time gets rid of pathogens and bacteria.

Workers in assembly line fashion finish the job by easily picking the meat from the shells, and making sure that portions of each serving are roughly uniform. The meat is then packed in vacuum-sealed bags for distribution.

"The tail, the two claws, the knuckles and the legs, are all individually weighed," said Armand Fleury of Richmond, one of the workers in the Shucks plant.

The hydrostatic pressure cooking process was copied from one developed by the Army to prepare MREs -- meals ready to eat -- for troops. Shucks began full operations in April.

Hathaway distinguished his company's process, which preserves raw, fresh lobster, from processed used elsewhere in which lobsters are cooked and then frozen.

On the Net:
Shucks Maine Lobster: http://www.shucksmaine.com/

&copy Associated Press
posted by Josh @ 3:35 PM
News: Roman Empire
Our first article in the weekly news roundup is about the Roman Empire. I don't really know much about them, but this is really something ...

The New York Times
Pirates of the Mediterranean
By Robert Harris
September 30, 2006

In the autumn of 68 B.C. the world's only military superpower was dealt a profound psychological blow by a daring terrorist attack on its very heart. Rome's port at Ostia was set on fire, the consular war fleet destroyed, and two prominent senators, together with their bodyguards and staff, kidnapped.

The incident, dramatic though it was, has not attracted much attention from modern historians. But history is mutable. An event that was merely a footnote five years ago has now, in our post-9/11 world, assumed a fresh and ominous significance. For in the panicky aftermath of the attack, the Roman people made decisions that set them on the path to the destruction of their Constitution, their democracy and their liberty. One cannot help wondering if history is repeating itself.

Consider the parallels. The perpetrators of this spectacular assault were not in the pay of any foreign power: no nation would have dared to attack Rome so provocatively. They were, rather, the disaffected of the earth: "The ruined men of all nations," in the words of the great 19th-century German historian Theodor Mommsen, "a piratical state with a peculiar esprit de corps."

Like Al Qaeda, these pirates were loosely organized, but able to spread a disproportionate amount of fear among citizens who had believed themselves immune from attack. To quote Mommsen again: "The Latin husbandman, the traveler on the Appian highway, the genteel bathing visitor at the terrestrial paradise of Baiae were no longer secure of their property or their life for a single moment."

What was to be done? Over the preceding centuries, the Constitution of ancient Rome had developed an intricate series of checks and balances intended to prevent the concentration of power in the hands of a single individual. The consulship, elected annually, was jointly held by two men. Military commands were of limited duration and subject to regular renewal. Ordinary citizens were accustomed to a remarkable degree of liberty: the cry of "Civis Romanus sum" - "I am a Roman citizen" - was a guarantee of safety throughout the world.

But such was the panic that ensued after Ostia that the people were willing to compromise these rights. The greatest soldier in Rome, the 38-year-old Gnaeus Pompeius Magnus (better known to posterity as Pompey the Great) arranged for a lieutenant of his, the tribune Aulus Gabinius, to rise in the Roman Forum and propose an astonishing new law.

"Pompey was to be given not only the supreme naval command but what amounted in fact to an absolute authority and uncontrolled power over everyone," the Greek historian Plutarch wrote. "There were not many places in the Roman world that were not included within these limits."

Pompey eventually received almost the entire contents of the Roman Treasury - 144 million sesterces - to pay for his "war on terror," which included building a fleet of 500 ships and raising an army of 120,000 infantry and 5,000 cavalry. Such an accumulation of power was unprecedented, and there was literally a riot in the Senate when the bill was debated.

Nevertheless, at a tumultuous mass meeting in the center of Rome, Pompey's opponents were cowed into submission, the Lex Gabinia passed (illegally), and he was given his power. In the end, once he put to sea, it took less than three months to sweep the pirates from the entire Mediterranean. Even allowing for Pompey's genius as a military strategist, the suspicion arises that if the pirates could be defeated so swiftly, they could hardly have been such a grievous threat in the first place.

But it was too late to raise such questions. By the oldest trick in the political book - the whipping up of a panic, in which any dissenting voice could be dismissed as "soft" or even "traitorous" - powers had been ceded by the people that would never be returned. Pompey stayed in the Middle East for six years, establishing puppet regimes throughout the region, and turning himself into the richest man in the empire.

Those of us who are not Americans can only look on in wonder at the similar ease with which the ancient rights and liberties of the individual are being surrendered in the United States in the wake of 9/11. The vote by the Senate on Thursday to suspend the right of habeas corpus for terrorism detainees, denying them their right to challenge their detention in court; the careful wording about torture, which forbids only the inducement of "serious" physical and mental suffering to obtain information; the admissibility of evidence obtained in the United States without a search warrant; the licensing of the president to declare a legal resident of the United States an enemy combatant - all this represents an historic shift in the balance of power between the citizen and the executive.

An intelligent, skeptical American would no doubt scoff at the thought that what has happened since 9/11 could presage the destruction of a centuries-old constitution; but then, I suppose, an intelligent, skeptical Roman in 68 B.C. might well have done the same.

In truth, however, the Lex Gabinia was the beginning of the end of the Roman republic. It set a precedent. Less than a decade later, Julius Caesar - the only man, according to Plutarch, who spoke out in favor of Pompey's special command during the Senate debate - was awarded similar, extended military sovereignty in Gaul. Previously, the state, through the Senate, largely had direction of its armed forces; now the armed forces began to assume direction of the state.

It also brought a flood of money into an electoral system that had been designed for a simpler, non-imperial era. Caesar, like Pompey, with all the resources of Gaul at his disposal, became immensely wealthy, and used his treasure to fund his own political faction. Henceforth, the result of elections was determined largely by which candidate had the most money to bribe the electorate. In 49 B.C., the system collapsed completely, Caesar crossed the Rubicon - and the rest, as they say, is ancient history.

It may be that the Roman republic was doomed in any case. But the disproportionate reaction to the raid on Ostia unquestionably hastened the process, weakening the restraints on military adventurism and corrupting the political process. It was to be more than 1,800 years before anything remotely comparable to Rome's democracy - imperfect though it was - rose again.

The Lex Gabinia was a classic illustration of the law of unintended consequences: it fatally subverted the institution it was supposed to protect. Let us hope that vote in the United States Senate does not have the same result.

Robert Harris is the author, most recently, of "Imperium: A Novel of Ancient Rome."

&copy The New York Times Company
posted by Josh @ 3:33 PM
Josh and Liz are two American kids who got married in August. Liz has lived in Dubai since 2003, Josh since August of 2006.

Follow along in the culture shock of being recently married and (for Josh, at least) recently transplanted to Dubai.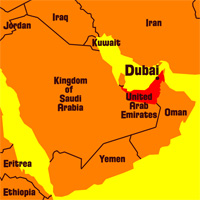 Right now in Dubai
Videos
Pictures
Previous Words
Favorite Recipes
Currency Converter
The easy way to convert Dirhams to Dollars!

Enter a number in either field, then click outside the text box.
Archives
Links We Like
Visitor Counter: