2006-12-06
James Bond in Dubai
Oops. Yesterday I kind of got off on a tangent talking about James Bond and Jack Bauer, and forgot the point I was going to make.

I bet you that at some point in the next two James Bond movies (#22 or #23) James Bond will visit to Dubai.

Now, maybe he won't be cruising down Sheikh Zayed Road in some crazy-fancy car, or swinging from a crane onto one of the Emirates Towers, or ski racing the bad guys at Ski Dubai, but I could see him cruising around the Palm Jumeirah in some huge yacht. Maybe having a meeting (and drinks, if they have a bar?) at the Burj al-Arab hotel, too.

I know James Bond is a snobby south of France / Bahamas kind of guy, but Dubai is getting pretty big and pretty global.

Just a thought.

*If I'm wrong on this, maybe Dubai will feature in the next Mission: Impossible movie instead, which I hope they make with Brad Pitt instead of Tom "Crazypants" Cruise.
posted by Josh @ 2:06 PM
Josh and Liz are two American kids who got married in August. Liz has lived in Dubai since 2003, Josh since August of 2006.

Follow along in the culture shock of being recently married and (for Josh, at least) recently transplanted to Dubai.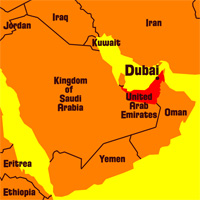 Right now in Dubai
Videos
Pictures
Previous Words
Favorite Recipes
Currency Converter
The easy way to convert Dirhams to Dollars!

Enter a number in either field, then click outside the text box.
Archives
Links We Like
Visitor Counter: