2006-12-20
Animationy Famous
Huh, so here I am off studying for Finals for the last week, and apparently I've set the whole innernet ablaze with my article about Chris Sanders.

And by "whole innernet" I mean "a few animation fans based in Los Angeles".

Not that there's anything wrong with animation fans based in Los Angeles. I used to be well, both of those.

But seriously, I guess I made Jerry Beck's Cartoon Brew, which is something.

So since I've got the attention of the animation world, why don't you all go check out the animation at art-barn.com. It's a thousand times better than crappy Jib-Jab, whom I hope you know have a cross-promotional deal with Cartoon Brew.

(Not that I don't have promotional deals with art-barn, but my audience is like one-ten-millionth of Jerry Beck's ...)

Oh, and speaking of totally shameless plugs, let's everybody go see Steve Anderson's Meet the Robinsons, out March 30, 2007.

Good night!
posted by Josh @ 12:04 AM
Josh and Liz are two American kids who got married in August. Liz has lived in Dubai since 2003, Josh since August of 2006.

Follow along in the culture shock of being recently married and (for Josh, at least) recently transplanted to Dubai.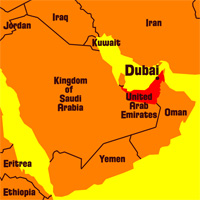 Right now in Dubai
Videos
Pictures
Previous Words
Favorite Recipes
Currency Converter
The easy way to convert Dirhams to Dollars!

Enter a number in either field, then click outside the text box.
Archives
Links We Like
Visitor Counter: