2006-11-29
That Darn Cat
Today I was going to write about our little Christmas Tree. We bought some little white lights, some fake candy canes, and a little star for the top.

It was great.

And then, last night at 2 am, CRASH!

The cat has struck again.

You know how for a few weeks I was keeping you up to date on the Parsley and Chive kitchen garden I started? Well the updates didn't stop because my interest wained. Nope. The posts stopped because the cat couldn't stop digging the plants up.

And I realized, I've never talked about our other two roommates we have here. As you might know, Liz had two cats before I was introduced onto the scene. Lilly is a Maine Coon Cat that Liz shuffled out here from Maine back in 2003.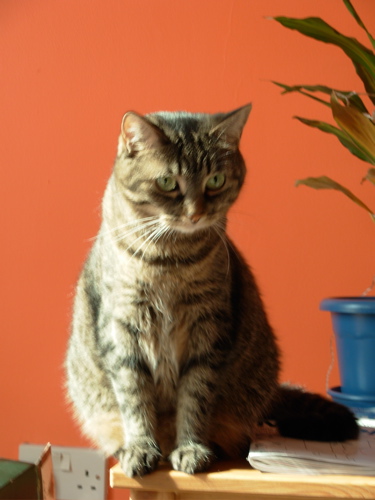 And then there's Kitty. He's a stray cat that Liz found at her old apartment complex here in Dubai about one year ago.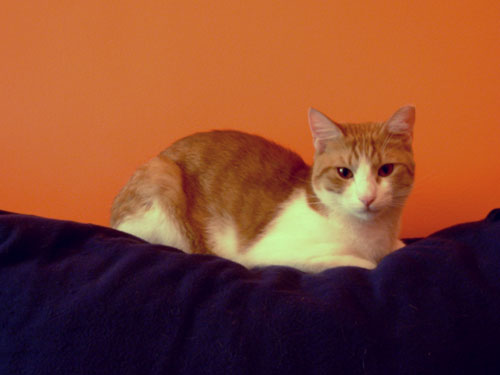 And Kitty is a freaking troublemaker.

And now somehow he's my cat. Boys versus girls, I suppose. (As I don't think of myself as much of a troublemaker ...)

Nevermind the fact that I don't really even like cats, Kitty is a pretty tough sell for even the cat-die hard Liz. I swear he's semi-feral. Not that I know much about cats, but I know that they generally don't make the odd noises that Kitty makes. It's like this warbling meow, almost a distress call. But he'll make the noise just about any time at all, like when walking from the kitchen to the living room.

Maybe he doesn't know he's even making the horrible warble?

He also doesn't know how much of a pain he is to Lilly. While she's not a fan of me, she downright hates Kitty. That's particularly tough when he wants to play. Especially tough when he wants to play at 4 am.

Yep, quite often Kitty wakes us (or at least me) up at the crack of dawn fighting with Lilly. I throw him out of the bedroom and close the door, much like Fred Flinstone had to do with the Sabertooth Tiger during the end credits every episode. Speaking of, did you ever notice that the Tiger was never in any of the episodes? Isn't that a little weird to include him in the end credits?

Yet it's a funny gag that we all remember.

Anyway, thus thrown out, Kitty then perches on the other side of the door and yodels for the next few hours.

It's great.

Sometimes he'll pause to go dig in my plants, or eat the christmas tree.

Remeber when Garfield used to go out on the fence at night and sing, and invariably the neighbors would throw a boot at him? I kind of feel like doing that at points. But instead of a boot, I feel like using the stove.

The best part is that once Liz gets up and is off to work Kitty hunkers down in the easy chair and goes back to sleep.

So both of the cats prefer Liz to me, obviously.

For awhile I was scouring the web, looking for tricks on how to make Kitty quit it in the morning.

I saw this on some site:


Anytime during the day or evening when you see your cat sleeping - wake him up! Gently be a pest just like he is towards you at 3 in the morning. Don't let him sleep. Insist that he play with you now. In 10 days to 2 weeks your cat will sleep all night long because he has been sleep deprived during the day and because he is content that his needs are being filled. It may take 10 days to 2 weeks to reset kitty's internal clock so don't be discouraged that during this time, even though you are doing every thing right, he will still automatically wake up or think he wants to play in the wee hours of the morning. Just wait it out. If you give up too soon, you will have to start all over again.

"Wait it out". Great. This works to a certain extent, but homeboy likes to get up at 4:30. If we constantly wake him up all day, he might sleep in to about 6.

Sadly I had even less luck with the plant-eating. Mostly because these sites are written by people who like cats. They say weighted and flowery descriptions like, "cats are by nature a clean and fastidious animal". I can only read these for a few minutes before I want to go barf.

"Cats are by nature a stupid and annoying and aloof animal. Get a dog instead."

Although this one site was genius on how to stop your cat from doing something bad. It said to use "punitive measures (water pistol, air horn)".

Air horn.

Air horn.

Holy crap that's awesome. Kitty is outside the door making a racket, I swing open the door and


Of course then we'd have to clean up kitty mess on the hallway floor.

And probably deal with a deaf cat for the rest of his life.

Another site had this to say:


You cannot discipline cats as you would dogs. Dogs form social hierarchies that you can take advantage of by placing yourself at the top. Cats form social groups only by necessity and the arrangement is based on respecting territory, not by respecting the "top dog". Many mistakes made with cats are due to thinking that they will react like dogs.

Do not ever hit a cat or use any sort of physical punishment. You will only teach your cat to fear you.

Number one - wait, we don't want the cats to fear us? Hmm. I kinda think I do. And number two, cats respect territory. Animals mark territory by urinating. So I should "go" on kitty's scratching post, to show him I'm top animal in the house?

Okay ...

As far as digging in the plants and chewing on the holiday decorations, I found a site the other day that said to spray the plants with "Citrus Magic" - whatever that is. Oh well, I'm sure they don't have it in Dubai.

The worst part? Kitty can actually be pretty cute ... mostly when he's asleep. Sometimes I actually feel bad for him. He's more than a little bit like Stitch from Lilo & Stitch. And Liz is all Lilo with her, "You could be our baby and we'd raise you to be good."

Yep, this is my O'Hana, take it or leave it ...
posted by Josh @ 1:26 PM
Josh and Liz are two American kids who got married in August. Liz has lived in Dubai since 2003, Josh since August of 2006.

Follow along in the culture shock of being recently married and (for Josh, at least) recently transplanted to Dubai.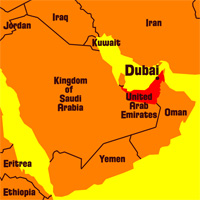 Right now in Dubai
Videos
Pictures
Previous Words
Favorite Recipes
Currency Converter
The easy way to convert Dirhams to Dollars!

Enter a number in either field, then click outside the text box.
Archives
Links We Like
Visitor Counter: