2006-11-21
Safestway
Last night Liz and I went grocery shopping to Safestway - no, not "Safeway", "Safestway".

As in "even more safe" than Safeway.

Anyway, they're not really a big chain like Géant, Carrefour, Spinneys or Choithrams. As far as I know they have one store. But man, is it chock-full of shopping goodness.

See, and I don't know how this is possible, but they have all sorts of brands and items from the US and Europe that other stores don't carry. And the prices weren't even crazy ridiculous. Well, the box of Captain Crunch Crunchberries was something like $7, but when you need crunchberries, you need crunchberries.

I didn't buy any this time, but next time I might, just because I've been looking for the good captain for about two months now (if you missed that post, see Grocery Shopping in Dubai.)

Anyway, what did we buy, you might ask?

Well, right off the bat we saw Cornmeal. And you know how I like my Disneyland Cornbread. Best of all, two came taped together, for whatever reason I'm not really sure ...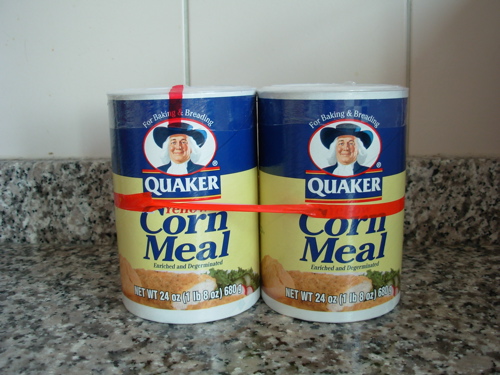 I was also thrilled to find real B&M Baked Beans. Well, vegetarian-style, but still B&M. (Why vegetarian? Well, they really don't sell much pork in these parts of the world, what with the whole Islam thing going on.)

Anyway, the "baked beans" that are sold in most stores in Dubai are the British bastardized version. The breakfast food. They're in a tomato soup-style sauce, which is gross enough, I mean, there's no brown sugar / molasses in them at all, and the beans are almost white - they just look wrong, too. Thus I haven't been had any baked beans lately.

Luckily these are straight-up New England's Finest B&M beans. Mmmmm. I can't wait to eat them with my Turkey Dogs. (Yes, "turkey dogs". See note about pork above.)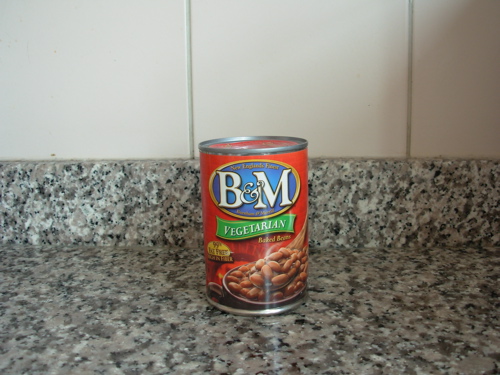 Lastly, we got a tree!

Yep, a little fake 3 ft tall Christmas tree. It was only AED 15, which is like $4!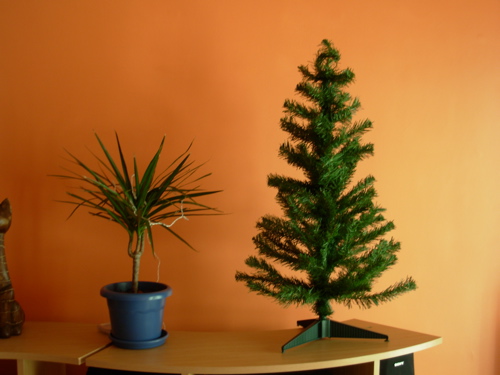 Now we need some lights (I mean, better lights than the little ones you can see I sorta decorated the other plants with, next to the fake tree).

Sadly, the candy canes at Safestway were all goofy "Cherry Flavor" or "Bubblegum Flavor", which is not my speed. So we'll have to go somewhere else for the canes.

I doubt there's an "Even Saferway" store, right?
posted by Josh @ 10:47 AM
Josh and Liz are two American kids who got married in August. Liz has lived in Dubai since 2003, Josh since August of 2006.

Follow along in the culture shock of being recently married and (for Josh, at least) recently transplanted to Dubai.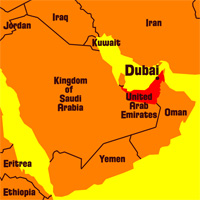 Right now in Dubai
Videos
Pictures
Previous Words
Favorite Recipes
Currency Converter
The easy way to convert Dirhams to Dollars!

Enter a number in either field, then click outside the text box.
Archives
Links We Like
Visitor Counter: