2006-11-28
Groceries in Dubai
Okay, I got a little crazy with this. At first I thought, "I should save my receipt from grocery shopping and convert the kilograms to pounds and the dirhams to dollars and see how it all ends up." I mean, you're standing there in the produce section, looking at the green peppers scratching your head saying, "is 5.95 dirhams per kilo a good deal or a bad deal?!?"

But then I realized on any given week we're only buying a few cool items.

So I ended up saving the receipts for the last FIVE trips to Géant. That's pretty nuts.

Anyway, finally I present my latest math experiment:


Six pack Diet Pepsi
330 ml cans = 11.16 oz can
AED 5.25
$1.43
$0.24 each

Roast Turkey Breast, from deli counter
0.210 kilograms = 0.46 lbs
AED 11.30
$3.08
$6.70 per pound

Anchor (English Brand) Cheddar Cheese, from deli counter
0.120 kilograms = 0.26 lbs
AED 3.35
$0.91
$3.50 per pound

Shredded Mozarella, local
0.500 kilograms = 1.10 lbs
AED 11.5
$3.13
$2.84 per pound

Minced Beef (ground), imported from New Zealand
0.615 kilograms = 1.36 lbs
AED 14.75
$4.01
$2.95 per pound

Minced Chicken (ground chicken), local
0.500 kilograms = 1.10 lbs
AED 9.50
$2.58
$2.35 per pound

Chicken Breast Boneless, local
0.500 kilograms = 1.10 lbs
AED 14.95
$4.07
$3.70 per pound

Hilshire Farms Chicken Kielbasa (imported from USA)
1 lb
AED 25.25
$6.87

Potatoes, from Lebanon
0.665 kilograms = 1.47 lbs
AED 2.65
$0.72
$0.49 per pound

Green Peppers, ugly locally grown
0.415 kilograms = 0.91 lbs
AED 2.45
$0.72
$0.79 per pound

Tomatoes, ugly, locally grown
1.3 kilograms = 2.87 lbs
AED 5.65
$1.54
$0.54 per pound

Potatoes, imported from Saudi Arabia
5.675 kiloograms = 12.5 lbs (for Thanksgiving)
AED 8.70
$2.3664
$0.19 per pound

Chiquita Bananas
1.935 kilograms = 4.27 lbs
AED 6.20
$1.69
$0.40 per pound

Tortilla Chips, no-name brand
250 gram = 8.8 oz bag
AED 5.75
$1.56

Tostitos Tortilla Chips, with lime (imported from USA)
10 oz bag
AED 13.50
$3.67

Gringo Pete's Flour Tortillas (imported from USA)
bag of 8 = 1 lb
AED 15.40
$4.19

Loaf of bread, local
AED 5.35
$1.46

Dried Pineapple Cubes, local
250 grams = 0.55 lbs
AED 4.75
$1.29
$2.35 per pound

Strawberry Juice, local
2 liters
AED 5.75
$1.56

Whole Pineapple, cored for you right there in the store
AED 5.95
$1.62

Marsh Brand BBQ Sauce (imported from USA)*
18 oz bottle
AED 7.35
$2.00

Hidden Valley Ranch Dressing (imported from USA)
8 oz bottle - which is very very small
AED 14.25
$3.88

Old El Paso Refried Beans (imported from USA)
16 oz can
AED 7.35
$2.00

Ocean Spray Cranberry Sauce (imported from USA)
16 oz can
AED 16.70
$4.54

Crisco Shortening (imported from USA)
16 oz can
AED 7.00
$1.90

Jumbo Eggs, local
6 eggs
AED 3.75
$1.02

Frozen Pizza, not imported, some local brand
750 grams = 1.65 pounds
AED 19.75
$5.37

Bag of Frozen Green Peas
450 grams = 1 pound
AED 3.75
$1.02

Bag of Frozen Brocolli Florets
450 grams = 1 pound
AED 9.95
$2.71

Bag of Frozen Blueberries
500 grams = 1.1 lbs
AED 18.25
$4.96

Frozen Sara Lee Bagels, 5 pack (imported from USA)
AED 11.25
$3.06

Tide detergent powder, locally produced
2.5 kg = 5.5 lbs
AED 12.95
$3.52


*Sadly not Bath, Maine's Marsh family Tallywagger BBQ, this is Marsh Supermarkets and convenience stores from Indiana and Ohio.

It seems to me that the food here is very reasonablly priced. Some things, like soda, are almost insanely cheap. Anything imported from the US is going to be more pricey than the local stuff. At first I was buying the Kraft shredded cheese, which was like three times as expensive as the local cheese. But the local stuff is fine!

The frozen pizzas is another place they hose you. The same el cheapo frozen pizzas that sell for a dollar at home are at least three or four dollars here. This one we bought looks pretty good, but it's local so it's cheaper.

Which makes sense, and if the quality is about the same, it's a deal!
posted by Josh @ 2:30 PM
Josh and Liz are two American kids who got married in August. Liz has lived in Dubai since 2003, Josh since August of 2006.

Follow along in the culture shock of being recently married and (for Josh, at least) recently transplanted to Dubai.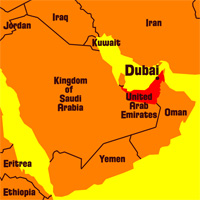 Right now in Dubai
Videos
Pictures
Previous Words
Favorite Recipes
Currency Converter
The easy way to convert Dirhams to Dollars!

Enter a number in either field, then click outside the text box.
Archives
Links We Like
Visitor Counter: