2006-10-23
News: Obama '08
Lastly, I'm a huge fan of Senator Barack Obama from Illinois. And now I see this article. Awesome.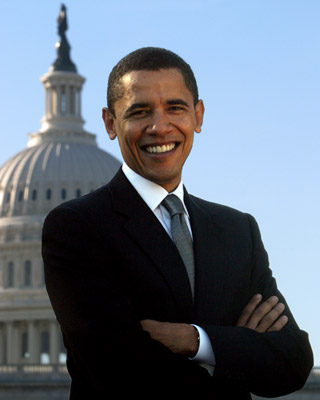 If you don't know much about him, you should check out his podcast, he's bright, witty and very down-to-earth.

I'm going to be voting for him in about two years ...


Washington Post
In Reversal, Obama Says He'll Consider Presidential Bid
Democratic Senator to Decide After Elections
By Dan Balz
October 23, 2006

Sen. Barack Obama (D-Ill.) opened the door to a 2008 presidential campaign yesterday, saying he has begun to weigh a possible candidacy and will make a decision after the November elections.

"Given the responses that I've been getting over the last several months, I have thought about the possibility, but I have not thought about it with the seriousness and depth that I think is required," Obama said on NBC's "Meet the Press." "After November 7th, I'll sit down and consider it, and if at some point, I change my mind, I will make a public announcement and everybody will be able to go at me."

Until yesterday, Obama, one of the brightest stars in the party since he electrified the 2004 Democratic National Convention with his keynote address, had said he planned to serve out the full six years of his Senate term, which would have ruled out a presidential or vice presidential campaign in 2008.

But Democrats around the country have encouraged him to consider a campaign, and there has been fevered speculation inside the party about the possibility that he will do so. His own advisers have been forced to adjust timetables for a possible run in later elections and have begun to do the research that will help Obama make his decision.

New York Sen. Hillary Rodham Clinton is considered the early front-runner for the Democratic nomination, should she decide to run, but some Democratic strategists said yesterday that Obama immediately would become one of her principal challengers, if he decides to run.

"If he runs and Mrs. Clinton runs, I don't think there's a lot of room for anyone else," said Steve Elmendorf, who was a top adviser to former House minority leader Richard A. Gephardt (D-Mo.). "The two of them take up an enormous amount of political space."

Party strategists said that, if voters are looking for change in 2008, Obama would symbolize it better than many of the other possible candidates. But having served just two years in the Senate and seven in the Illinois state Senate, Obama has a thin resume upon which to build a presidential candidacy. He was asked yesterday on "Meet the Press" whether he was ready to be president.

"I'm not sure anybody is ready to be president before they're president," he told moderator Tim Russert. "You know, ultimately, I trust the judgment of the American people that in any election they sort it through. We have a long and a rigorous process and, you know, should I decide to run, if I ever did decide to run, I'm confident that I'd be run through the paces pretty good."

Obama's statement that he is thinking seriously about running in 2008 represents a frank acknowledgement of how the strong reception he has received around the country this year has altered his personal political trajectory, one that did not envision a campaign for national office this soon. But his advisers stressed yesterday that he has not yet decided to make such a bid.

At this point, Obama is a political phenomenon but hardly a tested politician on the national stage. He has captured the imagination of Democrats and others mostly through a combination of glamour and intellect. He has no legislative record to speak of, given the short time he has been in the Senate and the fact that Democrats are in the minority.

Obama, 45, was elected to the Senate in 2004, and even before winning that election he became a nationally recognized politician with his keynote address at the Democratic convention in Boston. He is now one of the party's most sought-after speakers, and he has drawn sizable crowds at party events and at appearances on behalf of Democratic candidates.

He is currently on a nationwide tour promoting his new book, "The Audacity of Hope." An earlier book became a national best-seller after his address in 2004. He also has appeared on the covers of Time magazine and GQ.

Yesterday, Obama said pursuit of the presidency cannot be based on celebrity and conceit. "It can't be something that you pursue on the basis of vanity and ambition," he said. "I think there's a certain soberness and seriousness required when you think about that office that is unique."

Obama advisers said yesterday that there has been little formal analysis done in preparation for a possible campaign, and they agreed they will now accelerate that work. But they said they are confident Obama could raise the money to run and noted that he has many offers from people interested in working in a campaign.

"He understands it's a lot easier when you're the subject of speculation than when you're in the arena battling it out," said David Axelrod, one of Obama's advisers. "I think that there's evaluative work to be done, but there are a lot of encouraging signs."

Obama spokesman Robert Gibbs cautioned reading too much into the senator's comments yesterday. "It was simply the honest answer to the question. There isn't a formal process. He announced he was thinking about it. He didn't announce he was announcing."

Another adviser said the Obama team has not done a state-by-state analysis of fundraising potential, nor have they begun building organizations in early states like Iowa and New Hampshire. Several advisers denied that they had conducted focus groups about an Obama candidacy, as some other Democrats have suggested.

Personal factors may influence Obama's decision as much as political considerations, his advisers said. He has a young family and may not want to put them and himself through the rigors of a long campaign.

A large field of prospective candidates awaits Obama, if he decides to run. It includes Massachusetts Sen. John F. Kerry, former North Carolina senator John Edwards, Delaware Sen. Joseph R. Biden Jr., Connecticut Sen. Christopher J. Dodd, Iowa Gov. Tom Vilsack, New Mexico Gov. Bill Richardson and Wisconsin Sen. Russell Feingold. Some Democrats hope former vice president Al Gore will jump in.

Former Virginia governor Mark R. Warner announced this month that he will not run.

&copy The Washington Post Company
posted by Josh @ 11:46 AM
Josh and Liz are two American kids who got married in August. Liz has lived in Dubai since 2003, Josh since August of 2006.

Follow along in the culture shock of being recently married and (for Josh, at least) recently transplanted to Dubai.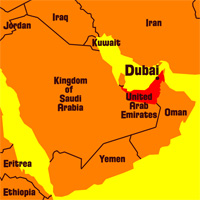 Right now in Dubai
Videos
Pictures
Previous Words
Favorite Recipes
Currency Converter
The easy way to convert Dirhams to Dollars!

Enter a number in either field, then click outside the text box.
Archives
Links We Like
Visitor Counter: