2006-09-12
Recipe - Coconut Curried Chicken Stew
We've had some requests for the recipe I made last week for our anniversary (If you missed that story, see Anniversary).

Here it is. As with any recipe that has both a jalapeño and cayenne pepper, you can adjust how spicy it is by adding / removing quantites. The amounts below make a pretty spicy (for you average American) dish.

Enjoy!

Coconut Curried Chicken Stew
from Boma at Disney's Animal Kingdom Lodge

1 1/2 lbs Chicken breast
3 T Curry powder, toasted
6 T Butter
3/4 c Flour
4 c Chicken stock
14 oz can Coconut milk
1 Onion, diced chunky
1 Red bell pepper, diced chunky
1 Large potato, diced chunky
1/2 Minced jalapeño
14 oz can Diced tomatoes, drained
1 t Cayenne pepper
1/2 c Honey
4 oz Canola oil
1/2 c Cilantro, chopped
To taste salt and pepper

Melt 6 T butter and stir in 3/4 c flour to make a roux and set aside.

Heat chicken stock, curry powder, coconut milk and roux. Let simmer until thickened.

Sprinkle chicken with salt, pepper, and 1 tablespoon curry powder. Sear chicken in a skillet until golden brown and done. Set aside.

Add the vegetables (except the cilantro) and seared chicken. Cook until chicken is done (20 minutes or so on medium).

Add honey and cayenne pepper. Adjust seasoning. Garnish with cilantro.
posted by Josh @ 8:39 AM
Josh and Liz are two American kids who got married in August. Liz has lived in Dubai since 2003, Josh since August of 2006.

Follow along in the culture shock of being recently married and (for Josh, at least) recently transplanted to Dubai.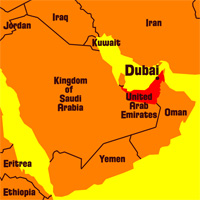 Right now in Dubai
Videos
Pictures
Previous Words
Favorite Recipes
Currency Converter
The easy way to convert Dirhams to Dollars!

Enter a number in either field, then click outside the text box.
Archives
Links We Like
Visitor Counter: