2006-09-19
Recipe - Brie & Mango Quesadillas
Now, I'm not going to turn this into a food blog, but I made a pretty sweet dinner last night and have to share the recipe with you. It was so easy but sounds rather fancy.

I got it off some website last week, I was looking for new ideas for dinner, since I left my recipe books in Maine by mistake. Check it out if you're in the mood for something new.

Brie & Mango Quesadillas

3 T butter
1 mango, thinly sliced
1 small red onion, thinly sliced
1/3 - 1/2 lb. sliced Brie cheese
4 flour tortillas
cumin to taste
avocado for garnish
cilantro for garnish

Melt butter in a large skillet. Layer mango, red onion and Brie on one half of one side of each tortilla. Fold over tortilla. Sauté in pan until cheese is melted and tortilla is golden brown. Sprinkle outside of tortilla with cumin while browning. Garnish with avocado slices and cilantro. Cut tortilla into 4-6 slices. Serve warm.
posted by Josh @ 9:21 AM
Josh and Liz are two American kids who got married in August. Liz has lived in Dubai since 2003, Josh since August of 2006.

Follow along in the culture shock of being recently married and (for Josh, at least) recently transplanted to Dubai.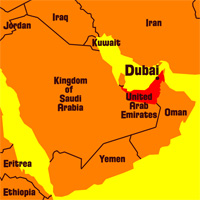 Right now in Dubai
Videos
Pictures
Previous Words
Favorite Recipes
Currency Converter
The easy way to convert Dirhams to Dollars!

Enter a number in either field, then click outside the text box.
Archives
Links We Like
Visitor Counter: