2006-09-23
Ramadan
Hey, it's Ramadan here!

Rama-wha?

Ramadan is the lunar month in Islam when Muslims fast all day long.

For a month.

But what does that mean for us non-Muslims living in Dubai?

Well, for one we're not allowed to eat or drink or smoke in public for the next thirty days. This is tremendously odd to me, as we went to the mall today and the food court was closed. I mean, have you ever seen a Starbucks closed up in the middle of the day? It's very interesting.

Also most businesses have shorter Ramadan hours, where they let people go home early. The University doesn't do this, though. And hey, I'm unemployed so my hours are kind of fluid.

Anyway, Muslim folks of proper age and good health fast during the daylight hours. They also avoid violence, anger, envy, greed, lust, sarcastic retorts, and gossip. It's a very religious time, a time of reflection. Then at sundown they have a large feast they call an Iftar. I guess they also invite non-Muslims to join them, I'll let you know if we go to one.

I guess historically the month of Ramadan was when the Angel Gabriel gave the Prophet Mohammed the Koran (or Qur'an), and that's why it's such a special month.

Um, what else do I know? Oh, at the end of the month there's Eid ul-Fitr, which is the feast of breaking the fast. For Muslims this is an intense time of worship and partying, and for the non-Muslims it's a few days off, which apparently people use to take a vacation. In fact, at the begining of Ramadan most non-Muslims seem to be asking each other, "So where are you going to for Eid?"

Where are we going to for Eid?

Why thank you so much for asking!

We're talking about going to Mussandam.

Musandam is a little peninsula of Oman that's separated from the rest of Oman by the UAE. You know what I mean? Like, Musandam is Alaska to the UAE's Canada.

Anyway, they have these fjords and dolphins and stuff out there, and it's supposed to be cool. You'll obviously learn more if we go there ...
posted by Josh @ 7:13 PM
Josh and Liz are two American kids who got married in August. Liz has lived in Dubai since 2003, Josh since August of 2006.

Follow along in the culture shock of being recently married and (for Josh, at least) recently transplanted to Dubai.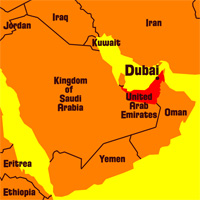 Right now in Dubai
Videos
Pictures
Previous Words
Favorite Recipes
Currency Converter
The easy way to convert Dirhams to Dollars!

Enter a number in either field, then click outside the text box.
Archives
Links We Like
Visitor Counter: