2006-09-18
Grocery Shopping in Dubai
We went grocery shopping this weekend to Géant in the Ibn Battuta Mall. It's nice, since we've been shopping there almost a half a dozen times now I'm starting to get a feel for the store. The layout is becoming familiar, comfortable.

But the products, what they have and don't have, that still throws me for a loop.

Take the produce section. It's huge. They sell fruits and vegetables there that I don't think American scientists have even heard of. It's like we're in Harry Potter's grocery store. Purple orbs, twiggy branches, spikey green ... things, and I swear the red flowery one blinked at me.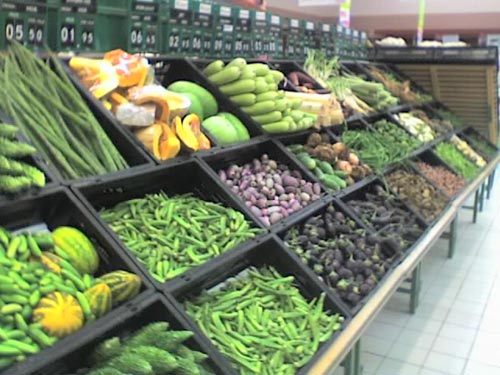 Oh, and there's a different system for paying for produce. They don't follow the ol' American method of taking the plastic bags of fruits and veggies to the checkout line where the clerk has to know the code for each piece of produce to price it. I bet there are just too many different kinds for the clerks to know. Instead, in the produce section they have a clerk with a scale and printer, like the ones at the deli where they weigh the potato salad and ham, to code and print barcode stickers for each bag. Then the clerk at the register only has to scan the barcode.

Pretty clever.

They also have a spice section. Like, we wanted cinnamon, so we went up and said we'd like a Dirham worth of cinnamon. And they scoop it out of a big container into a plastic bag, weigh it, and print a barcode sticker. Just like the fruit.

The only problem is that in my cabinet now among the other spices I have a flimsy plastic bag 'o cinnamon. Hmmm.

But considering how varied some of the offerings are, some things are sorely missing. Take the cereal aisle. That's a grim bunch. In America there's, what, an aisle full of cereal? Even in a smaller store they have a good selection, like Tony's Foodland or Food City (or perhaps "Foo City" / "Food ity", depending on which light is burned out this week).

Not in Dubai. There's a fraction of the cereal selection. Take Captain Crunch. I was going to make my famous Captain Crunch Chicken for Liz this week. It's been a mainstay of the Josh Cooking Regimen since about 1993. But Géant doesn't even sell the good Captain. Nope. They have frosted flakes, rice krispies, corn flakes, more bran products than you can shake a stick at, and a few different cereals that we don't have at home. Such as Kellogg's Crunchy Nut.





Apparently "it's ludicrously tasty". At least, that's what the box says. And I learned looooong ago that cereal boxes don't lie.

Right now I'm kicking myself for not buying it. Because I like cereal, and I can't imagine what makes this one any more ludicrously tasty than the next. What does ludicrously tasty even taste like? Yeah, I'm so buying Crunchy Nut next time I'm in Géant.

Also weird in the cereal aisle? All of the Special K boxes are half-covered with a big white sticker. The only thing we could think of is that the box was printed elsewhere, and there must be photo or illustration of a slender woman or woman's body part that would be offensive to the religious nature of the people here.

But apparently black market products aren't offensive to these people. I turned this box over and over and couldn't find a legit Disney copyright mark on it. And from the complete lack of English, I'd assume this wasn't imported from Orlando or Anaheim.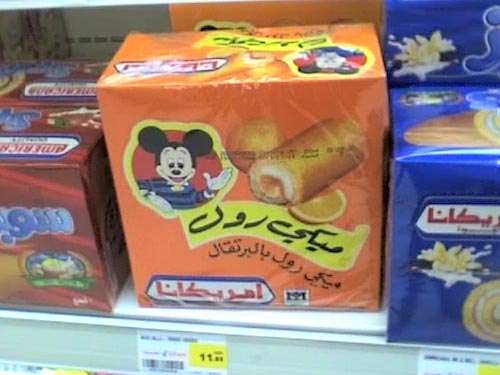 Then there are the local knock-offs. While they sell Philadelphia Cream Cheese, it was twice as expensive as the local brand. Plus the local brand is called Spreadadelphia. That made me crack up almost as much as "it's ludicrously tasty". I just had to buy it.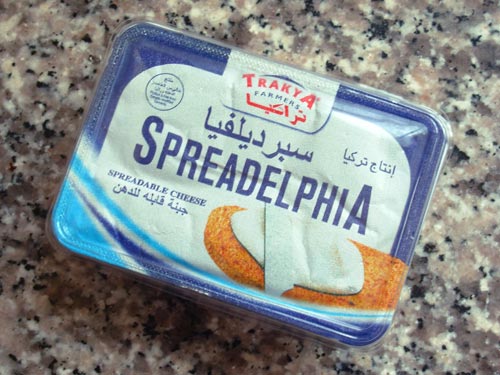 That's an odd facet of grocery shopping in Dubai, you're psyched to see that they sell some American product, then you see the price. Quick math in your head. Wait, a cheapo frozen pizza here costs four bucks? I'd pay ninety-nine cents for it at home! That's not worth it! Macaroni and Cheese is prohibitively expensive, as well. But you can make your own by buying plain macaroni as well as a brick of Velveeta (which is slightly more expensive than you'd like, but not crazily overpriced).

Speaking of pasta, Liz found this and we just had to buy it.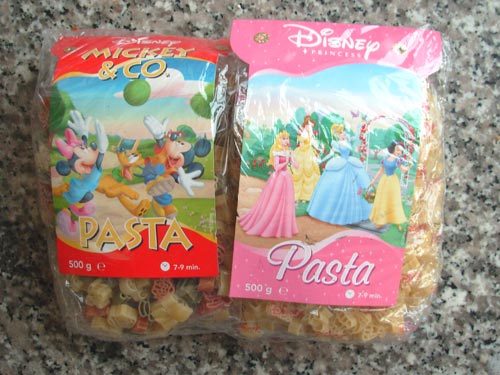 Sorry to have two Disney references in the same piece, but something tells me that these will be tasty. Maybe even ludicrously so ...
posted by Josh @ 12:31 PM
Josh and Liz are two American kids who got married in August. Liz has lived in Dubai since 2003, Josh since August of 2006.

Follow along in the culture shock of being recently married and (for Josh, at least) recently transplanted to Dubai.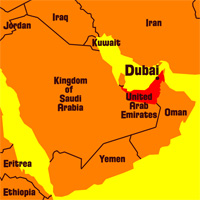 Right now in Dubai
Videos
Pictures
Previous Words
Favorite Recipes
Currency Converter
The easy way to convert Dirhams to Dollars!

Enter a number in either field, then click outside the text box.
Archives
Links We Like
Visitor Counter: