2006-09-10
The Barracuda
a/k/a Rum Running in the 21 Century

As I've mentioned recently, Muslims don't drink alcohol, and Dubai is an Islamic city. Thus, you can't buy beer, wine or any spirits whatsoever in the grocery store, or any other store, for that matter.

This, as you can imagine, can be a big problem for the expatriates living in Dubai.

When I first got here I heard rumors, legends, tales even, of what we would call a package store in New England - a liquor store - out in the desert. "The Barracuda". Out beyond Dubai, and even beyond the next emirate.

On Friday the legend of The Barracuda became reality.

Friday morning's preparation reminded me of going on a day trip to Disneyland, back when I lived in Los Angeles. Set the alarm for early on the weekend, get up, shower, pack snacks, plenty of water, hop in the car, meet up with friends and caravan the hour or so down to Anaheim.

The Barracuda run this weekend was very similar. We met two other cars of folks out front at 9:30 am, and the three vehicles were on our way.

At first it seemed like we were driving out into the desert. Well, at first we were. But at some point we curved around and met the coast again. I'll admit, though, driving into the barren desert, even with a car in front and a car in the rear, it was still a little freaky.

Then all of a sudden were were upon what some people might call civilization. Not me though. In fact, I broke my new year's resolution of the last two years and brought the air quotes out when I said, "Oh look, 'civilization'."

I'm not sure if I'm coining a new phrase here, but it was beyond third world. I'd say it skipped fourth and went straight to fifth world.

Welcome to Sharjah.

Sharjah is like one of those desert towns out in Death Valley and as you drive past you wonder, "Who exactly thought it was a good idea to build a town here?"

Luckily we were only driving through Sharjah on our way to Umm Al Quwain, home of The Barracuda.

(Sharjah, Umm Al Quwain and Dubai are three of the seven emirates that make up the United Arab Emirates).

Oh yeah, the other fun part about Sharjah - it's illegal to have alcohol in Sharjah.

So you drive from Dubai through Sharjah to Umm Al Quwain, buy booze in Umm Al Quwain, then have to drive with the illegal hootch through Sharjah to get back to Dubai.

And apparently Sharjah has roadblocks occasionally where they stop cars to do inspections. I'm not sure what happens to you if you have alcohol with you, but I bet they don't let you keep it.

On the way there I had fun imagining dudes with fedoras, tommy guns and big black sedans trying to run the roadblocks. But in reality I bet it'd be mostly pudgy Brits, Austrialians and Americans in somewhat lame Toyota and Nissan imports with sunburns evading the Sharjah PD.

Anyway, this isn't the weirdest part of the story.

For what's next to The Barracuda?

A water park.

Yep. Their own "Splashtown, UAE". But it's called Dreamland - and it's just about as low-rent as you'd imagine a water park in the middle of the desert would be.

And it's next to a sewage treatment plant.

Seriously.

Very low-rent.

So before hitting the hootch, we all met at the water park for a few hours of lazy-rivering and running to slides on pavement that was more than hot. Beyond hot. I mean, it was 105 degrees out. About noon. And the pavement was just out in the open. No shade. I don't want to sound like a wuss or anything, but it was HOT on the ol' dogs.

After a fair amount of sun and soaking, we drove next door to The Barracuda.

It's actually the Barracuda Beach Resort, which seriously looked like a Bates Motel-esque cover for the real attraction - liquor.

And boy did they have it. Two rooms full of wine from every country. A room of beer from, well, not a great selection, but still, they sold beer. And then your every other variety of spirits.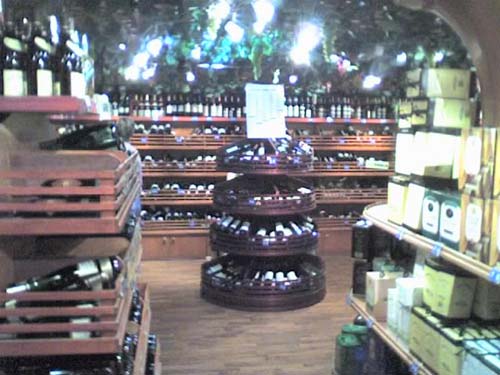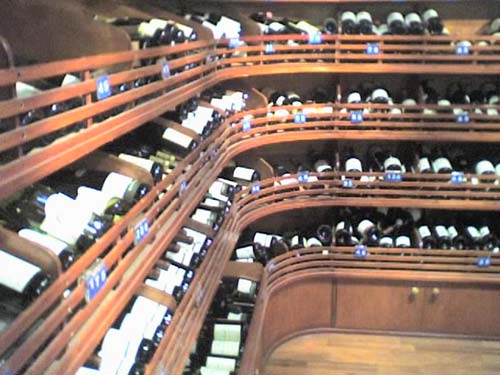 Now I'm probably coming off like a complete lush, or something, but I swear that there was this element of hoarding involved. You get in there, and you start seeing brands and labels that you haven't seen for a month, and then everywhere there are signs that they close for the entire holy month of Ramadan - which is coming up soon.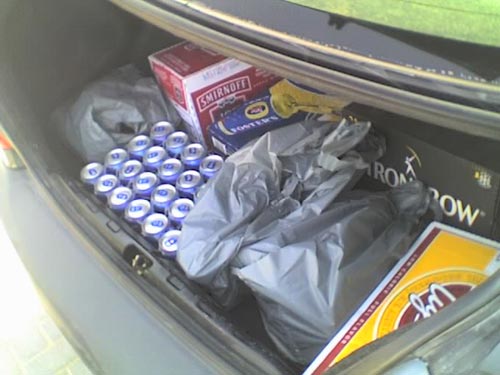 So we stocked up. Ironically I bought beer from Austrailia (Fosters), Holland (Amstel Light), and Canada (Labatts). Nothing American. Hey, if I can't have Maine beer, then I don't need American beer.

And then, to top off the whole trip, you know what else is next door to The Barracuda? (I mean, besides the sewage treatment facility?)

An abandoned plane.

I guess someone at some point flew this plane here, and then when they built the runway they discovered that it was too short to get a plane of that size up in the air.

So they left it.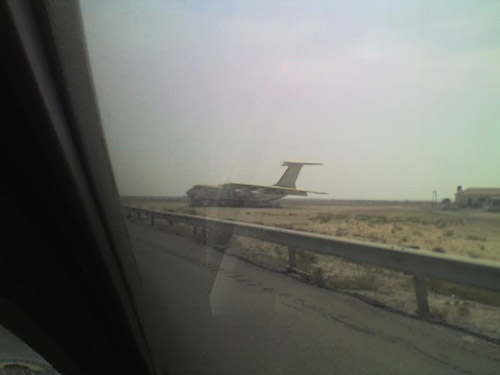 Our friend Neil thinks that it's just the most amazing thing ever. Sadly, Liz and I didn't stop - we were both a little tired from the sun and intense shopping. So we whizzed by.

But I have a feeling that it won't be the last trip to Umm Al Quwain, to The Barracuda. Maybe in the winter we'll stop and see what this whole plane is about.

And in case you were worried, our trip back through Sharjah with a trunk full of contraband was uneventful, thankfully.
posted by Josh @ 2:22 PM
Josh and Liz are two American kids who got married in August. Liz has lived in Dubai since 2003, Josh since August of 2006.

Follow along in the culture shock of being recently married and (for Josh, at least) recently transplanted to Dubai.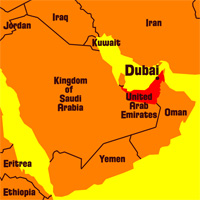 Right now in Dubai
Videos
Pictures
Previous Words
Favorite Recipes
Currency Converter
The easy way to convert Dirhams to Dollars!

Enter a number in either field, then click outside the text box.
Archives
Links We Like
Visitor Counter: