2006-08-14
Your Tax Dollars at Work ...
We're back from the US Consulate. And I haven't said this about many government offices, but wow, what an efficient and pleasant bunch!

Seriously!

It only took Liz about an hour and a half to get a new semi-temporary passport that's good for one year, so when we get back to the States in December or even next July we can get the real one. The best part? If we show the receipt for this temp passport, she won't have to pay for the next one!

The funny part is that the office was full of Emirates Airline flight attendants getting their visas. Twenty or thirty attractive young women and men who were all extremely friendly, it reminded me of my days on the Walt Disney World College Program.

All jokes aside, it's really, really reassuring to know that there are people out here who can and will help us quickly and politely if we need it.

Now to rest up, we leave for the honeymoon at three am tonight!
posted by Josh @ 10:11 AM
Josh and Liz are two American kids who got married in August. Liz has lived in Dubai since 2003, Josh since August of 2006.

Follow along in the culture shock of being recently married and (for Josh, at least) recently transplanted to Dubai.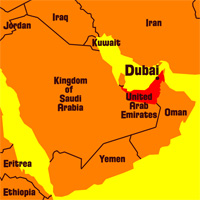 Right now in Dubai
Videos
Pictures
Previous Words
Favorite Recipes
Currency Converter
The easy way to convert Dirhams to Dollars!

Enter a number in either field, then click outside the text box.
Archives
Links We Like
Visitor Counter: