2006-08-23
"This whole series has been a nightmare."
So I wasn't going to talk about this here. But now I have to. You see, right now there's a baseball game going on in Anaheim, California and it's tied, 2-2. As soon as I finish typing, I'm switching on the mlb.com Gameday Audio.

Yep, Baseball. And it kind of drove me crazy the last few days of our Honeymoon.

See, the Boston Red Sox were playing heated rivals the New York Yankees in a five game series Friday through Monday. While we were in Mauritius. And although our hotel had two dozen television channels, five of which were 24 hr news and probably seven of which were all sports all of the time - for the life of me I couldn't get a baseball score out of any of them.

Well, that's not exactly true. CNN International's little scrolling banner mentioned the Yankees crushing defeat on Thursday - but that was against the Orioles.

And somehow the groundbreaking for the new Yankee Stadium on Wednesday made it onto the French news station, too. But other than that it was as if baseball didn't exist.

Now, if I cared about rugby, cricket or football (which apparently Africa calls "soccer" - which would explain Liz's yellow "Madagascar Soccer" shirt, I guess) I would have been in hog heaven. And if I felt any compassion at all for Wayne Rooney, or allegiance to Manchester United, then I would be as up in arms over his three game suspension as the rest of the world is. But I don't and I have none. So I think homeboy meant to kick that Portugal defender sqaure between the legs in the World Cup. Now, can we please be done with this baloney and talk baseball?

Anyway, we paid for some internet time on Thursday to tell the folks we were alive and having a fun time. (Also we tried to find my lost luggage online, which really didn't work well at all - but we found them eventually so I just have to let it go, eh?) That also meant that I could steal away some time to read the boston.com articles about the upcoming series, which really only lead me into frustrationland for the rest of the weekend. I know the games had been played, but I couldn't get a score - just two simple numbers - from anyone. I mean, every time the faux-Headline News "EuroNews" said, "Now it's time for Sports!" I'd shout, "Baseball is a sport, God damn it!"

Apparently it's only a sport to the Red States and the Blue States.

Then on Monday night as we were packing up, we realized we had a few more minutes of internet time left. I quickly checked the scores.

Fri, Aug 18 L 4-12
Fri, Aug 18 L 11-14
Sat, Aug 19 L 5-13
Sun, Aug 20 L 5-8
Dear sweet Lord.

When we got home early Tuesday I checked the Monday night game (which, honestly, I didn't have much faith in anyway - with Wells pitching and all). The Sox lost on Monday, too. I mean, you know it was a tough game when Keith Foulke is touted as the one hero of the team (oh snap!)

The Yankees outscored the Red Sox 49-26 in five games.

This was the first time Boston was swept in five straight since losing to Cleveland at Fenway Park in 1954.

The Yankees also swept the Sox in five games at Fenway in 1943.

38 games to go. 6 1/2 game back in AL East. 3 1/2 back in the AL Wild Card.

And the Angels just scored RIGHT NOW in the bottom of the 4th to make it 3-2. Come on!

I gotta go cheer for the guys. See ya!
posted by Josh @ 7:08 AM
Josh and Liz are two American kids who got married in August. Liz has lived in Dubai since 2003, Josh since August of 2006.

Follow along in the culture shock of being recently married and (for Josh, at least) recently transplanted to Dubai.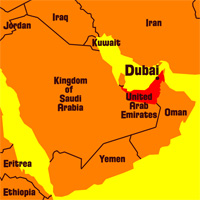 Right now in Dubai
Videos
Pictures
Previous Words
Favorite Recipes
Currency Converter
The easy way to convert Dirhams to Dollars!

Enter a number in either field, then click outside the text box.
Archives
Links We Like
Visitor Counter: