2006-08-13
Taken to the Cleaners
Uh oh.

So we're supposed to leave for our honeymoon tomorrow night late - like, 2:30 am - so in about 29 1/2 hours. And earlier today we realized that Liz washed her passport.

See, since we lost our luggage coming from Gatwick, and only had the clothes on our backs for the most part (well, me for the entire part) we threw our laundry in last night after showers.

And, since we weren't allowed carry-ons coming from Gatwick, we had our tickets and passports in our pockets. This is, apparently, not Liz's routine, and since we were so tired when we went to bed, she just threw everything into the wash.

I found the remnants of the passport this morning when I put the clothes into the dryer.

Huh.

We called the US Embassy, but their passport people only work from 8:30 am to noon.

Tomorrow we're getting up early and going over there to talk to someone. By then it'll be only 16 1/2 hours until our honeymoon flight ...

Uh oh.
posted by Josh @ 8:57 PM
Josh and Liz are two American kids who got married in August. Liz has lived in Dubai since 2003, Josh since August of 2006.

Follow along in the culture shock of being recently married and (for Josh, at least) recently transplanted to Dubai.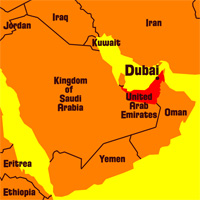 Right now in Dubai
Videos
Pictures
Previous Words
Favorite Recipes
Currency Converter
The easy way to convert Dirhams to Dollars!

Enter a number in either field, then click outside the text box.
Archives
Links We Like
Visitor Counter: