2006-08-13
Safe in Dubai, pt. 2 - Gatwick through Dubai
When last we left our intrepid heros, they were safe on a US Airways flight from Philly to London Gatwick.

So here we are on a brand-new Airbus 330. We have video games, movies on demand, and comfy headrests. Our two carry-ons each are filled with computers, cameras, iPods, books, magazines. Life is sweet.

Then we land in London. Hey, guess what? It's gray and raining.

And, as you probably know, last Thursday the London police arrested two dozen dudes in conjunction with plans to blow up a bunch of aircraft. That meant the USA Department of Homeland Security went to Orange Alert, and banned all liquids and gels and pastes from carry-on bags.

That meant that at London Gatwick they weren't letting anyone at all travel with any carry-ons.

Of course, this was chaos. We all had carry-ons - I mean, who doesn't travel with a little carry-on, a backpack or something?

Liz and I had to leave through security (again, after doing it at Philly, too) and go to the Emirates Airline desk. There was a good-sized line waiting, but that was mostly because there were no ticket agents at the desk. I mean, Portland Internation Jetport has at least one agent in the building ...

Finally we get agents, and, after an hour, go check our carry-ons. The up-side? Security was very easy to go through. Nobody had anything!!

Then came the waiting. It was about three hours, but it felt like thirty. The worst part, and I don't know if this is a Gatwick thing or somehow related to the whole hightened security of the day, they didn't release the gate numbers until the plane was boarding. For real. So we had everyone for every flight waiting in this shopping mall corridor with far too few seats per customer. And nobody's buying anything, for fear that they can't take perfume or booze or a paperback on the plane.

We get to the gate, and all of the Emirates Airline folks are super-nice. That's great, but all of the travellers are super-pissed, so it really didn't even out. Well, for the record I wasn't pissed at all, I was just psyched that Ronald at the US Airways Philly desk got me my ticket. That I was even getting onto a plane was good enough for me. So what if my computer, digital camera, mini-dv camera, hard drives and everything are bumping about in some baggage hold underneath the plane ... okay, I'm getting upset now.

The flight was great - the food on Emirates is excellent, and they have these sweet cameras on their Boeing 777 that show you what's going on underneath the plane and out from the nose of the plane. So when we were flying over Germany we could see forests and stuff. It was pretty cool.

Other highlights:



The Yahtzee on the video game system gave me a yahtzee like, every third game.

"Mission Impossible 3" was a much better movie the second time.

"Lucky Number Sleven" was a worse movie the second time.


But the weirdest part was seeing three bonfires in the Zagros Mountains in Iran. Yeah, to get to Dubai we fly for probably two hours over Iran. That really skeeved me out the first time I flew to Dubai and realized in whose airspace we were flying. But today, everything was so calm and peaceful - or, at least I was after the mini bottle of red wine, that seeing the bonfires made me think about the people who built them. Was it a wedding celebration? Maybe teenagers having a party against their parents' wishes? Or were they farmers just clearing brush on their mountainous land?

Any way you shake it, they're just people over there. Kind of like we're just people in the US.

Of course all of this calm was shattered when we got to the airport in Dubai. First off, the freaking English jackasses a few rows ahead of us were loud and drunk - and that's not really what I'm looking for in travelling companions after I've been on planes and in airports for the last 24 hours.

Second - it was in the mid-nineties (Fahrenheit) when we landed. At 1:15 am.

Then came baggage claim. Our carry-ons we checked in were fine, we collected those right away. But the other four bags, three of which are mine and filled with all kinds of important books, photos, momentos, clean underwear ... those are not here.

And if there's any more miserable place in the world to be than an airport lost baggage office at 2:30 am, I don't know where it is.

The good part? The taxies were plentiful, and Sheikh Zayed Road (the freeway / highway here) was empty.

And as we're unloading the taxi, the driver said something about the construction around the University was taking longer than he had suspected. Liz said that she was hoping it would be done in a month or two, Insha'Allah.

The driver laughed the laugh of a man surprised when a foreigner makes a good joke in his own language. "Insha'Allah indeed", he chuckled.

My moratorium on Insha'Allah is up.

We're in Dubai now.
posted by Josh @ 3:23 PM
Josh and Liz are two American kids who got married in August. Liz has lived in Dubai since 2003, Josh since August of 2006.

Follow along in the culture shock of being recently married and (for Josh, at least) recently transplanted to Dubai.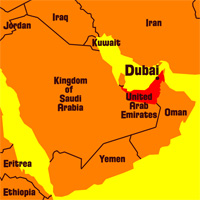 Right now in Dubai
Videos
Pictures
Previous Words
Favorite Recipes
Currency Converter
The easy way to convert Dirhams to Dollars!

Enter a number in either field, then click outside the text box.
Archives
Links We Like
Visitor Counter: