2006-08-13
Pilot Episode
Eleven.

Josh grew up about eleven miles away from Liz.

Liz grew up about eleven months older than Josh.

And it only took them almost thirty years to meet.

Well, not really. They met in 1990 at Lake Region High School in Naples, Maine. Liz was a co-editor of the school newspaper, field hockey star, downhill ski champ and ... a Senior. Josh, on the other hand, was a Freshman. And really, what else can you say about that?

Eventually Josh went on to ... um, play soccer, and he was an adequate skier, kind of ... but hey, he did become editor of the school newspaper! So that's, you know, something ...

Since 1990 the two have lived all over this country and world: Maine, Oregon, Vermont, Boston, California, Dubai and more. Almost eleven different places. Not quite.

Until quite recently, their paths rarely crossed. But one fine summer day in 2005, Marybeth Maney and Isaac Wilhelm got married. And thank God, Buddah, Allah, the goddesses and the ancestors that they did! Because sometime during that evening's festivities - it's rumored to have been sometime around 11 pm in the evening - Liz and Josh both took a moment, looked at one another, and thought: "Hmmmm..."

A year later, on August 5, 2006 they were married at Keoka Lake in Waterford, Maine, and on August ... what else ... 11th ... they headed for Dubai, Newlywed in Dubai.

Eleven.
posted by Josh @ 3:58 AM
Josh and Liz are two American kids who got married in August. Liz has lived in Dubai since 2003, Josh since August of 2006.

Follow along in the culture shock of being recently married and (for Josh, at least) recently transplanted to Dubai.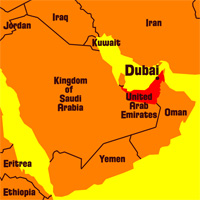 Right now in Dubai
Videos
Pictures
Previous Words
Favorite Recipes
Currency Converter
The easy way to convert Dirhams to Dollars!

Enter a number in either field, then click outside the text box.
Archives
Links We Like
Visitor Counter: