2006-08-23
Mauritius Facts
The Republic of Mauritius is an island nation in the southwest Indian Ocean, about 560 miles east of Madagascar.

Geographic coordinates: 20 17 S, 57 33 E

Time zone: GMT+4

Area: 787 sq miles

Climate: tropical, modified by southeast trade winds; warm, dry winter (May to November); hot, wet, humid summer (November to May)

Terrain: small coastal plain rising to discontinuous mountains encircling central plateau

Highest point: Mont Piton (828 m)

Population: 1,240,827 (July 2006 est.)

History: Although known to Arab and Malay sailors as early as the 10th century, Mauritius was first explored by the Portuguese in 1505; it was subsequently held by the Dutch, French, and British before independence was attained in 1968.

Languages: Although the official language of Mauritius is English, French dominates the media and business, radio and television, and French-derived Mauritian Creole, with major influences from the other dialects, is widely spoken (80%) on the island and is considered the lingua franca of the country.

Ethnic Groups: Mauritian society is highly multicultural. Island residents are the descendants of people from the Indian subcontinent, continental Africa, Madagascar, France, England, China plus a few other places.

Religions: Hindu 48%, Roman Catholic 23.6%, other Christian 8.6%, Muslim 16.6%, other 2.5%, unspecified 0.3%, none 0.4% (2000 census)

Currency: Mauritian Rupee (MUR)

Exchange rate: 1 USD = 30.9 MUR

GDP: Estimated at $16.28 billion for 2005, Mauritius has the 2nd highest GDP per capita in the whole of Africa. It is only exceeded by Equatorial Guinea, which derives most of its revenue from oil exports.

Other fun facts:

Sugar cane is grown on about 90% of the cultivated land area and accounts for 25% of export earnings.

Sir Seewoosagur Ramgoolam International Airport was named for Sir Seewoosagur Ramgoolam (1900 - 1985) - the Prime Minister of Mauritius from 1961 until 1982. He led his country to independence from the United Kingdom in 1968, and is called the Father of the Nation.

In 1847, Mauritius became the fifth country in the world to issue postage stamps. The two types of stamps issued then, known as the Red Penny and the Blue Penny are probably the most famous stamps in the world, being very rare and therefore also very expensive.

Mauritius will likely become the first nation to have coast-to-coast wireless internet access. By the end of 2006, antennas should provide access to 90% of the island. (It doesn't work at Belle Mare Plage Resort, yet, however).

Fringing coral reefs surround 150 km of Mauritius, except along parts of the southern and western coasts.

In the south east, there exists a short stretch of barrier reefs.

The water of the island provides home to 36 kinds of corals and about 90 distinct species of fishes.

Since 1980, the Mauritius Marine Conservation Society (M.M.C.S) has sunk a total of 10 ships for the purpose of creating artificial reefs around the coast line.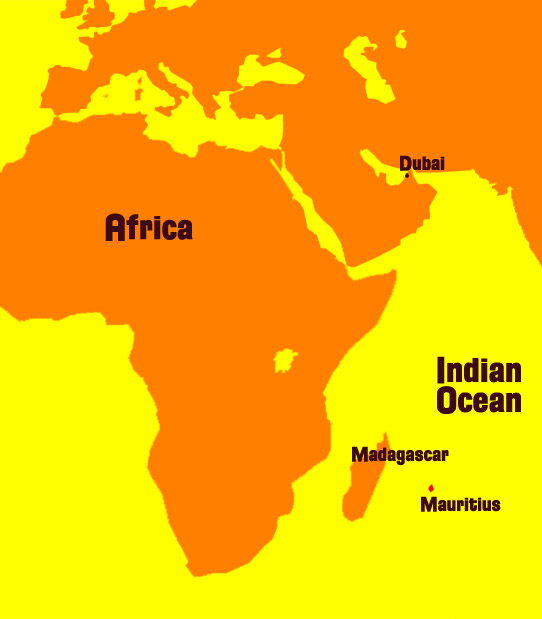 posted by Josh @ 8:54 PM
Josh and Liz are two American kids who got married in August. Liz has lived in Dubai since 2003, Josh since August of 2006.

Follow along in the culture shock of being recently married and (for Josh, at least) recently transplanted to Dubai.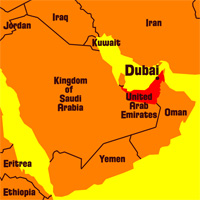 Right now in Dubai
Videos
Pictures
Previous Words
Favorite Recipes
Currency Converter
The easy way to convert Dirhams to Dollars!

Enter a number in either field, then click outside the text box.
Archives
Links We Like
Visitor Counter: