2006-08-30
It's all about the Dirhams, baby
I just realize that I haven't talked about the money in the UAE yet. But that's mostly because I don't really know much about the money here. A perfect example of that was how confused I got today with the change from my lunch.

The Dirham is their monetary value. And right now:


1 U.S. dollar = 3.6729 United Arab Emirates dirhams

1 United Arab Emirates dirham = 0.272264423 U.S. Dollars


So that's lots of math involving sevens, for me. You know, something costs 200 dirhams - you divide by 7 (28) and multiply by 2 (56).

That seems easier than multiplying by 0.272264423.

(200 DHs is $54.45, by the way.)

So I'm used to the bills, we seem to mostly use 100 dirham pink ones. It's like a $20. There are also tens (green) and fives (brown). On one side the words and numbers are in Arabic, the other side is English and western numerals. Also the size varies by denomination.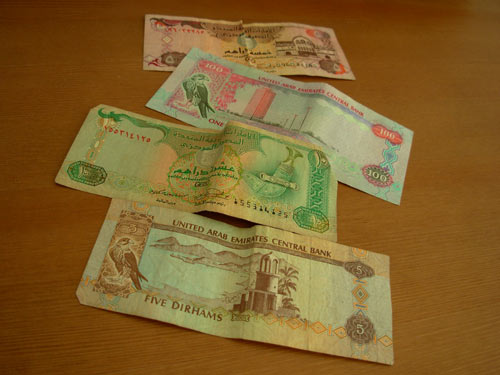 Oh, also a single dirham is a coin about the size of a quarter. Which is pretty adequate, being worth $.27. I don't have any photos of those right now.

But then today I went to lunch with Liz and her friends at the school cafeteria. It's pretty cute, actually, since I'm unemployed right now Liz gives me money before we leave home, and then I can pay for my own stuff when we're out.

Anyway, today my lunch came to 16.50 DHs. I paid with a 20 DHs, and got a whole handful of change back.

See, I guess a dirham is divided into 100 fils. They make 50 fil coins and 25 fil coins, and then round to the nearest 25 fils from there.

But before today I had never received any fils in change. Since there isn't any sales tax and almost all items cost a round dirham value, most change is just even dirhams.

However today the cashier must have been out of 1 dirham pieces, because I got these random nine coins.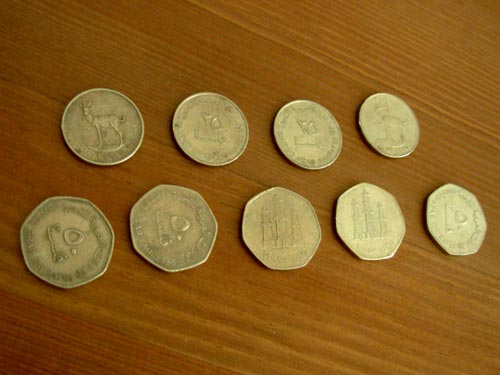 And what's worse, the only numbers on the pieces are Arabic. So I don't know what they are.

I know that they should add up to 3.50 dirhams, as that's what my change was.

I'm thinking that the odd hexagonal-shaped** piece with the oil rig on it is a 50 fil, and the smaller nickel-sized one with a stag on it is the 25 fil. That'd add up to 3.50 DHs, right? Five 50 fils and four 25 fils? Yeah.

Yep, you were just a witness to Josh's introduction to fils. Tomorrow we'll be back to my favorite uneducational topic - TV.

**UPDATE: The 50 fil coin is actually seven-sided, making it a heptagon, not a hexagon. It makes sense, though, as there are seven Emirates in the U.A.E...
posted by Josh @ 2:17 PM
Josh and Liz are two American kids who got married in August. Liz has lived in Dubai since 2003, Josh since August of 2006.

Follow along in the culture shock of being recently married and (for Josh, at least) recently transplanted to Dubai.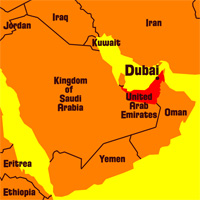 Right now in Dubai
Videos
Pictures
Previous Words
Favorite Recipes
Currency Converter
The easy way to convert Dirhams to Dollars!

Enter a number in either field, then click outside the text box.
Archives
Links We Like
Visitor Counter: