2006-08-30
Hard Rock Adventure
Last night Liz and I decided to go over to the Hard Rock Cafe for dinner. It's right next to the school, a quick walk away.

Or so we thought.

Unfortunately there's a whole mess of construction on the road in front of the school. In fact, the road - and the gate - are totally closed. So we needed to find another route over to the restaurant.

Luckily my new phone takes pictures. I figure, since I only know three people in Dubai I probably won't be getting many phone calls, and I still can't get iTunes to work on it, so I'll use the phone mainly for photos and video. And this was a trek I'm glad I documented.

Liz vetoed hopping the long, spikey fence right off the bat. Probably smart in retrospect, I suppose.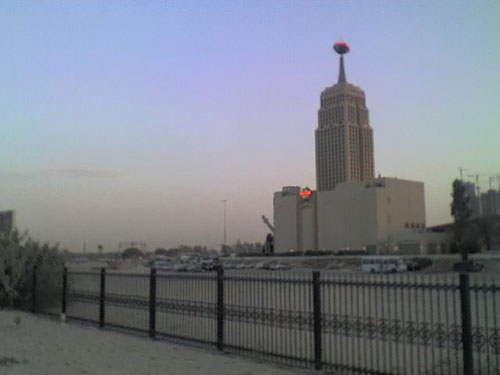 We ended up going out the back gate behind our buidling and down this side street / alley that looks like it belongs in Sarajevo or Iraq. I mean, it toally looks bombed.

And you can't tell it, but the ditch on the right hand side up ahead is a good twelve feet deep.

Er, sorry. Four meters deep.

(And that's the Dubai Marina project in the background).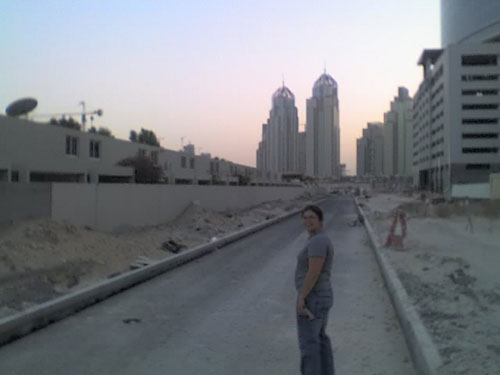 Then we got to walk down a busy off-ramp of the main highway (Sheikh Zayed Road) during rush hour traffic with no sidewalk whatsoever.

One high point? We got to see this overpass that they're buiding that leads from nowhere to nowhere. Seriously. It's like a hundred yar-- meters - of elevated road, and that's it.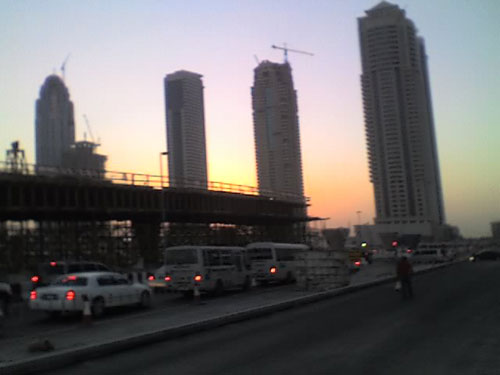 A good fifteen minutes later we arrived on the other side of the restaurant.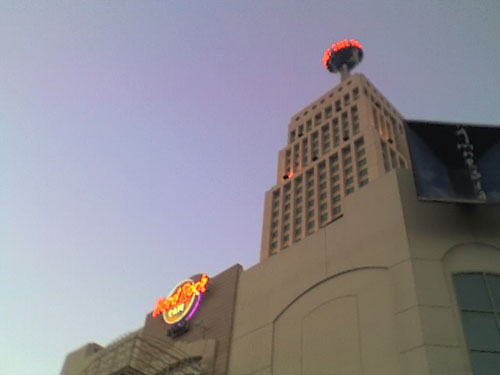 Next time, I guess I should take some photos inside. It's actually kind of cool.
posted by Josh @ 1:44 PM
Josh and Liz are two American kids who got married in August. Liz has lived in Dubai since 2003, Josh since August of 2006.

Follow along in the culture shock of being recently married and (for Josh, at least) recently transplanted to Dubai.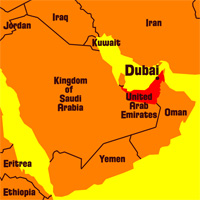 Right now in Dubai
Videos
Pictures
Previous Words
Favorite Recipes
Currency Converter
The easy way to convert Dirhams to Dollars!

Enter a number in either field, then click outside the text box.
Archives
Links We Like
Visitor Counter: