2006-08-25
Dubai Weekend
So this might be the weirdest thing I've heard of yet in Dubai.

The weekend here has always been Thursday-Friday, to fit with the Muslim holy day of Friday (Jumu'ah).

Until now.

This weekend is the last Thursday-Friday weekend. In May the government decided that all government jobs would shift their weekend to Friday-Saturday weekends on September 1st. This will help Dubai line up with the weekends for the rest of the world, and also the private sector in Dubai.

See, I guess most private companies have already had the Friday-Saturday weekend.

So it's actually good that I came this year and not last year, for when I get a job here now I'll have the same weekend as Liz. Which is Sunday-Thursay. Huh.

Like I said, pretty weird.
posted by Josh @ 8:31 AM
Josh and Liz are two American kids who got married in August. Liz has lived in Dubai since 2003, Josh since August of 2006.

Follow along in the culture shock of being recently married and (for Josh, at least) recently transplanted to Dubai.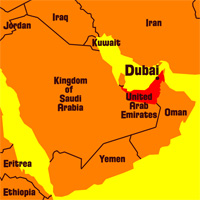 Right now in Dubai
Videos
Pictures
Previous Words
Favorite Recipes
Currency Converter
The easy way to convert Dirhams to Dollars!

Enter a number in either field, then click outside the text box.
Archives
Links We Like
Visitor Counter: