2006-08-14
Arabic Logos
So we're off to the US Embassy to work on this whole washed passport thing. Wish us luck.

(Or is this where I say, "It'll all work out, Insh'Allah"?)

While we're out, I'll introduce this new segment I like to call, "Arabic Logos". I'll take photos of all of the cheezy American products and their cool Arabic counterparts. Here's some toothpaste we bought yesterday, since our toothpaste was confiscated by the TSA in the Portland Jetport.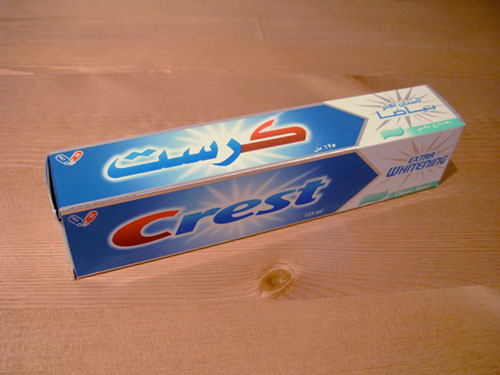 Yup, if you ever wondered how to say "Extra Whitening" in Arabic, there you go.

Okay, we're off. We'll be back soon, Insh'Allah.
posted by Josh @ 7:10 AM
Josh and Liz are two American kids who got married in August. Liz has lived in Dubai since 2003, Josh since August of 2006.

Follow along in the culture shock of being recently married and (for Josh, at least) recently transplanted to Dubai.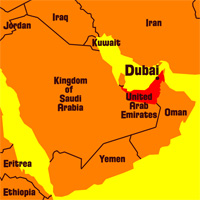 Right now in Dubai
Videos
Pictures
Previous Words
Favorite Recipes
Currency Converter
The easy way to convert Dirhams to Dollars!

Enter a number in either field, then click outside the text box.
Archives
Links We Like
Visitor Counter: